Obama Takes Media to Task for Coverage of 'Untethered' Campaign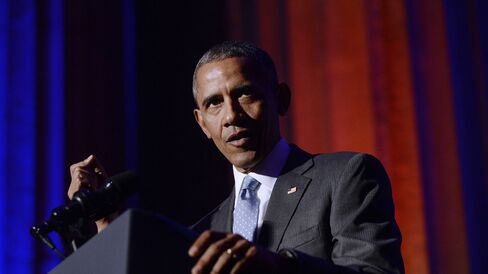 President urges reporters to aim for `higher aspirations'

Says other leaders are wondering `what is happening' to U.S.
President Barack Obama condemned politics "untethered to reason" and implored reporters to "not dumb down the news" in a harsh criticism of the media and the tenor of the 2016 presidential campaign.
In remarks delivered at a journalism awards ceremony Monday in Washington, Obama called on the press to have "higher aspirations" than the number of electronic "hits" stories may generate. And he warned that the coarsening political dialogue was eroding America's standing in the world.
The U.S. president didn't call out Republican presidential front-runner Donald Trump by name, but made clear he was critiquing what he sees as superficial, ratings-focused coverage of the businessman's campaign.
"The number one question I am getting as I travel around the world or talk to world leaders right now is, 'What is happening to America?'" Obama said at the awards ceremony for Syracuse University's Toner Prize, named for the late Robin Toner, the first woman to be national political correspondent for the New York Times.
Obama said the U.S. was "the place where you can't afford completely crazy politics." He warned of the news media's role in letting politics become "entirely untethered to reason and facts and analysis," even as many journalism outlets struggle with shrinking budgets and seek to attract viewers and readers with shorter attention spans.
Vulgar Rhetoric
In remarks that were among the president's sharpest to date on this year's race to succeed him, Obama decried "divisive and often vulgar rhetoric." That, he said, has led to a campaign he would describe as having a carnival atmosphere — except "that implies fun."
Obama said that while he took "some" responsibility for the worsening tone of politics, the media also needed to accept responsibilities. The president told reporters that the American people depended on them to sort through the theatrics of the presidential campaign and remained "hungry for the truth."
"These are folks who trust you when you tell them there's a problem in their schools or their water is poisoned or the political promises a candidate is promising don't add up," Obama said.
Reporting involves more than just handing someone "a microphone" or publishing some "slap-dash tweet," he said. Moreover, Obama said, in-depth investigative work would be remembered decades from now, rather than stories that got "the most hits."
In discussing the importance of a free press, he said there exists "an inherent tension between the president and journalists and added, "it's supposed to be that way."
Transparency Criticism
He said that during a recent conversation with Russian president Vladimir Putin, they discussed an article for The Atlantic that had analyzed Obama's foreign policy doctrine. Obama said he disagreed in some areas with how his views had been described. He added wryly:
"I pointed out to him that unlike you, Vladimir, I don't get to edit the piece."
Although Obama spoke forcefully for media access, his administration has come under criticism for its handling of the press. Earlier this month, the Associated Press reported the Obama administration set a record for denying access to or censoring information within Freedom of Information Act requests. The administration has aggressively prosecuted media leaks of classified information.
Administration officials defend their record on access, including its opening up of previously secret visitor logs at the White House.
White House press secretary Josh Earnest said earlier this month the White House had "a lot to be proud of" on issues of transparency and had set "a standard that future administrations will have to live up to."
Before it's here, it's on the Bloomberg Terminal.
LEARN MORE