Culture Caucus Podcast: The NCAA Tournament Is Sports at Its Most Democratic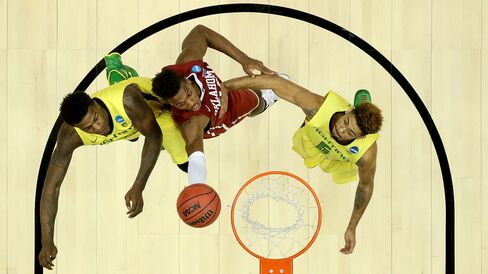 The NCAA Tournament enters its second weekend having notched record television ratings and wowed fans with wild endings, crazy comebacks, and a seemingly endless supply of buzzer beaters. Despite increased scrutiny of college athletics—and the growing disparity between the amount of money in the game and the zero dollars the players themselves are paid—basketball is more popular than ever. And even the president has gotten into the game: The famously basketball-obsessed Barack Obama has made it a tradition to fill out his bracket on ESPN, for the whole world to see.
In the sixth episode of the Culture Caucus podcast, we look at the NCAA Tournament and how it's the most democratic of all sporting events, spanning the entire country, big cities to small towns, like nothing else in sports. And we talk about how much the games have changed, and whether the next president will pick up Obama's tradition of knowing a shocking amount of information about every team.
In the second half of our podcast, we talk to Washington Post sports columnist Sally Jenkins about amateurism and whether or not college athletes should—or even can—be paid. John also praises Northwestern athletics, which leads Will to just yell "Lovie Smith" a lot.
We're back on our regular schedule now, and having a blast. You can e-mail us at politics@bloomberg.net. Come say howdy!
SoundCloud: Episode 6: March Madness, Democracy In Action by Bloomberg Business
Before it's here, it's on the Bloomberg Terminal.
LEARN MORE