Obama Shrugs Off Criticism After Baseball Game, Tango Dance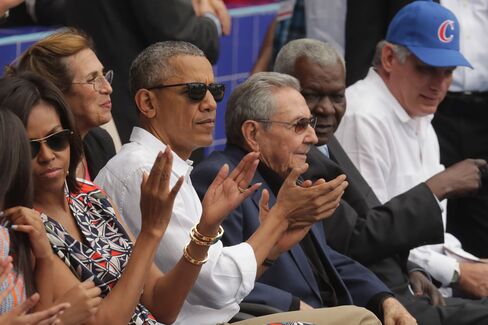 President says disrupting plans plays into hands of terrorists

Trip to Cuba, Argentina includes cultural, personal elements
President Barack Obama's decision after the terrorist attack in Brussels to press on with his trip this week to Cuba and Argentina, including the colorful cultural events and elements of a family vacation, has come at a cost.
Some Republicans, who had been critical of Obama even going to Cuba, called on the president to return to the U.S. after the deadly bombings in Belgium. Ohio Governor John Kasich, a Republican presidential candidate, said Obama should have been at the White House organizing "meetings with leaders around the world." Donald Trump, another Republican contender, used Twitter to mock Obama. The president "looks and sounds so ridiculous making his speech in Cuba, especially in the shadows of Brussels," he said in a tweet.
Fanning the criticism, Obama reluctantly joined in a tango with a professional dancer at a state dinner Wednesday in Buenos Aires. A doctored photo circulated on the Internet of Obama and the tango dancer locked closely while Brussels burns in the background.
Richard Haass, president of the Council on Foreign Relations, said that while
the work being done on the trip was important, attending a baseball game with Cuban President Raul Castro and standing up with the dancer sent the wrong message.
"Baseball games and tangos, that's inconsistent with the seriousness of the day," Haass said on MSNBC's "Morning Joe" program.
Obama shrugged off the criticism. He said allowing terrorists to disrupt attempts to build U.S. relationships in the world -- a counterpoint to the extremists -- plays into their hands.
"It is very important for us to not respond with fear," he said at a news conference Wednesday with Argentinian President Mauricio Macri. "A lot of it is also going to be to say you do not have power over us. We are strong. Our values are right."
Diplomacy and strategic interests aside, Obama tapped into his own memories of growing up amid the Cold War and of reading of the region's literary giants.
In Havana, he said the Cuban Revolution happened the same year his father came
to the U.S. from Kenya and that the Bay of Pigs invasion occurred the year he
was born, in 1961. An exhibition baseball game between the Tampa Bay Rays and
Cuba's national emphasized that the trip symbolized a new era. Obama sat next
to the widow of Jackie Robinson as one of his daughters chatted with Castro.
In Argentina, Obama also got to indulge his curiosity.
"I am proud to announce that I just tried mate for the first time," Obama said
during his news conference in Buenos Aires of the caffeine-rich drink. "When I
was in college, I would read Borges or Cortazar, these people, and they were
drinking mate and I didn't know what this was."
Before it's here, it's on the Bloomberg Terminal.
LEARN MORE