U.S. Toughening Air Security After Brussels Terror Attacks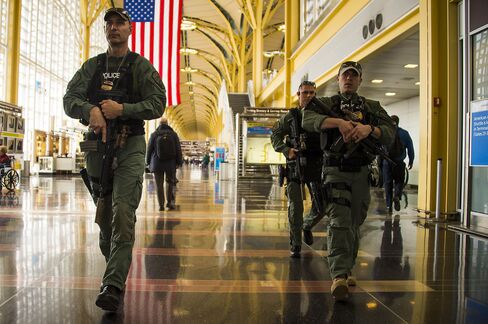 Obama promises help tracking down Brussels attackers

American law enforcement hasn't received specific threats
The U.S. government is stepping up security measures in response to Tuesday's bombings in Brussels as President Barack Obama pledged to do "whatever is necessary" to help bring the perpetrators to justice.
Even though the U.S. has received no specific threats, security will be tightened at airports, rail stations and ports in the U.S., with additional law enforcement personnel assigned to those areas, according to the U.S. Department of Homeland Security.
Brussels became the latest European city to be targeted in a terrorist attack as three coordinated blasts killed at least 31, injured more than 230 and deepened the sense of crisis across the continent.
"At present, we have no specific, credible intelligence of any plot to conduct similar attacks here in the United States," Homeland Security Secretary Jeh Johnson said in an e-mailed statement.
However, he said the agency is "very focused" on the threat of either a lone terrorist or people seeking to travel to the U.S. to commit acts of terrorism. "We continually evaluate whether more screening is necessary, particularly in light of today's attacks," he said.
Sharing Information
Johnson said federal authorities have been in contact with their counterparts in Europe and have briefed local law enforcement about the attacks.
"Since the Paris attacks in November, we have enhanced information sharing about potential terrorist threats with both Belgian and French authorities, and we will continue this effort," Johnson said.
Some additional measures won't be publicly disclosed because they are classified, he said.
Obama, on a visit to Cuba, said the U.S. would support Belgium in bringing those responsible for Tuesday's attacks to justice, and called on the world to unite against terrorism.
"We must be together regardless of nationality or race or faith in fighting against the scourge of terrorism," Obama said in Havana. "The thoughts and the prayers of the American people are with the people in Belgium and we stand in solidarity with them."
Obama was briefed on the attack by U.S. national security officials, and he spoke with Belgian Prime Minister Charles Michel by phone to offer his condolences.
Clinton, Trump
Democratic presidential candidate Hillary Clinton said the attacks would "only strengthen our resolve to stand together as allies and defeat terrorism and radical jihadism around the world." Republican front-runner Donald Trump said in an interview with NBC's "Today" show that the U.S. should "close up our borders until we figure out what's going on" and called for the use of waterboarding and other enhanced interrogation techniques on terrorism suspects.
The New York City Police Department said it had deployed additional counterterrorism resources to crowded areas and transit locations across the city, and was working with federal authorities to monitor the situation. The transit system in Washington said it was increasing canine sweeps and patrols as a precaution. Both agencies said they weren't aware of any direct threat to their cities.
DHS oversees agencies including the Transportation Security Administration that handle domestic anti-terrorism activities
Airports, which share responsibility for police and security duties with TSA, also increased their vigilance. Atlanta's Hartsfield-Jackson International, the world's largest airport, went on "heightened alert" following the attack, according to a statement. It didn't specify what steps were being taken.
U.S. citizens in Belgium injured by the attacks should contact the Belgian Crisis Center by dialing 1771, or the U.S. Embassy at 028114000. U.S. citizens in the U.S. who are concerned about people affected by the attacks should call the State Department at 1-888-407-4747 in the U.S. and Canada, or 1-202-501-4444 from other countries, or e-mail belgiumemergencyusc@state.gov.
Before it's here, it's on the Bloomberg Terminal.
LEARN MORE