Obama, Castro Split on Human Rights in Historic Remarks
Countries are restoring relations despite differences

Cuban President Raul Castro denies holding political prisoners
The U.S. and Cuban presidents on Monday expressed hope for the improving relationship between their nations even as they underscored deep differences over human rights and governance, in an extraordinary news conference punctuated by Raul Castro's critique of the American social safety net and an awkward miscue on a closing handshake.
"After more than five very difficult decades, the relationship between our governments will not be transformed overnight," President Barack Obama said in the news conference, initially described as a statements-only event before Obama prevailed on the Cuban leader to take questions from reporters. "Cuba is sovereign and rightly has great pride, and the future of Cuba will be decided by Cubans and not by anybody else. The United States will continue to speak up on behalf of democracy."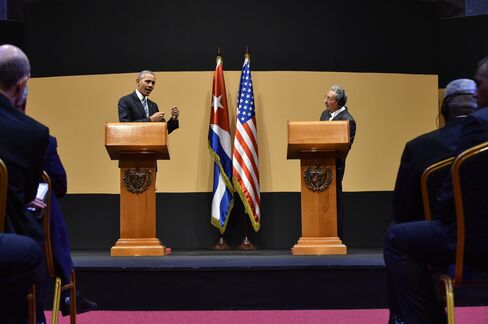 Castro, questioned about his government's human-rights policies and regular arrests of dissidents, was defiant. "Give me a list of the political prisoners and I will release them immediately," he told a U.S. reporter who challenged him on the issue.
The meeting in Havana did not resolve major differences between the two countries, antagonists to one another for more than 60 years, and it won't immediately result in economic breakthroughs for the retinue of U.S. corporate executives accompanying Obama. Nor will it still criticism from Republicans and some Democrats that the U.S. president is meeting with the Cuban dictator while his government continues to imprison political opponents.
Castro said that Cuba meets more indicators of human rights than many other countries, and turned the tables on the U.S., criticizing the country's health and education systems as human rights abuses.
"We find it inconceivable that a government does not defend and ensure the right to health care, education, social security, food provision and development, equal pay and the rights of children," Castro said through a translator. "We oppose political manipulation and double standards in the approach to human rights."
Awkward Gesture
As the news conference concluded, Obama appeared to go in for a handshake or a pat on the back, while Castro appeared to try to lift the U.S. president's arm. Instead, Obama maneuvered so that Castro got his wrist, and Obama let his hand go limp. It made for an awkward photo, while allowing Obama to avoid an image of his hand and Castro's clasped together over their heads. The men later shook hands before parting ways.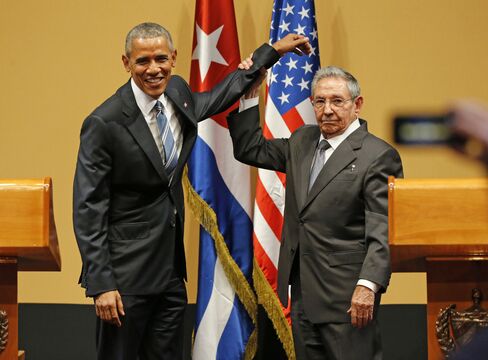 Castro declined to say whether he preferred Donald Trump or Hillary Clinton in November if they should become the Republican and Democratic presidential nominees, noting dryly that he can't vote in U.S. elections.
The U.S. and Cuba will sign an agreement Monday on agricultural cooperation, and doctors from the two countries plan to collaborate on combating the Zika virus and cancer, the two leaders said. Castro, though, said that the U.S. must drop its trade embargo against the island and return the Guantanamo Bay naval base.
"This cooperation is beneficial not only for Cuba and the United States, but also for our hemisphere at large," Castro said, calling Obama's opening to the island nation "positive but insufficient."
Profound Differences
"There are profound differences between our countries that will not go away," Castro said.
Obama has argued that U.S. policy toward Cuba for the last half century has failed, and only American engagement with the island and its government can change its trajectory. Obama expressed no offense at Castro's criticism of U.S. policies.
"We welcome that constructive dialogue as well because we believe that when we share our deepest beliefs and ideas with an attitude of mutual respect that we can both learn and make the lives of our people better," Obama said.
State Visit
The day's events show the U.S. and international public the full pageantry of a state visit. Obama on Monday laid a wreath at Havana's memorial to Jose Marti, a 19th century Cuban revolutionary, before attending a formal welcome ceremony and meeting with Castro at the Palace of the Revolution. Castro will host a state dinner for Obama and the first lady, Michelle, in the evening.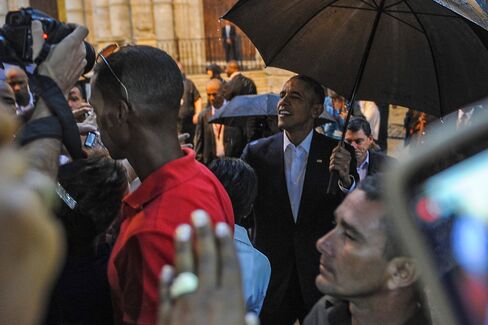 Obama became the first U.S. president to set foot on Cuban soil in 88 years shortly after Air Force One touched down on Sunday at Jose Marti International Airport at about 4:19 p.m. He was greeted by Cuba's minister of foreign affairs and its U.S. ambassador. A short time later, a crowd gathered under a steady rain greeted the president, his wife and their daughters, Malia and Sasha, with shouts of "U.S.A.! U.S.A.!" as they arrived at the Plaza de Arms in Old Havana to walk through the city's colonial center, a UNESCO World Heritage site.
Obama said he and his family were touched by the greeting.
The Obamas proceeded to Havana's cathedral, where the president met with Cardinal Jaime Ortega, a former 1960s labor-camp inmate who played a role in secret negotiations preceding the opening of relations between the U.S. and Cuba. They later dined at the San Cristobal restaurant, drawing crowds of onlookers as the presidential motorcade made its way through the narrow and crowded streets. Over two days, Obama will talk with dissidents and entrepreneurs. Offering a taste to Cubans of what a more open relationship could mean, Obama also plans to attend an exhibition baseball game on Tuesday between the Tampa Bay Rays and the Cuban national team.
Business Opportunities
The president is leading a U.S. delegation that includes lawmakers from both parties, corporate executives eyeing new commercial ties with and within Cuba, and prominent Cuban Americans. Among them is Marriott International Inc. Chief Executive Arne Sorenson; Ursula Burns, CEO of Xerox Corp.; Brian Chesky, president and founder of Airbnb Inc.; and Daniel Schulman, CEO of PayPal Holdings Inc., according to a list released by the White House.
In a concrete sign of the business opportunities emerging as a result of the thaw, Starwood Hotels and Resorts Worldwide Inc. announced a day before Obama's arrival that it had agreed to convert three hotels in Cuba into Starwood-brand properties. Airbnb announced on Sunday that the Treasury Department had approved its plan to offer accommodations in Cuba for non-U.S. travelers. Marriott also announced on Sunday that Treasury had approved its application to do business in Cuba.
After the meeting with Castro, Obama attended an event for Cuban and U.S. entrepreneurs, where Chesky of Airbnb told the president that a Cuban homeowner using his service began to cry after he told her she could now book non-U.S. travelers. The woman said she would finally be able to pay her bills, Chesky said.
"If you can imagine what could be done with broadening Internet service here, I think Brian gives you an example," Obama said. He also took questions from Cuban business people, including a barber and a graphic designer.
Even with little chance that Congress will lift the U.S. trade embargo on Cuba before he leaves office in January, Obama is betting that a rapprochement, symbolized by his visit, has now become irrevocable, no matter who succeeds him.
"It signals the beginning of a new era, more than anything that's been done so far," said Republican Senator Jeff Flake of Arizona, who's among the leading U.S. advocates of normalization and is part of the delegation in Cuba. "Any Republican administration would be hard-pressed to reverse really any of this. This all feeds on itself. These changes are going to be permanent and expanding."
Along with Flake, House Democratic Leader Nancy Pelosi of California and Senator Dick Durbin of Illinois, the second-ranking Senate Democratic leader, flew with Obama on Air Force One. He was was also accompanied by Rachel and Sharon Robinson, the widow and daughter of the late Major League Baseball player Jackie Robinson, whose Dodgers trained in Cuba.
The president's visit is the latest step in an effort announced in December 2014 to restore relations with the Communist-run island. Though embraced by many Americans, the prospect of reconciliation with the government of Raul Castro has drawn sharp criticism from some Republicans, including presidential candidates Trump and Ted Cruz.
Before it's here, it's on the Bloomberg Terminal.
LEARN MORE