Shutdown of Washington's Subway Prompts Calls for Funding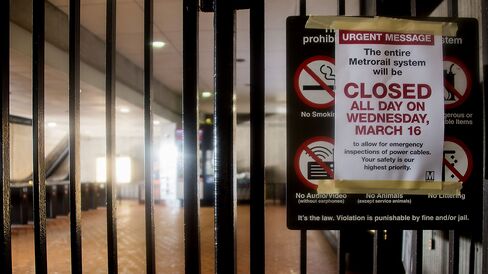 Nation's second-busiest system has been beset by breakdowns

Metro system scheduled to reopen on Thursday after repairs
The decision to suspend service on Washington's troubled rail transit system Wednesday for a safety inspection prompted calls for more stable funding and stricter oversight of the nation's second-busiest subway.
The Washington Metropolitan Area Transit Authority announced the extraordinary shutdown of the Metro system after officials raised concern that a fire Monday in a cable appeared similar to one last year that filled a tunnel with smoke and sickened scores of passengers, killing one.
Service will be restored at 5 a.m. local time on Thursday, said Metro's general manager, Paul Wiedefeld, at a news conference on Wednesday. Investigators spent the day examining cables and identified at least 26 areas that pose safety concerns, including three frayed cables that trains couldn't safely traverse. Repairs are being made overnight or during the day on Thursday, which could result in delays or bus service between certain stations.
The shutdown was "simply unacceptable and untenable for the hundreds of thousands of federal employees, tourists, students and many others who rely on the system every day," U.S. Senator Ben Cardin, a Maryland Democrat, said in an e-mailed statement.
"Years of underfunding and inconsistent safety oversight have led us to this point," Cardin said.
Wednesday was the first time the system, in operation since 1976, completely closed for reasons other than bad weather.
Frequent Outages
The aging rail system has been wracked with troubles over the past few years, including frequent outages, delays and a blaze in a power station. A head-on collision between two trains in 2009 killed nine people. The number of rail riders has dropped to levels not seen since 2004 amid questions about Metro's reliability, the agency said in a February report.
U.S. Transportation Secretary Anthony Foxx said the Metro shutdown was inconvenient, but officials were right to put the safety of passengers and workers first.
Still, the move underscored the need for Maryland, Virginia and the District of Columbia, which share responsibility for funding and managing the rail system, to overhaul their safety oversight,, he said.
"WMATA has a long, well-documented list of safety issues and needs to work aggressively to fix them," Foxx said in a statement. "D.C., Maryland and Virginia need to stand up a permanent Metro safety office with real teeth. What are folks waiting for?"
NTSB Warnings


The National Transportation Safety Board has been investigating Metro since the January 2015 fire, which was blamed on an "electrical arcing event" on the track.
"The similarities there are concerning to me," said Wiedefeld, referring to Monday's smoke incident.
"I fully recognize the hardship this poses for the community," Wiedefeld said Tuesday at a news conference announcing the shutdown. "The safety of the public and my employees is paramount."
During the shutdown, Metro workers inspected the system's 600 power cables that connect gaps in the third rails that power the cars. They were looking for "metal on metal" situations like those that caused fires Monday and last year.
The system carries 700,000 commuters a day in and between Virginia, Maryland and the District of Columbia. Many of them work for the U.S. government, which gave them the option of unscheduled leave or working from home during the closure.
"The shutdown of the Metrorail system for an entire day in the middle of the work week is an astonishing admission that safety has not been the priority it needs to be at WMATA," Representative Chris Van Hollen, a Democrat who represents a Maryland district outside of Washington and is running for a Senate seat, said in a statement.
Congestion Expected
WMATA has 91 stations above and below ground and 117 miles of track.
The NTSB issued a recommendation for "immediate action" on the system's electrical cables last June, even before it had finished investigating the January 2015 fire. Some of the connectors were improperly constructed and installed, allowing moisture and other contaminants to build up, it said.
Metro needed to ensure all power cable connector assemblies are constructed and installed according to engineering design specifications, the NTSB said.
"We are hopeful that WMATA management will act on this recommendation in a timely manner so that the hazards we identified can be mitigated as soon as possible," NTSB Chairman Christopher Hart said at the time.
Alice in Wonderland
"We don't have redundancy in the system," said Representative Gerald Connolly, a Democrat whose district includes Virginia suburbs of Washington. "So, when something goes wrong, we shut down."
Connolly said Republican efforts to cut funding to the system because of mismanagement is an "Alice in Wonderland solution."
"We are struggling with investment, struggling with the lack of operating subsidies, struggling with a lack of dedicated source revenue," said Connolly. "And your solution is to cut?"
Washington's rail system performs more passenger trips than any rail transit system except New York City's, according to the American Public Transportation Association.
Before it's here, it's on the Bloomberg Terminal.
LEARN MORE