Making the Case
Bernie Who? Clinton's Wins Allow Her to Turn Focus to Trump
As the polls were closing Tuesday night in five states, Hillary Clinton's campaign aired its first Spanish-language television ad in Arizona, which holds its primary next week. The ad sets up Republican front-runner Donald Trump and Maricopa County Sheriff Joe Arpaio as the enemies—and Clinton as the protector—of immigrants and Latinos.
Missing from the ad: any mention of Bernie Sanders.
Clinton isn't going to try to rush Sanders out of the race, for fear of alienating his younger and more liberal supporters. The Vermont senator will probably even win a few contests ahead. She's made her peace with an extended campaign, her advisers say.
But Clinton also has made clear that after tonight, she doesn't have to play along either. She's turning to Trump.
"This race is over," said Charlie Cook, editor and publisher of the nonpartisan Cook Political Report, despite Sanders' victories in caucus states and surprise win last week in Michigan.
"Hillary's got big problems, but Bernie's not her big problem," Cook said. "Her problem in a general election is independents. And most independents aren't in Democratic primaries." Clinton also has to worry about how to turn out young voters and liberals in a general election, an area in which Sanders could help.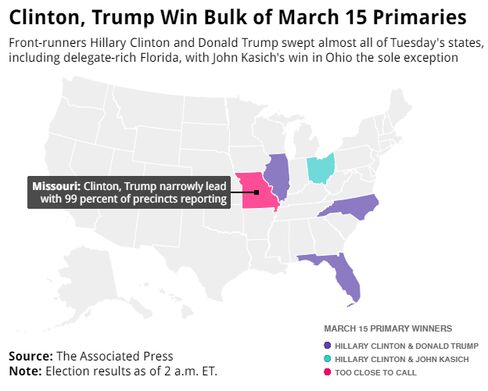 Clinton's wins Tuesday night in Florida, Ohio, North Carolina, and Illinois, atop her already-formidable delegate lead, make her path to the Democratic nomination appear nearly impossible for Sanders to stop, and she made a outright appeal to poach his small-dollar donors. "If you've been waiting for the right moment," Clinton said in Florida, "now's the time."
She dispensed with Sanders in a single sentence. Then it was all Trump. "Our commander-in-chief has to be able to defend our country, not embarrass it. Engage our allies, not alienate them. Defeat our adversaries, not embolden them," she said. Embracing torture "doesn't make him strong, it makes him wrong," she said of Trump, who has said he would bring back waterboarding as an interrogation technique, and worse.
"To be great, we can't be small," Clinton said. "This isn't just about Donald Trump; all of us have to do our part."
It's a delicate balance, looking past Sanders without looking disrespectful. And he's exposed some weaknesses that will persist into her general-election fight, not least of which is that some Democrats just don't want to vote for Clinton after all these years. It's why the message of a 74-year-old avowed socialist sounded more fresh than Clinton's centrist talking points.
But the numbers are the numbers. Her campaign manager, Robby Mook, said in an e-mail to supporters that there will soon be "an insurmountable delegate lead," although "the map for the next couple weeks works in Bernie's favor, and he's certain to win several of the upcoming states."
Clinton aides acknowledged it would be difficult for the former secretary of state to call on Sanders to end his campaign given that she stayed in until early June 2008 against Barack Obama. "She said that she would never call on someone to drop out," Palmieri told reporters on Tuesday after Clinton's speech.
Still, Palmieri didn't shy away from talking up Clinton's mathematical edge, noting that it is "much better than any lead that then-Senator Obama had over her in 2008."
"Our delegate lead is very high," she said. "We understand that there are a lot of contests that we have yet to face and we will face them but it is going to be very hard to overtake her."
Correct the Record, a super-PAC allied with Clinton's camp, was more blunt. "Hillary Clinton's wins tonight effectively ended the Democratic nomination for president," said Brad Woodhouse, the group's president.
Sanders, in a speech in Phoenix, focused not on Tuesday's results but on his campaign themes such as addressing income inequality and remaking a campaign finance reform system he calls corrupt. "We're doing something radical in American politics," he said. "We're telling the truth."
"We finished the first half of the process today," Sanders adviser Tad Devine said in an interview. While that included major Clinton victories, especially in the South, Devine said he believes the campaign will be able to catch up to Clinton in contests to come on the West Coast. To suggest that Sanders will drop out before the rest of the country votes is "not realistic," he said.
Cook said polling so far suggests Clinton's best chances in a general election are against Trump. "Any other Republican is running, at worst, even with her. Trump, she wins by a fair margin." The FBI investigation into Clinton's use of private e-mail servers while she was secretary of state remains a potential problem, Cook said, even if it doesn't lead to indictments of her or people around her for sending information later deemed classified, because it may lead to a public scolding that could hurt her in the general election.
Questions about whether Clinton has a problem in Rust Belt states are overstated, Cook said, because of the eight most-competitive states in a general election—Florida, North Carolina, Virginia, New Hampshire, Iowa, Ohio, Colorado, and Nevada—only Ohio is a Rust Belt state.
"Does she do so horribly to put Pennsylvania or Michigan or Wisconsin into play? Against Trump? No. Another Republican could conceivably put them into play," he said.
But in the nominating contest, Sanders can stay in as long as the money allows.
"There's a difference between the analysis of the race and what the Sanders campaign thinks of the race," said Nathan Gonzales, editor and publisher of The Rothenberg & Gonzales Political Report. "Just because the media might deem the race to be over doesn't mean that Sanders is prepared to drop out."
With a higher profile than ever to spotlight his issues and influence the Democratic platform, "I'm not sure what the downside is for him to keep being in the race," Gonzales said. "Sanders' candidacy has pushed Clinton into issue areas or rhetoric that she may not have had queued up a year ago. As long as he can get on TV and get coverage of his issues, I'm not sure why he'd bow out in the near future."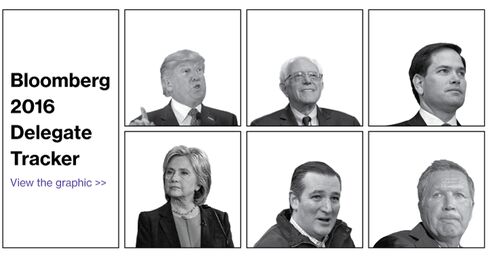 Before it's here, it's on the Bloomberg Terminal.
LEARN MORE