Momentum
A Victorious Kasich Goes Low-Key in Return to Campaign Trail
The Ohio governor passed up the chance for some free television time when he declined to participate in a Fox News debate after rival Donald Trump pulled out.
A day after the victory over Donald Trump that kept his presidential hopes alive, John Kasich had a chance to forcefully press his case as the party's best chance at retaking the White House.
Instead, the Ohio governor passed up an opportunity to appear in a debate hosted by Fox News, saying that he would not show up if Donald Trump did not participate. And then, trailed by an enlarged army of cameras, he marked his return to the campaigning by delivering essentially the same stump speech he has used for months.
Kasich's Wednesday town hall at Villanova University featured his usual lines about about uniting the country, how the Lord has made everyone special, and how he has the best record and experience to be president. But there was also a sense of added energy from the overflow crowd there to see the candidate who had just shaken up the presidential race, at least for now.
The Ohio governor is now one of only three Republican candidates after Florida Senator Marco Rubio dropped out on Tuesday. After winning his home state, where a defeat would have also driven him from the race, Kasich is expecting more focus on him. There were noticeably more television cameras and reporters at the governor's event on Wednesday, and he said he's had more attention in the past two weeks than in the last six months.
With upcoming contests moving to states such as Pennsylvania and New Jersey that he calls "his home court,'' Kasich said he has renewed energy and momentum to fight for delegates all the way to the party's nominating convention in Cleveland in July.
"It was an extremely significant win,'' Kasich told reporters after his event before an overflow crowd at Villanova. "We're just going to take advantage of what happened.''
Kasich is counting on no candidate garnering the 1,237 delegates needed to secure the nomination before the convention in Cleveland in July. He expects to accumulate enough delegates to compete for the nomination by arguing he's best suited to win a general election.
Asked on Wednesday about comments from Texas Senator Ted Cruz that he could become a spoiler by staying in the race and help Trump secure the nomination, Kasich turned the question around.
"Neither of those guys can win a general election,'' the governor told reporters. "Maybe they're spoiling it for the Republican Party and for the conservative movement.''
Kasich's campaign started running television ads on Wednesday in Utah, which has caucuses on Tuesday and where Kasich has events scheduled on Friday, and it will be hiring staff in other states, said John Weaver, his chief strategist.
Weaver said Kasich was making and receiving donor calls even during the glow of his Ohio victory on Wednesday, and he insisted that resources won't be an issue now.
While the campaign hasn't provided any specifics, there are calls being made about having donors and campaign resources move to Kasich, including from Rubio, said Robert Walker, a former Pennsylvania congressman and adviser to the campaign.
''I have a strong feeling that a large portion of the Rubio organization will end up being with Kasich,'' Walker said after the event at Villanova.
The Ohio governor expects to focus on states such as Pennsylvania, Connecticut, New Jersey, and New York in the East, as well as western states including Oregon, Washington, and California, Walker said.
The plan is to prevail in states where the winner captures all the delegates, and do well enough to pick up enough delegates in states that award them proportionally to be competitive at the convention, he said.
Then it becomes a contest about who can win a general election against expected Democratic nominee Hillary Clinton, he said.
"One person can win a general election in a landslide, and the other two will lose in a landslide,'' Weaver said. "That's a compelling argument when we get to Cleveland.''
Trump said Wednesday on CNN that he thinks "you'd have riots'' if he has a big lead in delegates heading into the convention but the party denies him the nomination.
With an eye on winning the nomination at a contested convention, Kasich has added as an adviser Stu Spencer, who served as Ronald Reagan's chief strategist and helped President Gerald Ford turn back a challenge by Reagan at the 1976 convention.
That was one of three contested conventions since 1952, said Elaine Kamarck, a senior fellow at the Brookings Institution who has written a book about presidential primaries and nominations. Ford was ahead in delegates, but Reagan waged a fight over convention rules and lost. Senator Ted Kennedy tried the same unsuccessfully against Jimmy Carter in 1980, she said.
The closest parallel to 2016 is 1972, when forces opposed to Democrat George McGovern tried to unite to deny him the nomination by unsuccessfully challenging delegate credentials, Kamarck said. The last brokered conventions, when a nominee was not selected on the first ballot of delegates, was in 1948 for Republicans and 1952 for Democrats, she said.
If Trump heads to Cleveland with a large lead in delegates, it will be difficult to deny him, Kamarck said.
"There will need to be a compelling reason not to give him the nomination,'' she said.
Speaking at Villanova on Wednesday, Kasich wasn't focused on Trump or the convention. He alternated between his typical exhortation to people to change the world for the better and policy discussion about how to create jobs through common-sense regulations, lower taxes and a balanced budget.
He disagreed with the suggestion the he is the last so-called establishment candidate remaining in the race, saying he's always challenged the status quo.
"I have a right to shape what it means to be a conservative and what the Republican Party is all about,'' he said. "I'm an unorthodox political figure.''
Video by Matthew Negrin.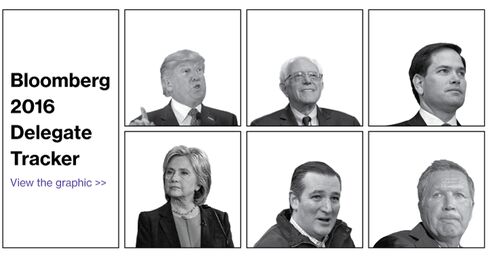 Before it's here, it's on the Bloomberg Terminal.
LEARN MORE