Trump Switches Florida Rally to Ohio as Protests Shadow Events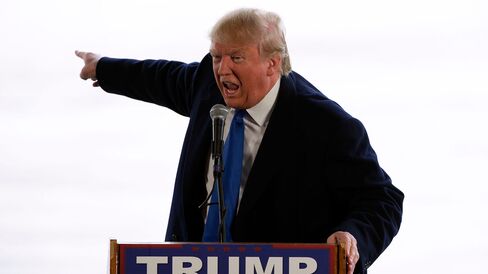 Republican front-runner earlier threatened Sanders campaign

Trump denies anyone has been injured at his political rallies
As protesters shadow campaign appearances by Donald Trump, the billionaire has shifted a planned Monday-night rally in south Florida to Ohio, where polls show Governor John Kasich may be pulling ahead days before the state's primary election.
The Republican front-runner made a few other tweaks to his schedule this weekend that seem designed to tamp down emotions after violent protests erupted in Chicago on Friday night, forcing the cancellation of a large rally and resulting in several arrests.
Even so, in a television interview on Sunday, Trump said he wouldn't take responsibility for the violent tone at his events, and continued to blame progressive activist groups and supporters of Senator Bernie Sanders for raising the temperature.
Local news outlets reported that a planned Trump rally in downtown Cincinnati on Sunday had been scrapped in favor of a town hall meeting in the safer confines of a banquet hall in suburban West Chester after activist groups organized online to picket the event. Anti-Trump campaigners were also organizing ahead of the event scheduled for Monday night at Trump's golf resort in Florida.
Rust Belt Rally
"The event at Trump National Doral, originally scheduled for Monday evening, has been postponed," Trump's campaign said in an e-mailed statement, promising a "massive" rally in the Rust Belt city of Youngstown, Ohio, instead. A celebration is planned for Doral "if we are successful on election day."
The campaign did not immediately address the reason for the shift, or whether it had detailed information about potential protests at the luxury resort located about 15 miles (24 km) west of Miami.
The scheduling change comes ahead of winner-take-all primary elections in Florida and Ohio on Tuesday. In Florida Trump is ahead of his nearest competitor, home-state Senator Marco Rubio, by about 20 percentage points, according to an average of recent surveys by Real Clear Politics; in Ohio, he and Kasich are engaged in a dogfight.
Secret Service
At an event Saturday in Dayton, Ohio, agents of the U.S. Secret Service, which has been protecting Trump, and one of the billionaire's veteran bodyguards stormed the stage to block a man who looked to be rushing the candidate.
At the West Chester town hall meeting on Sunday, local police used traffic barricades to create a separate area for the more than 100 protesters away from the several hundred of attendees. Media reports showed Trump surrounded by agents.
Trump has argued that the protests in Chicago were a planned attack, not a spontaneous boilover. "They're not protesters. They're professionals," he said Sunday on NBC's "Meet the Press." "I don't accept responsibility," Trump added.
He also denied Sunday that anyone has been injured at his campaign events and threatened, via Twitter, to send his supporters to disrupt Sanders's rallies.
Trump's retort comes after hundreds of protesters showed up at a Friday event his campaign planned to hold at the University of Illinois at Chicago. An ensuing melee, after Trump canceled the speaking engagement, followed weeks of escalating tensions between the billionaire's supporters and those who attend rallies to voice opposition to his candidacy. Scuffles between the two camps have gone viral on social media.
On Twitter, Trump deflected blame for the chaos and said he may have backers target the Sanders campaign if the Vermont lawmaker, who's vying for the Democratic nomination, doesn't get his supporters in line.
'Be Careful'
"Bernie Sanders is lying when he says his disrupters aren't told to go to my events," Trump wrote. "Be careful Bernie, or my supporters will go to yours!"
At a Sunday event at an aircraft hangar in Bloomington, Illinois, Trump supporters echoed the tweet, chanting "better be careful" while they waited for the candidate, according to media reports.
Sanders denied any involvement in the protests. "Mr. Trump tells the truth very rarely," he said Sunday on ABC's "This Week" program. "To say that we organized that, totally untrue."
No Injuries
The events in Chicago, meanwhile, have emboldened anti-Trump elements, said Aaron Roco, a Sanders supporter who has previously been part of the Wall Street movement and protests against the World Bank and the International Monetary Fund.
"Chicago sent a statement to all of us," said Roco, 37, of Cincinnati. "We want to have as many rallies of his as possible canceled."
At his Sunday appearance in Illinois, Trump said that "90 percent of the time, I'm telling the police, 'take it easy, don't hurt"' those who oppose the candidate. However, his supporters have had to endure "vicious, swinging" protesters and the media has ignored those provocations, he said.
Trump also said that no one has been hurt at his rallies, notwithstanding the wide circulation of video showing a protester being punched in the face as he was being led out of an event in Fayetteville, North Carolina, on March 9. The man who threw the punch has been charged with assault. Separately, police used pepper spray on dozens of people outside a Trump event in Kansas City on Saturday, the Kansas City Star reported.
The turmoil, some of the worst in U.S. politics since segregationist George Wallace's third-party run for the presidency in 1968, has prompted Trump's Republican opponents to waver on whether they will stand by a pledge to support the party's nominee, even if that person is Trump.
"It's getting harder every day," Florida Senator Marco Rubio said Sunday on "This Week." "I'm not going to change my position today about supporting the nominee, because I still don't think Donald Trump will be our nominee."
Before it's here, it's on the Bloomberg Terminal.
LEARN MORE