Rubio Slide Even Puts Win With Washington Establishment in Doubt
Republicans in nation's capital selecting convention delegates

Floridian could use a boost ahead of home-state primary
If there's any place on the primary map that should favor a candidate appealing to the Washington Republican establishment, it's the District of Columbia itself. For Florida Senator Marco Rubio, that's now anything but assured.
Rubio picked up a raft of endorsements from governors and lawmakers after Jeb Bush dropped out of Republican race for the White House. With Bush gone, the party's establishment wing turned to Rubio as the best, and possibly last, hope to stop billionaire real estate mogul Donald Trump, who has drawn scorn from many party officials and influential Republicans.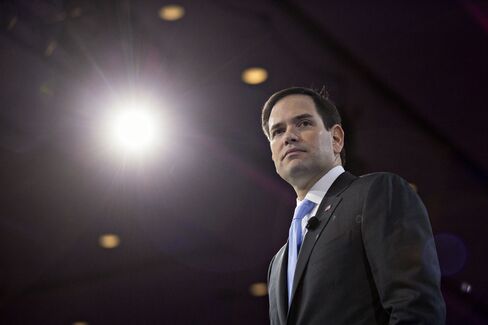 Republicans gather at a downtown Washington hotel on Saturday to select delegates to the party's national convention, to be held in Cleveland in July. Only 19 delegates are at stake, but Rubio is battling for every one he can get as he's stuck in third place nationally, well behind Trump and Texas Senator Ted Cruz.
Rubio handily won suburban Washington areas when Virginia held its Republican primary on Super Tuesday on March 1. He finished a strong second behind Trump statewide, 35 percent to 32 percent, one of his best showings so far. Yet Rubio's slide in the nominating contest since then means success the outcome is uncertain, according to interviews with nearly a dozen D.C. party insiders.
"This is a very highly-educated political community in the District of Columbia, and they do a lot of analyzing, more so than your average voter," said Ron Phillips, former executive director of the D.C. Republican Party.
Tough Stretch
Phillips, who's known Rubio since he was a state senator and plans to vote for him, said it's a tougher race for the Floridian after two difficult weeks since Super Tuesday contests. "If this election would have been held the Saturday after Iowa, it would've been a different picture than the Saturday after Michigan."
The D.C. convention is one of a few small nomination contests on Saturday. Winning in the nation's capital could give Rubio a lift before his home state of Florida holds its primary on March 15. Rubio has staked his campaign on capturing the Sunshine State and its 99 winner-takes-all delegates.
The demographics of Washington should be favorable, with an electorate that mixes Capitol Hill staffers, lobbyists, former administration officials and party insiders. Rubio won nearly 50 percent of the vote across the Potomac River in nearby Arlington and Alexandria, Virginia, on March 1, and about 40 percent in suburban Fairfax and Loudoun counties.
'Actively Organizing'
Caitlin Conant, a Rubio spokeswoman, said in an e-mail that campaign staff members are "actively organizing and feel good about our chances" at the D.C. convention where the delegates will be chosen.
Others say it may be too late for the campaign to overcome a negative narrative among hyper-aware D.C. Republicans.
"I think it's going to go to Cruz, simply because most D.C. Republicans fall on the establishment side," said Ralph Chittams, the senior vice chairman of the city's party organization. "Trump is not establishment, and Rubio, truthfully, has no chance of gaining the nomination" based on his current haul of delegates.
Yet Rubio supporters haven't given up. Teri Galvez, who's been making calls for his campaign, said Rubio's more moderate tone may do well among the relative handful of Republicans in a largely Democratic city -- one where Barack Obama beat Republican Mitt Romney by 91 percent to 7 percent in 2012.
"It isn't so much what your beliefs are, but how you say it," Galvez said.
Before it's here, it's on the Bloomberg Terminal.
LEARN MORE