Rubio Tells Ohio Supporters to Back Kasich in Bid to Block Trump
Kasich has no plans to reciprocate with his backers in Florida.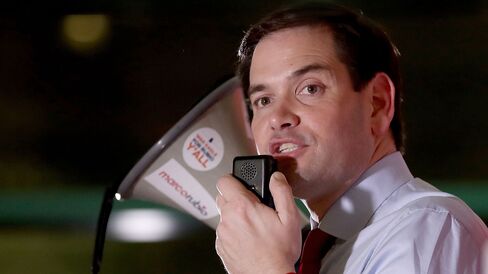 Florida Senator Marco Rubio made a bid to try to block Donald Trump from winning the Republican presidential nomination, telling his supporters in Ohio to give their votes to John Kasich next Tuesday.
"Clearly John Kasich has a better chance of stopping Donald Trump in Ohio than I do," Rubio said during an event Friday in West Palm Beach, Florida. "The voter in Ohio who's motivated by stopping Donald Trump and comes to the conclusion that John Kasich is the only one who can beat him there, then I expect that's the decision they'll make."
He said he hadn't consulted with Kasich, Ohio's governor, about the gambit, nor has he spoken to Texas Senator Ted Cruz about forming a so-called unity ticket aimed at stopping Trump. Rubio said he's currently consumed by his attempts to beat Trump in his home state despite trailing in polls, which he said aren't an accurate reflection of the race.
"I'm focused on running for president of the United States. That is my focus. I intend to win that nomination," he said. "Although it will be a grueling process, I'm prepared to do it."
In response, Chris Schrimpf, a spokesman for Kasich, gave no indication that the governor would return the favor when asked if he'll encourage his supporters to vote for Rubio in Florida.
"We agree with the Rubio campaign that the best chance to beat Donald Trump in Ohio is by voting for John Kasich, and in that spirit, Senator Rubio should immediately tell his super-PAC to stop attacking the governor," Schrimpf said.
Ohio and Rubio's home state of Florida are among five states holding primaries on March 15 and a Trump sweep would give the real estate mogul an all-but-insurmountable lead in delegates needed to win the nomination.
Next Tuesday's primaries have more than 350 delegates up for grabs. Florida and Ohio are winner-take-all contests, and Trump currently holds an advantage in both in recent polls. Rubio, who has won just two of the first 26 nominating contests, may be facing elimination if he fails to win his home state.
Trump has amassed 459 of the 1,237 delegates needed to claim the Republican nomination, followed by Cruz with 360, Rubio with 152 and Kasich with 54, according to a tally compiled by the Associated Press.
"The rules of the Republican Party are very clear and contemplate this," Rubio said when asked whether Trump should be denied the nomination even if he wins the most delegates but doesn't reach the threshold.
Some Republicans committed to stopping Trump, including 2012 presidential nominee Mitt Romney, have suggested supporters should vote for whichever candidate is strongest against Trump in a particular state. Such a strategy could lead to splitting enough delegates to call for a contested convention.
Trump is favored by 36.5 percent of Ohio Republicans, giving him a 2.5 percentage point lead over Kasich in Ohio, according to a RealClearPolitics average of recent polls in the state. Rubio is last, garnering 7 percent.
While Rubio's gambit may affect the results in Ohio on the margins, it's not likely to sway the outcome in the state because most voters want to cast their ballots for the person they believe in, not in a strategic way, said Mark Weaver, a Republican political consultant in Ohio who is not affiliated with any of the campaigns.
"Asking your supporters to go along with you on a bank-shot political voting strategy will only go so far," Weaver said.
Weaver said he thinks Kasich is poised for a narrow victory in Ohio, thanks to a lack of a state organization by Trump and the governor's superior operation boosted by the Ohio Republican Party and Senator Rob Portman.
Kasich is spending Friday through Monday campaigning throughout Ohio, while Trump has rallies planned in Cincinnati, Dayton and Cleveland this weekend.
—With assistance from Mark Niquette and Sahil Kapur.