The Trump Post-CNN-Debate News Distortion Field
After its debates, the cable network has allowed Donald Trump to host his own private spin room.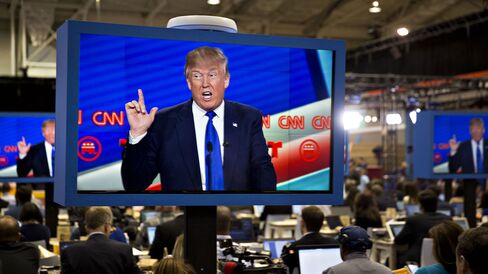 Thursday night, CNN will host its fourth Republican debate, live from Miami, Florida. We do not yet know the shape of the race the broadcast will reflect. But we do know something about what CNN may do. And it is perhaps the most telling, signature innovation of this whole campaign. It might tell us everything we need to know.
In the world of sports, the postgame sideline interview has long been a staple of network broadcasts. After a great game, a dutiful reporter, usually via a pre-negotiated agreement, shuffles over to interview the winner seconds after his triumphant moment. The questions are softballs, often not even questions at all; they're usually something like, "You looked good out there today," or "Talk about that fourth quarter." They have become a trope in sports, having given birth to the "I'm going to Disneyworld!" tradition, and they are so prominent now that even the sideline reporters, from Craig Sager to Erin Andrews to Jim Grey, have become celebrities themselves. Sometimes they even become bigger than the games themselves. Few might remember how the 2014 NFC Championship Game ended. But everyone remembers this.
YouTube: Richard Sherman Going Off on Michael Crabtree w/ Erin Andrews!
Until this year, the idea of interviewing a politician beside the stage after a debate would have seemed ludicrous. They all just sat and took questions for two hours. Why would we need to ask any of them any more questions afterward? Even more so: Why would we only take one aside, as if they'd just won, as if they were the triumphant quarterback and the rest of candidates were simply the supporting cast, their offensive line?
But, of course, what about this race hasn't been ludicrous so far?
YouTube: Donald Trump Post GOP Debate CNN Interview - Humble - Relaxed - Complementive
That one's from September, after the Reagan Library Debate, with Donald Trump getting a full four minutes to discuss whatever he wanted on the network that had just shown the debate. Last week, CNN let Trump do it again.
YouTube: Donald Trump's entire post GOP debate interview
That one went eight minutes.
Much has been made about Trump's total domination of every media cycle, his unerring ability to manipulate the media to do his bidding in just about every fashion. We've talked about how he injects himself into every story, even ones that have nothing to do with him, how he changes the tenor of every debate (to the point that every other Republican Presidential candidate now sounds like Trump), how he is able to control news coverage of himself simply by calling in to live television morning shows from his kitchen, presumably in his pajamas. (CBS refused to let Trump call into "CBS This Morning" on Tuesday, perhaps the first, belated moment of dignity for the morning shows.)
But nothing has quite illustrated this as comprehensively as the post-debate interviews with Donald Trump. One of the fundamental aspects of any debate, and particularly those with such a crowded field like this year, is that every candidate complains about the amount of time they got to speak. The so-called "kiddie table" debates were almost entirely Bobby Jindal and Lindsey Graham grousing about not enough people being allowed to hear them speak; Ben Carson began just about every statement during his debates with some sort of crack about how long it had been since he had been called upon. Many news sites have taken to reporting, post-debate, on just how long each candidate was able to speak, precisely.
But with Trump, just simply add eight minutes on the total, because that's how long CNN allowed him, after spending two hours having a (somewhat) strictly moderated debate between five people attempting to become the most powerful person on the planet, to just talk about whatever he pleased. Debates have driven the news cycle this entire election, and they have been massive ratings hits for every network that has shown them, particularly the Republican debates. They have become consistent pivot points and, in recent weeks, we have seen direct results in voting patterns.
And with that: CNN keeps giving Trump an extra eight minutes, without Ted Cruz or Marco Rubio or John Kasich to interrupt him, to talk directly to everyone tuning in. This is not like a postgame interview in basketball; it's much worse. It would be as if, after the game, Craig Sager asked LeBron James questions while James shot free throws that actually counted as points in the game we just were just watching.
This has happened all across media coverage of Trump this election, of course: Everybody wants a piece of the ratings he is selling. CBS chief Les Moonves admitted as much last week, turning what had been subtext into text, saying , "It may not be good for America, but it's damn good for CBS … Man, who would have expected the ride we're all having right now? ... The money's rolling in and this is fun. Trump knows how this works, and has said himself: "That gives you power."
Twitter: Tony Fratto on Twitter
The hose has been turned back on Trump of late, and he'll surely get hammered Thursday night by his rivals, particularly an increasingly desperate Marco Rubio. But when it's over, and everyone's shuffled off the stage and vacated to the spin room, if past is any indication, Trump will be able to return to his safe space and have as much time as he needs. He looked good out there today. Talk about that fourth quarter.
Before it's here, it's on the Bloomberg Terminal.
LEARN MORE