Pro-Rubio Super-PAC Targets Kasich in Florida Fight
Conservative Solutions PAC is set to spend about $5 million on ads during the week leading up to the March 15 Florida primary.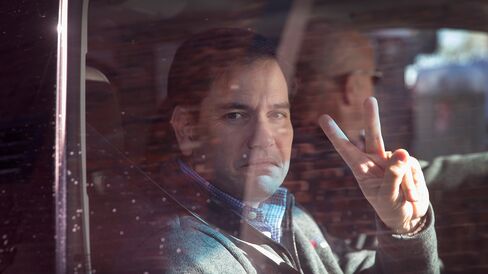 A super-PAC backing Senator Marco Rubio's bid for the Republican presidential nomination dropped an additional $700,000 into advertisements in Florida ahead of the state's March 15 primary.
Conservative Solutions PAC, which has been attacking front-runner Donald Trump, opened up a new front against Ohio Governor John Kasich, who has competed with Rubio for the support of the party establishment. The group already poured an estimated $3.79 million into Florida TV and radio commercials through March 7, according to Kantar Media's CMAG, which tracks political commercials.
The amount of money the outside group is committing to Florida between March 8 and March 14 rose to $5 million Thursday, 16 percent more than the $4.3 million estimate one day ago, CMAG estimated. Conservative Solutions is also slated to run an additional $745,000 worth of ads in Florida during the seven-day period beginning March 15, the day of the state's vote.
"This suggests that the pro-Rubio super-PAC has analyzed the votes over the last week," Lara Brown, director of George Washington University's political management program, said. "They likely believe that they have the most to gain from a diminished Kasich."
On Wednesday, the pro-Rubio group began running a TV ad in Florida that accused Kasich of proposing higher government spending and increasing taxes as governor of Ohio. "More spending, more taxes, that's the basic on Kasich," the ad says.
New Day for America, a super-PAC for Kasich, issued a statement calling the claims false and misleading.
Conservative Solutions on Wednesday filed an expenditure report with the Federal Election Commission saying it had authorized about $1 million in ads against Kasich in Florida. The group is also running ads against him in Illinois.
Before it's here, it's on the Bloomberg Terminal.
LEARN MORE