Frenemies
In Testy Debate, Clinton Echoes Sanders' Anger, But Not Too Much
The Democratic front-runner echoed her rival on some issues, and went even farther on others.
For weeks, Hillary Clinton resisted joining Bernie Sanders' calls for Michigan's governor to resign over the Flint water crisis. She stayed practical: meeting with residents, raising awareness, asking Congress to back a $200 million plan.
But as soon as the lights came on for CNN's debate Sunday in Flint, Clinton matched Sanders' call for a resignation and went one better, urging a recall vote against Governor Rick Snyder.
It was the Democratic nomination fight boiled down to a single exchange: Clinton taking just enough of Sanders' populist positions to show voters she's angry too, while still pummeling him on the areas where they differ, from bailouts to who can beat Donald Trump in November.
Any thought that this debate might be tamer, that Sanders might be playing out the string given Clinton's widening delegate lead, evaporated early on. The candidates' exchange over the auto industry rescue plan grew so heated at one point that Sanders waved his hand and raised his voice, insisting, "Excuse me, I'm talking."
Clinton shot back, "If you're gonna talk, tell the whole story."
Clinton has made it this far in the nominating contests by showing that she's just angry enough for Democratic primary voters, but not too angry, and it's proven to be a winning strategy. It's also clear she believes she has the upper hand with Democratic voters on some key issues—that she can, in essence, out-Sanders Sanders—and she used that to good effect Sunday night.
Clinton aggressively went after Sanders for opposing the $700 billion bank bailout in the 2008 financial crisis, saying it had paved the way for the $82 billion auto industry bailout key to Michigan workers. "If everyone had voted the way he did," she said of Sanders, "I believe the auto industry would have collapsed, taking four million jobs with it."
Sanders didn't have a clear explanation of what would have happened to all those manufacturing jobs if he had gotten his way, but argued the bailout saved billionaires on the backs of the middle class who had to foot the bill.
Clinton also criticized Sanders for siding with Republicans to oppose Export-Import Bank reauthorization last year, saying that hurt Michigan small businesses. Sanders again fell back on an us-versus-the-wealthy argument, saying the bank was nicknamed the "Bank of Boeing" and amounted to corporate welfare.
But when Sanders' anti-Wall Street rhetoric made Clinton, the former senator from New York, look too cozy with billionaires, she toughened her talk to sound more like Sanders. And though Clinton for years supported President Barack Obama's plans for a Trans-Pacific Partnership trade deal as secretary of state, she came out in opposition to it last year after Sanders' anti-free-trade rhetoric threatened to steal her union support.
Clinton may have found "religion" on free trade deals, Sanders said, but "it's a little too late."
Their sparring comes as crucial time, as Clinton appears to be closing in on an insurmountable delegate lead with which she could secure the Democratic nomination, and as Republicans rivals are locked in a furious bid to try to stop billionaire businessman Trump from securing that nomination.
Sanders' senior adviser, Tad Devine, noted Clinton's me-too stance on Michigan's governor. "It didn't take long in this debate for Hillary Clinton to once again adopt a Bernie Sanders position, I think that's fantastic," Devine said. "I think she's realized if she wants to win this election she's gonna have to get a lot closer to where Bernie Sanders is, because Bernie Sanders is a lot closer to where voters are."
Just a few minutes after the debate started, the Associated Press declared that Sanders had won the Maine Democratic caucuses, gaining his eighth win over Clinton in 19 nominating contests. With 25 Maine delegates at stake, Sanders is assured of winning at least 14 while Clinton stands to gain at least six.
It won't make much of a dent in Clinton's lead. Prior to the contest in Maine, Clinton had at least 1,123 delegates to Sanders' 484, including super-delegates—members of Congress, governors, and party officials who can support the candidate of their choice. It takes 2,383 delegates to win the Democratic nomination.
As for who's best to take on Trump, Sanders said that "almost every poll has shown that Sanders versus Trump does a lot better than Clinton versus Trump."
Clinton has some numbers on her side too. "The last time I checked as of last night, Donald Trump had received 3.6 million votes, which is a good number," Clinton said. "And there is only one candidate in either party who has more votes than him and that's me."
Clinton's tally so far: 4.2 million votes.
—With assistance from Jennifer Epstein and Arit John.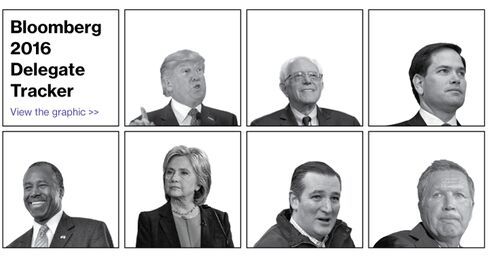 Before it's here, it's on the Bloomberg Terminal.
LEARN MORE