Flint Crisis Shows How Cities Are Prize and Peril for Democrats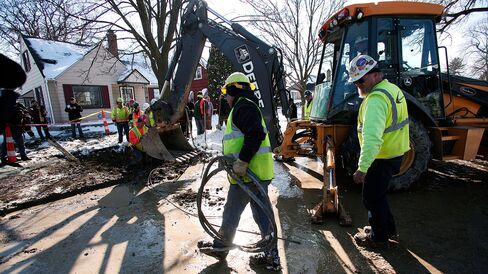 Clinton, Sanders offer aid to urban areas that skew their way

Republicans say they exploit poisoned city for partisan gain
The state-by-state fight for the presidency now centers on Michigan, home of Detroit's record $18 billion bankruptcy and a crisis over toxic drinking water in faded Flint. This is where governing gets expensive.
Michigan's Tuesday primary is the first in the U.S. manufacturing belt and puts the spotlight on the economic health of post-industrial urban America. Repairing Flint's water system alone could cost $1.5 billion, part of a national infrastructure funding gap projected to be $3.6 trillion by 2020. Beyond that are $110 billion in unfunded pension liabilities among the nation's 60 largest cities. They threaten to drag some municipalities, such as Chicago, into insolvency.
"It's really disappointing that these issues haven't taken a more central role in the presidential race," said Michigan Senator Jim Ananich, a Democrat who represents Flint, where Democrats Bernie Sanders and Hillary Clinton debated Sunday night. "We've gotten to the point in campaigns that they're just poll-driven."
While Republican presidential candidates, who draw much support from suburban and rural areas, have largely ignored the issue of failing cities, Sanders and Clinton have offered infrastructure plans that would be paid for by business tax changes that would likely face stiff opposition in Congress. Sanders's five-year plan would cost more than $1 trillion, according to his website. Clinton's would cost $275 billion.
Building Plans
"The wealthiest country in the history of the world has got to get its priorities right, take care of the people, no more tax breaks for billionaires," Sanders said Sunday in Flint.
Clinton acknowledged political limitations.
"I'm trying to do this in a way that will gain support and be affordable," Clinton said.
In the U.S., about 63 percent of residents live in cities, according to the Census Bureau, and they skew increasingly Democratic. Some, such as Austin, San Francisco and Portland, Oregon, are playgrounds for the young, well-educated and technologically adept. Older industrial centers, such as Cleveland, Birmingham, Alabama, and Milwaukee, Wisconsin, have faced a decades-long erosion of employment, population and revenue. The federal government provides assistance for housing, health care and infrastructure, but the amounts haven't met increasing demands.
Pension Gaps
Direct federal aid fell from 15 percent of all municipal revenue in the 1970s to about 5 percent by 1987, when the General Revenue Sharing program ended, said Michael Pagano, dean of the college of urban planning at the University of Illinois at Chicago.
Some wounds are self-inflicted, complicating the argument for assistance. Chicago faces a $20 billion unfunded public pension liability, thanks to years of failure to adequately pay into the retirement systems. Chicago, Boston, Atlanta, San Francisco and Philadelphia -- each a Democratic stronghold -- have the highest per-capita pension debt, according to a September report from Loop Capital Markets. Amounts range from $3,800 in Philadelphia to $7,200 in Chicago.
Detroit filed for bankruptcy protection in 2013 to escape from debts it couldn't pay after the population dwindled, tax collections slid and the automobile industry's decline gutted its economy.
"For 50 years, left-wing Democrats have pursued destructive tax policies, weak crime policies, and have driven the citizens out," Republican candidate Ted Cruz said at a Thursday debate in the city.
Help Wanted
Republican front-runner Donald Trump has said he would help the city by preventing manufacturers from relocating jobs.
"Detroit needs a lot of help -- and it certainly needs a lot of help when factories are closing to move to Mexico -- when you are closing up your car factories in order to build the same factory in Mexico, meaning a modern version of it in Mexico," he told the Detroit News last year. "We just can't have that. It just can't happen, and we have to stop it."
Bankruptcy allowed Detroit to cut $7 billion from its obligations by the time it emerged, an effort to steady the government's finances and hasten its revival. But the process was complicated by the city's history of mismanagement and mistrust between its mainly black and Democratic residents and a state government dominated by white Republicans.
"Why can't a presidential candidate use the word urban or city? It's because too many people equate cities with problems of corruption, violence and race," said Pagano. "Now if you get into a conversation about national urban policy, the first thing that comes up is, 'Oh, you mean a bailout.'"
Flint represents much of the financial and political challenge. This city of 99,000 people is the birthplace of General Motors Co. and was once a major assembly plant dynamo known as "Buick City." Its population has been halved since 1960, and 42 percent live in poverty, almost triple the national rate.
Flint's drinking water became contaminated with lead in April 2014 while under the control of a state-appointed emergency financial manager who decided to save money by switching the water source to the Flint River. The research firm Municipal Market Analytics said in January said the crisis could limit Republican Governor Rick Snyder's ability to "keep local aid and related spending down."
Recall Effort
The situation presents an opportunity for Democrats, who have won the past six presidential contests in Michigan. Snyder, the second-term governor, is a former businessman who appointed Flint's emergency manager. A recall campaign was launched against him last month, and the governor has hired two private attorneys to represent him.
Clinton in Sunday's debate agreed with Sanders's call for Snyder to resign and said if he doesn't he should be recalled.
"I will do everything I can. Water, soil and paint -- we're gonna get rid of it," Clinton said.
Sanders said he would "fire anybody who knew what was happening and did not act appropriately."
Republicans have come to Snyder's defense. Senator Marco Rubio, speaking at the Thursday debate, accused Democrats of exploiting Flint.
"The way the Democrats have tried to turn this into a partisan issue, that somehow Republicans woke up in the morning and decided, 'Oh, it's a good idea to poison some kids with lead.' It's absurd, it's outrageous, it isn't true," Rubio said.
Peter Eisinger, a retired professor of public affairs and urban policy at the New School of Social Research in New York, said the deck is stacked against large-scale assistance to urban areas.
"Democrats can pretty much rely on the votes from cities," Eisinger said. "But you have to remember that for 50 years people left the cities for the suburbs and they're not interested in spending their tax dollars to rebuild a place they've fled."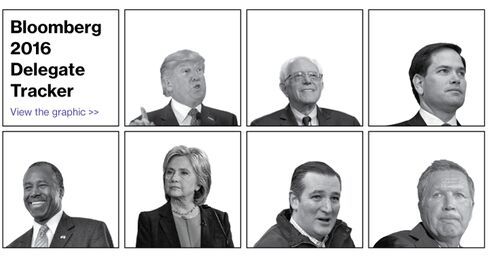 Before it's here, it's on the Bloomberg Terminal.
LEARN MORE