Race Matters
Bernie Sanders Fine-Tunes Pitch to Black Voters in Ohio
As Sanders continues to lose the black vote nationwide, he shook up the way he talks about race.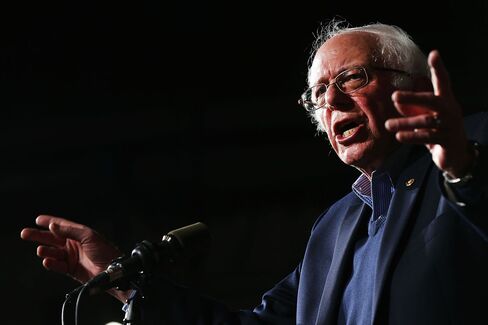 After months of struggling to connect with black voters, Bernie Sanders may have finally started to frame his crusade against income inequality in a way that connects with the group he badly needs in order to keep pace with Hillary Clinton for the Democratic presidential nomination.
Speaking at a town-hall meeting hosted by A Community Coalition Concerned for Black Life, the Vermont senator talked about issues facing African-American communities and his own experience growing up poor, in a more direct and personal way than he does in his stump speech.
"I've studied economics a lot in my life, but the most important economic lesson I've ever learned is growing up in a family that didn't have a lot of money," Sanders told about 1,000 people assembled at Olivet Institutional Baptist Church in Cleveland, Ohio, on Saturday. "It's in my heart, it's what I've believed and understood for my whole life. And that's why I am running for president."
Brooklyn native Sanders, who tends to avoid more than brief mentions of his background, added that he understands the plights of families who don't know if they'll have money to feed their kids or pay the rent.
During a question-and-answer session led by pastor Jawanza Karriem Colvin, Sanders also discussed his stance on criminal justice reform, the war on drugs, and investing in low income communities. On voting rights, he said he hates "cowards who try to get elected by denying people the right to vote."
The fine-tuned speech, which was often interrupted by applause, resonated with the mostly black crowd. "I would say that this experience really kind of opened my eyes to Bernie," said Mordecai Cargill, a 24-year-old Cleveland resident who works in community development.
Cargill said that he's been skeptical of Sanders' outsider status and believes that Clinton would best continue President Barack Obama's legacy. "But it was really encouraging to hear a politician speak with so much frankness and honesty about the real issues that real Americans face," he said.
Sanders also gave his most complete answer to date describing the role racism plays in perpetuating income inequality. At the end of the question-and-answer session, Sanders was asked whether he thinks the changing demographic—experts estimate that by 2045, white Americans will be outnumbered by minorities—is the cause of stricter voting laws and more "racist rhetoric." Sanders said that was part of the problem, but the deeper issue is that "the system" thrives by pitting different groups against each other.
In the 1950s, he said, low wage white workers were pitted against black workers. "What did they have going for them? What did the system in Mississippi give them?" he said. "It said to them, 'Yeah we're not paying you anything, you don't have any health care, you don't have any education … but you can drink at that damn water fountain and the black guy can't.'"
That division continues today, Sanders said, with demagogues like Donald Trump who "scapegoat minorities." The "antidote to all of that, in a sense what my campaign is about, is to say, 'No, we are not going to let these demagogues divide us up,'" he said.
Despite Saturday's event, if Sanders does well in Ohio, it will likely be thanks to white voters. The most recent polling in the state, a Feb. 23 Quinnipiac University poll, showed Sanders receiving just 26 percent of the black vote (in 2008, 18 percent of Democratic primary voters in Ohio were African-American). Clinton led by 15 points overall, with 55 percent of the vote.
Sanders has been working for months to court African-American voters, with mixed results. At a forum in Minneapolis last month, the 74-year-old was heckled by a predominantly black audience over his opposition to reparations for slavery (Clinton also opposes reparations), his failure to specifically explain how he would make sure government funding would goes to poor minority communities, and, to some, his unwillingness to say the word "black." When one heckler shouted "say black," Sanders snapped back, "I said black 50 times."
Last week, Sanders held a forum in Flint, Michigan, on its poisoned-water crisis. Sanders was well received, but failed to draw a diverse audience—while Flint is nearly 57 percent black, the majority of attendees at the event were white.
His lack of traction with most black voters has been evident at the voting booth. Exit polls from southern primary states, where black voters often make up more than half of the Democratic Party electorate, have shown Clinton leading with black voters, sometimes by as much as 85 points. Facing those numbers, Sanders has limited his campaigning in those states—his last visit to Louisiana, where Clinton on Saturday won about 70 percent of the vote, was in July.
The Sanders campaign says they are actively working to win over black voters. Symone Sanders, Sanders' press secretary, said the Cleveland event "was a testament to what happens when you partner with community organizations and groups and when you build real relationships."
A good turnout at one event won't diminish Clinton's lead, but it's a start, especially with younger black voters. "He pretty much answered questions that a lot of people had ... and he confirmed my vote." said Ashley Johnson, a 27-year-old title agent from Euclid, Ohio.
The Buckeye State holds its Democratic primary on March 15.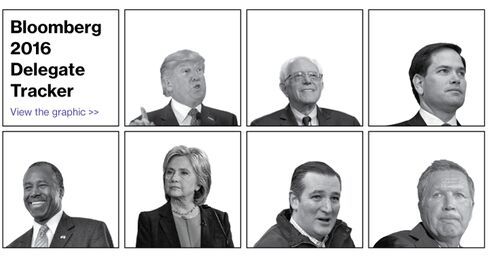 Before it's here, it's on the Bloomberg Terminal.
LEARN MORE