Cruz Wins in Kansas, Maine as Republicans Split Over Trump
Clinton wins Louisiana primary, Sanders takes Nebraska, Kansas

Republicans also holding contests in Louisiana, Kentucky
Texas Senator Ted Cruz defeated Donald Trump in Kansas and Maine Republican presidential caucuses on Saturday, demonstrating the strength of his campaign organization and appeal among conservatives as he casts himself as the party's main alternative to the real estate mogul.
In the Democratic race, front-runner Hillary Clinton won the primary in Louisiana while Vermont Senator Bernie Sanders had victories in Kansas and Nebraska caucuses. Clinton's decisive win in delegate-rich Louisiana will help her lead in delegates for the party's nomination.
The votes in the Republican caucuses in Kansas, Maine and Kentucky, plus the primary in Louisiana, were the first tallied since a public rupture that's pitting supporters of Trump against a collection of establishment Republican figures trying to block his path to the 2016 presidential nomination.
After Trump won 10 of the first 15 contests to emerge as the clear Republican front-runner, Cruz's victories on Saturday and his successes in four other states may help him bolster his argument that he's the only candidate who can defeat Trump in a head-to-head fight. Florida Senator Marco Rubio and Ohio Governor John Kasich, who trailing in the early results on Saturday, are holding on at least until primaries in their home states on March. 15.
"To see strong, strong wins across the board is very encouraging, and I think what it represents is Republicans coalescing, saying, 'It would be a disaster for Donald Trump to be our nominee, and we're going to stand behind the strongest conservative in the race,"' Cruz told reporters after a speech in Idaho, which has a Republican primary on Tuesday. He said the field of candidates must be winnowed so the Republican vote isn't splintered, giving an advantage to Trump.
Cruz took 48 percent of the vote in Kansas to Trump's 23 percent and in Maine he got 46 percent to Trump's 33 percent. Rubio finished third in Kansas and Kasich pulled in third in in Maine.
The simmering Republican civil war boiled over on March 3 when Mitt Romney, the party's 2012 nominee, called Trump a vulgar bully unfit to be president and said his policies would drive the U.S. into recession. Romney urged Republicans to vote strategically as a way to deny Trump the 1,237 delegates needed for the nomination. If successful, that may force a contested convention in Cleveland in July, when delegates could pick a different standard-bearer for the November general election.
Trump has brushed off such criticism while emphasizing his attraction for new Republican voters with a brash, tell-it-like-it-is style.
"This is a movement, folks, there's never been anything like this," Trump said earlier Saturday at a rally in Wichita, Kansas. And he issued a warning to those in the party plotting a way to stall his candidacy: "The Republicans are eating their own, they've got to be very careful."
Trump pulled out of a planned address to the annual Conservative Political Action Conference on Saturday in National Harbor, Maryland, an unusual move by a Republican candidate, to campaign in Kansas before heading to Florida. In a straw poll of the party activists attending the conference, Cruz had 40 percent support, followed by Rubio with 30 percent. Trump trailed with 15 percent.
The states voting on Saturday have 155 Republican delegates, with the Democratic contests offering 126, including so-called superdelegates, a mix of elected officials and party leaders who are free to back whom they like and change their loyalties.
Louisiana Battle
The biggest prize on Saturday in the Republican fight is Louisiana, bordering Cruz's home state of Texas. It has a large number of evangelical Christian voters as well as a tradition of backing populist candidates. Polls will close at 9 p.m. New York time. Trump led Cruz by 16 percentage points in a RealClearPolitics average of polls conducted this month, with Rubio third and Kasich fourth.
Cruz's campaign has been active in Louisiana for weeks, said Jason Doré, executive director of the state party. Trump and Cruz staged rallies in Louisiana on Friday night, while Rubio canceled a planned event in Baton Rouge to focus on campaigning in Kansas.
Cruz addressed a cheering crowd of about 2,000 on Friday night in Mandeville, across Lake Pontchartrain from New Orleans, after receiving an introduction from local hero Phil Robertson, star of the A&E reality television show "Duck Dynasty."
The Kansas results were a blow to Rubio, who held three rallies there on Friday and had the backing of Governor Sam Brownback. Rubio has only won a single contest, the Minnesota caucuses on March 1. He told reporters that he's prepared for a protracted nomination fight and that he "feels good" about the calendar from Saturday onward.
Kasich campaigned Saturday in Michigan, which has its primary on Tuesday. The Ohio governor said he hopes for a strong showing in his neighboring state. Kasich has said he'll drop out of the presidential contest if he doesn't win Ohio, and is gearing up for a convention fight if he prevails.
Playing the role of party tactician and elder statesman, Romney has urged voters in Florida to back Rubio and those in Ohio to select Kasich to deny Trump a majority of delegates. However, Rubio trails Trump by a wide margin in Florida polls, and Kasich lags behind the front-runner narrowly in Ohio. Cruz on Friday rejected the idea of a contested convention, warning that it would lead to a "manifest revolt" of Republican voters.
On the Democratic side, Clinton sought to continue attracting overwhelming support from black voters, who make up 54 percent of registered Democrats in Lousiana. Exit polls show the former secretary of state captured more than 80 percent of that segment of the electorate in the South Carolina, Texas, Georgia and Alabama primaries.
"It looks like at this point we won a very good victory in Nebraska, a very good victory in Kansas and that adds to the victories that we have won so far," Sanders said in Michigan.
The Clinton campaign had sought to lower expectations in Kansas and Nebraska, saying this week in a memo from campaign manager Robby Mook that Sanders has "as clear advantages and is investing heavily" there and that Clinton has a larger lead in pledged delegates than Obama ever had in his victorious 2008 primary with Clinton.
With populous states like New York, California and Illinois still to vote, Clinton has 45 percent of the 2,383 delegates needed to win, according to an AP tally that includes superdelegates.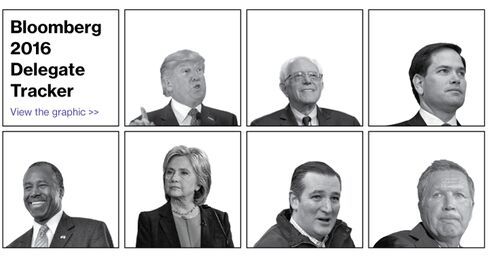 Before it's here, it's on the Bloomberg Terminal.
LEARN MORE