Trump in the Hot Seat: Republican Debate By the Numbers
The two senators took their sights off of each other and trained them squarely on the current front-runner
Donald Trump's top two rivals for the Republican presidential nomination, Texas Senator Ted Cruz and Florida Senator Marco Rubio, targeted him with their most coordinated strike yet at Thursday's debate in Detroit, heeding 2012 nominee Mitt Romney's call to "find some common ground" in challenging the front-runner.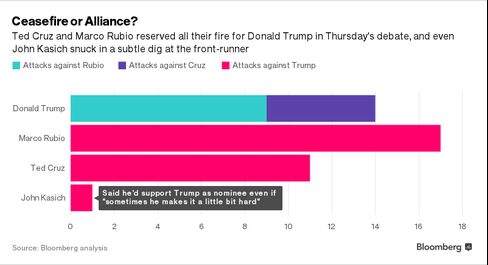 Trump drew fire not only from his competitors, but also from the Fox News moderators, who confronted him with six separate prepared graphics and video clips challenging his positions on issues from drug pricing to Afghanistan. A similar tactic was used only once for any other candidate: Ohio Governor John Kasich, who was asked to respond to one of his own campaign videos from December about Trump. In all, the front-runner received more than twice as many moderator questions as his closest rival, Cruz.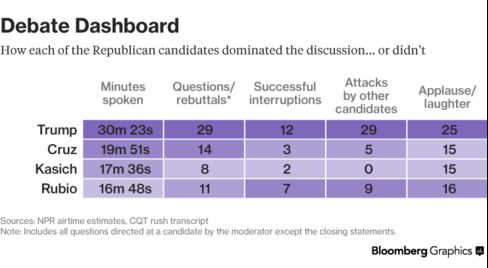 Trump swung back at the moderators—three times interrupting a question from Megyn Kelly about his now-defunct Trump University with a derisive "give me a break"—and at Cruz and Rubio, whom he nicknamed "Lyin' Ted" and "Little Marco."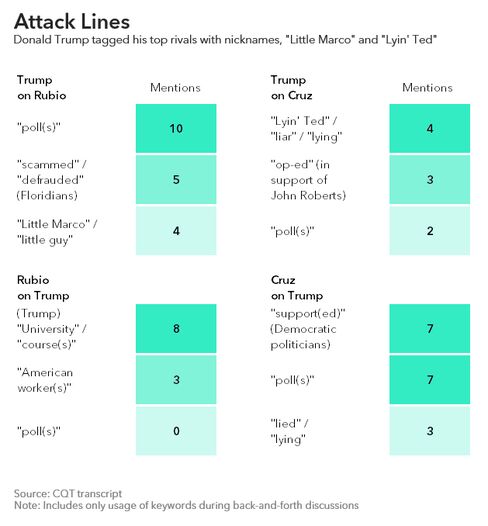 The attacks were flying so thick and fast that, at one point, Cruz employed a favorite debating tactic of former candidate Chris Christie, appealing directly to the audience. "Let me ask the voters at home, is this the debate you want playing out in the general election?" Cruz asked. He ultimately delivered more substance than Trump and Rubio, as measured by the use of policy keywords like "taxes," "jobs," "China," and "Obamacare."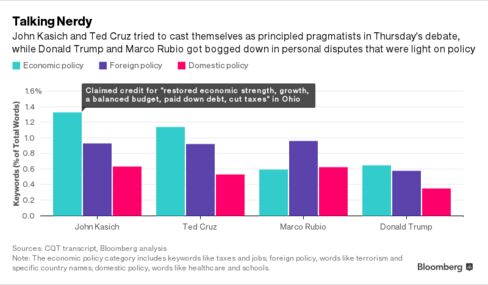 It was Kasich who most successfully stayed above the fray, focusing on policy where possible and openly admitting a strategy of conflict avoidance. "I have never tried to go and get into these scrums that we're seeing here on the stage," he said. "And people say everywhere I go, 'You seem to be the adult on the stage.'"
Rather than engaging with the other candidates, Kasich focused on his own record, mentioning himself 134 times, more often than Rubio and Cruz mentioned themselves, and more often than he'd done in any prior debate. Kasich is seeking a home-state win in the Ohio primary on March 15.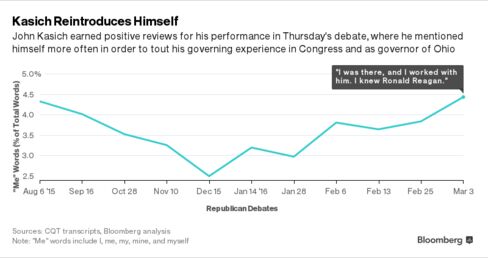 —Bloomberg contributor Adam Tiouririne of Logos Consulting Group advises senior business leaders on high-stakes communication and researches language, leadership, and the media.
Before it's here, it's on the Bloomberg Terminal.
LEARN MORE