Trump Drops Out of CPAC, Riding High After Super Tuesday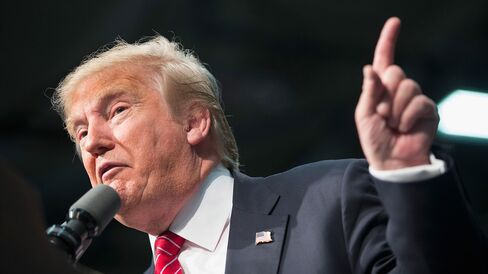 Donald Trump pulled out of his speech at the annual Conservative Political Action Conference, an unusual move for a front-runner for the Republican presidential nomination.
Trump's campaign said Friday he will skip the high-profile gathering of voters, where he had been set to speak on Saturday, in order to hold a "major rally" in Wichita, Kansas, and address caucus-goers taking part in the nomination contest that day. After that he'll depart for Orlando, Florida, ahead of the high-stakes primary in the Sunshine State on March 15, the campaign said.
"Because of this, he will not be able to speak at CPAC as he has done for many consecutive years," the campaign said in a statement. "Mr. Trump would like to thank Matt Schlapp and all of the executives at CPAC and looks forward to returning to next year, hopefully as President of the United States."
CPAC, which announced the news on Twitter, saying it was "very disappointed" and signaled that the decision wouldn't go over well with conservative voters, many of whom are skeptical of Trump's commitment to their values.
Matt Schlapp, the chairman of the American Conservative Union, which hosts CPAC, said the organizers had a "disagreement" with the Trump campaign as to whether he'd give a speech as well as participate in a Q&A, as other candidates are doing.
"In a sense when you come to CPAC as a presidential candidate, you're paying respects to conservatives who will make up two-thirds of those who will pull the levers in these states. I think it's a big mistake for him not to be here," Schlapp said on CNN.
Matt Batzel, a conservative activist based in Wisconsin, told Bloomberg Politics in an e-mail that there "was a planned walk-out" for Trump's speech due to a "strong anti-Trump sentiment at CPAC." It's unclear how many people would have joined the walkout, Batzel said, but he speculated that Trump canceled his speech because he "didn't want to have a bunch of press talking about a chilly reception."
Trump leapt to a large lead over rivals Ted Cruz, Marco Rubio, and John Kasich in the Republican race for a majority of delegates after the Super Tuesday contests earlier this week, winning seven of 11 states.
Kasich and Cruz are scheduled to speak at CPAC on Friday; Rubio's speech is slated for Saturday.
Before it's here, it's on the Bloomberg Terminal.
LEARN MORE