History Backs Trump as the Most Likely Republican Nominee Right Now
The 10 states he's won have correctly predicted the nominee 70 percent of the time since 1968.
More than a dozen states have now voted for Republican and Democratic presidential nominees, but not all those results are equally useful for predicting who will actually make it to the general election. The 10 primaries and caucuses that Donald Trump has won so far make him the most likely GOP nominee, according to one measure: On average, those states have correctly predicted the nominee 70 percent of the time since 1968, according to a study by American University's online analytics master's program.
Among the states he's won, Virginia and Vermont have the best track record, with the winner of the Republican primary in those states going on to win the party's nomination nearly 86 percent of the time over the past 50 years. Massachusetts primaries, on the other hand, have correctly predicted the Republican nominee just 50 percent of the time. (The study excludes nominating contests where an incumbent president was seeking re-election.)
On the Democratic side, the 10 states in Hillary Clinton's column have historically predicted the nominee 60 percent of the time, barely edging past Bernie Sanders and his five wins, which have a 59 percent track record since 1968. Turns out that Sanders' big wins in his home state of Vermont (50 percent) and neighboring New Hampshire (44 percent) are not particularly meaningful, if history is a guide.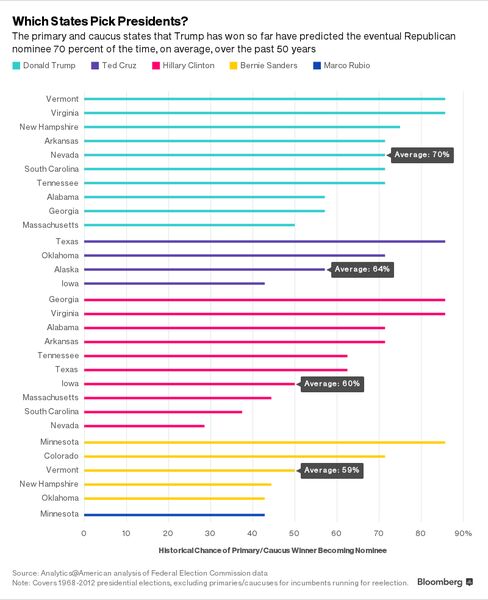 Meanwhile, Ted Cruz's strong Super Tuesday victories in Texas (86 percent) and Oklahoma (71 percent) were partially offset by his early win in Iowa (43 percent), which is tied with Minnesota (Marco Rubio's only win) as the least predictive state in the nation.
Before it's here, it's on the Bloomberg Terminal.
LEARN MORE