Clinton, Trump Trade Fire on 2016's Biggest Voting Day Yet
The front-runners are expected to begin pulling away from their rivals when Tuesday's results are tallied.
Presidential nomination voting was underway in about a quarter of the U.S. on Tuesday, with Republican Donald Trump and Democrat Hillary Clinton looking to use the biggest day of the 2016 race so far to all but cement a White House match-up this fall.
The front-runners made clear they're eyeing each other. Republican rhetoric, "especially what you hear from Donald Trump, just says to me that stakes could not be higher," Clinton said in a radio interview. "If I'm fortunate enough to be the Democratic nominee, the sooner the better." Trump warned on Fox News, "I haven't even started on Hillary yet."
State officials reported strong turnout for Super Tuesday balloting, the closest thing yet to a national referendum on Trump. A sweep by the brash New York billionaire would put him within reach of the Republican presidential nomination, a goal many in the political world once thought unimaginable.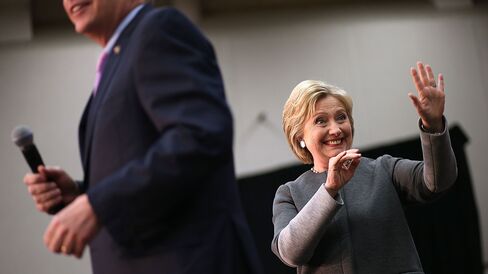 A strong Clinton showing could transform the former secretary of state from a dominant front-runner into the virtual nominee, following her trouncing of Senator Bernie Sanders in South Carolina's primary Saturday. Sanders vowed Tuesday to take his campaign to the Democratic National Convention in July. He could win a few scattered contests, but came into Super Tuesday with a stark delegate disadvantage.
In Minnesota, taking questions from the traveling press for the first time in more than 85 days, Clinton left open the possibility that "somebody else could intervene and rise above" Trump. On Sanders, she said, "Let's see what voters decide in all these states that are lined up today and then we'll take stock."
Trump is leading in the polls virtually everywhere on Super Tuesday except Texas—a critical test for Senator Ted Cruz, who is trying to avoid an embarrassing and potentially campaign-ending loss in his home state. Cruz and Senator Marco Rubio of Florida ratcheted up their personal and professional attacks on the front-runner in recent days as their party struggled to agree on whether and how to stop him.
Senator Jeff Flake, an Arizona Republican who endorsed Rubio, said Tuesday on CNN he's "holding out hope" that he doesn't have to make a decision to back Trump. Senator Ben Sasse, a Nebraska Republican who's already said he won't vote for the reality-TV star, said on MSNBC that Americans "deserve better than Donald Trump and Hillary Clinton, and I think ultimately there will be more choices."
The situation has left some establishment Republicans openly questioning whether their fractured party is headed for disaster in November, should Trump win the nomination. A poll released Tuesday by CNN showed Clinton beating Trump 52 percent to 44 percent among registered voters in a hypothetical general-election match-up. Against Rubio and Cruz, Clinton narrowly trailed, while Sanders beat all three Republicans in the survey.
Republicans also see down-ballot risks to the Trump juggernaut, which was boosted by a surprise endorsement from former rival Chris Christie on Friday and from immigration hawk Jeff Sessions, an Alabama senator, on Sunday. "A Trump nomination wouldn't just impact Republicans' ability to win back the White House, but to hold control of the Senate and perhaps even the House," said Brian Walsh, former spokesman for the National Republican Senatorial Committee.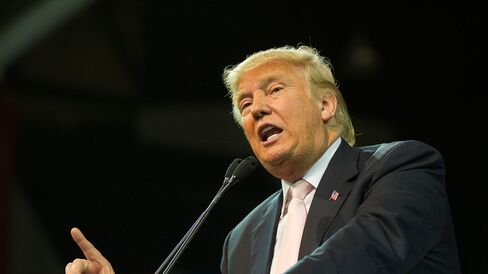 Fueling many Republicans' dismay: Trump's initial failure to repudiate the support of former Ku Klux Klan leader David Duke in a weekend TV interview. The candidate played clean-up on the issue Tuesday. "There's nobody that's done so much for equality as I have," Trump said on ABC. "You take a look at Palm Beach, Florida: I built the Mar-A-Lago club, totally open to everybody."
House Speaker Paul Ryan said on Capitol Hill that Republican candidates "must reject any group or cause that is built on bigotry," but said he planned to support whoever becomes the party's nominee.
The KKK issue was at play in Texas, where Carrie Kennedy, an independent in Austin, made a last-minute decision to vote for Clinton over Trump. Kennedy, a 59-year-old African-American woman, said she became turned off by the conversation over the white supremacist group and Trump's unwillingness to immediately disavow it.
"I didn't like the mud-slinging by the Republican candidates," she said. "Some of it is getting into the sewage—it's really distasteful."
The first polls close at 7 p.m. Eastern time in Georgia, Vermont, and Virginia. Clinton has big advantages across surveys in delegate-rich Georgia and Virginia, and that may allow news outlets to declare her the winner there quickly. Most polls in Texas, the biggest prize in terms of delegates, close at 8 p.m. Eastern time. In all states, the raw vote totals will be telling, but it will take somewhat longer to calculate how many delegates are awarded because of varying rules.
Former President Bill Clinton was making a series of surprise appearances for his wife in Massachusetts, including a stop at Holy Name Parish School in West Roxbury with Boston Mayor Marty Walsh.
Early crowds at precincts in the Bay State reinforced Secretary of State William Galvin's prediction of strong turnout there, especially among Republicans. Galvin, a Democrat, has said he expects 700,000 voters to take GOP ballots, including about 20,000 voters who were previously registered Democrats. That would shatter the 2008 Republican primary turnout record of 500,000.
David Paleologos, director of a Suffolk University poll that found Clinton and Trump in the lead, said most of the Democrats who dropped their party affiliation to participate in the Republican primary are trying to help get Trump elected president, not voting strategically to give Clinton a weaker general-election opponent.
In Minnesota, Republican leaders told local volunteers to prepare for twice as many caucus-goers as the roughly 65,000 seen in 2008. In Georgia, more than 417,000 ballots were cast early, breaking the 2008 record of about 271,000 early votes, according to the secretary of state. Republicans cast about 100,000 more of those early ballots than Democrats.
Anticipating high turnout, some school districts in northern Virginia closed Tuesday to accommodate the polling places that some of them host. "We came to vote against Trump," said Irene Wittig, 71, who said she chose a Republican ballot for the first time in 50 years in order to counter the billionaire. She said she voted for Ohio Governor John Kasich because he seems like the most reasonable Republican candidate, even though she wouldn't vote for him in November, should he become the nominee.
The GOP sped up its nomination calendar after 2012 to avoid a repeat of the extended, messy fight that weakened their eventual nominee, Romney, that year. So far, it has benefited Trump and makes it hard for any of his rivals to catch up to his momentum. For a party that once espoused Ronald Reagan's so-called "11th commandment" of not attacking fellow Republicans, the GOP race has landed firmly in the gutter, with Rubio now even questioning the size of Trump's hands and, indirectly, his manliness. ("Donald, you have the most beautiful hands," Trump said he's often told, responding at an Ohio rally on Tuesday.)
Cruz laid a marker for himself, Rubio, and Kasich in Houston on Tuesday, telling reporters "there is no doubt that any candidate who cannot win his home state is in real trouble." Cruz has said he expects the Republican contest to become a "two-man race" between him and Trump after Super Tuesday. Rubio and Kasich won't face home-state contests until March 15.
Trump, who has ridden a wave of anger at the Washington establishment among voters who've felt left out of the political process, was set to spend Tuesday in Ohio, Kentucky, and Florida, where contests will be held later in March. The front-runner has also called a news conference for 9 p.m. at Mar-a-Lago. In Ohio, Christie introduced Trump with swipes at Rubio and Cruz before Trump pointed out he's beating Kasich in state polls. The billionaire also feuded with South Carolina Governor Nikki Haley, a Rubio backer, over his delay in releasing his tax returns.
Including contests on both sides of the political aisle, 12 states in total will hold primaries and caucuses on Super Tuesday: Alabama, Alaska, Arkansas, Colorado, Georgia, Massachusetts, Minnesota, Oklahoma, Tennessee, Texas, Vermont, and Virginia.
After winning three of the first four contests by sizable margins, Trump continues to benefit from a splintering of support for his rivals. The Republican voting in 11 states will determine the allocation of nearly half the delegates needed to win the nomination, while Democratic contests will award about a third.
Trump and Clinton challengers do have one piece of mathematics working in their favor: delegates from Tuesday's balloting will be divided proportionally, meaning Trump isn't likely to completely run the tables. The rules change starting with the March 15 contests, when states start awarding delegates on a winner-take-all basis.
"This thing's got a long way to go," cautioned Haley Barbour, a former Mississippi governor and one-time Republican National Committee chairman, during an interview on Bloomberg Television's With All Due Respect on Monday. "Donald Trump today certainly has a better chance than anybody else of winning the nomination, but he is a long way from having it won."
With proportionality in mind, Rubio's campaign has deployed a strategy to focus on suburban areas where his youthfulness and message might have stronger appeal.
"He's got to get a win somewhere, but it doesn't have to necessarily be Super Tuesday," said David Winston, a Republican consultant who worked on Newt Gingrich's 2012 presidential campaign.
Polls show Sanders with a commanding lead in his home state of Vermont, one of the 11 states hosting Democratic contests. The senator has identified Minnesota, Colorado, Oklahoma, and Massachusetts as the other states where he thinks he has the best chance for victories. Like Rubio, he is emphasizing delegate accumulation.
"Our hope is that we can win a number of states and in those states where we won't do well, obviously we want as large a vote as possible," he told reporters after voting in Burlington.
—With assistance from Mark Niquette, Jennifer Epstein, Sahil Kapur, Mike Dorning, Arit John, Tom Moroney, Angela Greiling Keane, Billy House, Emily Greenhouse, James Nash, Lauren Etter, Michelle Cortez, and Margaret Newkirk.
Before it's here, it's on the Bloomberg Terminal.
LEARN MORE