De Blasio Asks Agency Heads to Cut Spending and Find New Revenue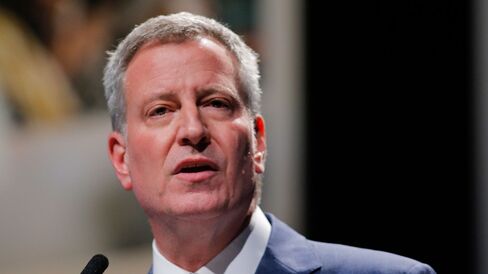 Budget Director Fuleihan doesn't set across-the-board targets

He cites concern about uncertain New York's economic climate
New York Mayor Bill de Blasio is seeking spending cuts and new revenue sources from each agency head for the first time in more than two years of governing the most populous U.S. city, citing concerns about an economic slowdown.
The request came in a letter Monday to the heads of all agencies from Dean Fuleihan, the mayor's budget director. He said his office had saved $1.1 billion, in part by trimming debt-service costs with refinanced bonds.
"Agencies will be required to find productivity and management improvements by restructuring the delivery of programs or services, using technology to produce efficiencies, improving revenue collection, reducing administrative and overhead costs, and funding underused programs at the appropriate levels," the letter stated.
In instituting a program to eliminate the gap, de Blasio partially bowed to pressure from 25 of the City Council's 51 members who pushed for 5 percent cuts in a December letter as "an important exercise to ensure that agencies are operating at their most efficient."
De Blasio's program doesn't set an across-the-board percentage, prompting Maria Doulis of the Citizens Budget Commission to question its effectiveness. While encouraged by the mayor's move, "we will have to wait and see if the magnitude of the program is meaningful," she said. The organization is a business-funded fiscal watchdog for the city and state.
The $82 billion balanced budget, proposed by de Blasio last month and under City Council review, includes an additional $600 million in pension-fund expenses due to lower investment returns and $337 million to cover public-hospital operating costs. It also includes $115 million to extend a $15-an-hour minimum wage to all city workers and more spending on the mentally ill and homeless.
Revenue from taxes on income, sales, real estate and apartment sales has helped the city stash about $6 billion to pay for future debt service and health benefits. Fuleihan warned City Council members Tuesday that losses in global stock markets and sluggish economic growth among the world's developed nations raise the possibility of a slowdown.
Before it's here, it's on the Bloomberg Terminal.
LEARN MORE