After Saving Chrysler, Obama Adviser Deese Leads Court Fight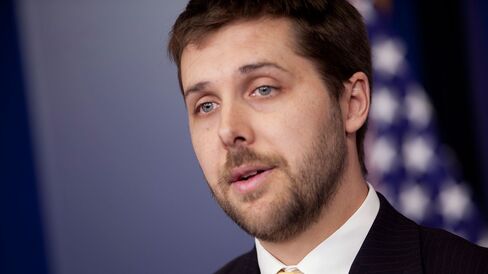 Obama adviser Deese, 38, will direct White House's court fight

Deese led negotiations on international climate agreement
At 31, Brian Deese helped President Barack Obama restructure General Motors Co. and the American auto industry. Just days after turning 38, he's now spearheading the White House's fight to fill a vacancy that could tip the balance of power on the U.S. Supreme Court.
His baby face and sparse beard belie a record in the Obama administration that has placed him at the center of complex, multifaceted battles, including budget fights with Congress and the global negotiations over a climate change agreement concluded last year.
The choice of Deese as point man for the Supreme Court fight shows Obama characteristically turning at a critical moment to a long-time loyal lieutenant. The clash over replacing Justice Antonin Scalia, who died Feb. 13, promises to be the biggest drama in Washington this year, with the backdrop of a presidential campaign. Republican congressional leaders say they won't consider any Obama nominee.
Deese "is becoming a gray-haired wise man with no gray hairs," said Gene Sperling, Obama's former National Economic Council director, who added that Deese succeeded 67-year-old Washington veteran John Podesta in the White House hierarchy. "He is able to have that confidence from the president before he's turned 40, which is rare and impressive."
The opening act in the court fight comes Tuesday, when Republican Senate Leader Mitch McConnell of Kentucky and Judiciary Committee Chairman Chuck Grassley of Iowa meet with their Democratic counterparts and Obama at the White House. Every Republican member of the Judiciary Committee already has signed a letter vowing not to hold a hearing for any Obama nominee, lowering expectations for any substantive consultation at the meeting.
McConnell met with House Republicans on Tuesday, before going to the White House. He told them that he was sticking with his strategy on filling the vacancy on the Supreme Court, "making it crystal clear that it would be the next president" whose nominee is confirmed, Republican Representative Tom Cole of Oklahoma said in an interview.
Paris Agreement
Before the Supreme Court battle, Deese spent much of last year heading up White House work on an international agreement to reduce global carbon pollution. The deal was signed in Paris in November. "A lot of that is a testament to Brian's hard work," White House Press Secretary Josh Earnest told reporters Monday.
To support Deese's work within the White House, the Obama administration has assembled a team of alumni to coordinate the activities of outside groups. They include Stephanie Cutter and Anita Dunn, former White House communications officials; Julianna Smoot and Paul Tewes, former Obama campaign leaders; and Katie Beirne Fallon, a former chief White House lobbyist.
Though little known outside Washington, Deese has become an established power within the White House, rising with a young generation of political staff who arrived with the new president and have reached top positions in Obama's final years. Deese is one of Obama's senior advisers, with an office just steps away from the Oval Office.
Sperling hired Deese as an assistant in 2002 at the Center for American Progress, a nonprofit research group aligned with Democrats, shortly after Deese graduated from Middlebury College. Deese went from there to Yale Law School but was pulled back into the world of politics to work on economic policy for Hillary Clinton's 2008 presidential campaign.
After Clinton lost to Obama in the primaries, Deese was recruited to the Obama campaign for the general election and hired onto the White House economic staff thereafter.
Saving Chrysler
Within months, Deese was in the White House Roosevelt Room engaged in a debate over whether to include Chrysler in the auto bailout. The issue had split the president's team, and Deese was one of the advisers that argued for saving Chrysler, Sperling said.
"When Brian spoke last and explained why the fiscal costs could be even greater if we let Chrysler go under, I remember Obama nodding through his entire presentation," Sperling said.
By 2011, The New Republic magazine included Deese on its list of "Washington's Most Powerful Least Famous People."
Obama later named him deputy director of the Office of Management and Budget, then brought him back to the White House after Podesta departed. As senior adviser, Deese's portfolio included responsibility for an environmental agenda that included tougher regulation of coal power plants, the Keystone XL oil pipeline from Canada and the expansion of federal lands with conservation protection.
Before it's here, it's on the Bloomberg Terminal.
LEARN MORE