Menendez Asks Appeals Court to Dismiss Corruption Indictment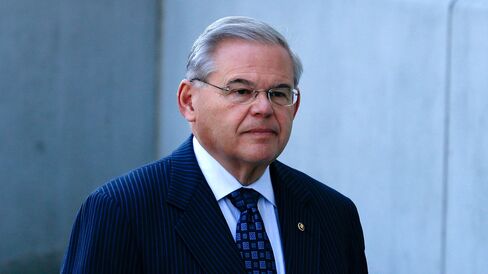 Senator says his actions protected by U.S. Constitution

New Jersey Democrat faces U.S. bribery trial in the fall
A lawyer for New Jersey Senator Robert Menendez told skeptical appellate court judges that the lawmaker's actions on behalf of a campaign donor were protected by the U.S. Constitution and not the work of a corrupt politician.
Menendez, a Democrat, was charged last April with bribery and other crimes for taking almost $1 million in campaign donations, luxury travel and other gifts from Salomon Melgen, a Florida eye doctor who sought his help in disputes with the U.S. government. Menendez denies wrongdoing and faces trial in the fall.
The senator's lawyer, Abbe Lowell, told a three-judge panel in Philadelphia on Monday that the Constitution's Speech or Debate Clause protects lawmakers for legislative acts and gave Menendez immunity from prosecution. Urging the judges to dismiss the case, he said U.S. District Judge William Walls improperly ruled the senator wasn't protected by the provision in meeting with executive branch officials about policies that affected Melgen.
Lowell said Walls failed to understand the senator's contacts with high-ranking administrators were the equivalent of legislative oversight, which is protected, and not corrupt actions benefiting Melgen, as prosecutors say. Walls analyzed a series of meetings and communications involving Menendez.
The panel said that if a lawmaker isn't clearly pursuing legislation or holding hearings, a judge can analyze his words and communications in meetings or informal settings to determine whether his actions to help a constituent are corrupt.
Understand Meaning?
"Is it unlawful to look at communications to understand the meaning?" Judge Kent Jordan asked Lowell.
A judge can "make an inquiry of the content of the contact, not the motive," Lowell said.
Menendez and Melgen were indicted in Newark, New Jersey, and pleaded not guilty to charges of conspiracy, bribery, honest-services fraud and violating the Travel Act. Menendez was also accused of making false statements on Senate ethics forms about gifts from Melgen.
Prosecutors said the senator intervened to help the eye doctor in a Medicare overbilling case, a contract dispute with the Dominican Republic and visa applications for three girlfriends. Menendez has called the case an attempt to prosecute a 20-year friendship. Any favors between the two men stemmed from that relationship, he said.
Last year, Walls threw out four of the 22 counts in the indictment. He dismissed two bribery counts against each man that related to separate $20,000 donations that Melgen gave in 2011 and 2012 to a legal defense trust fund that benefited Menendez. Walls said prosecutors failed to meet the legal standard to charge those donations as a crime.
But Walls refused to dismiss the indictment, prompting the senator to appeal.
The case is U.S. v. Menendez, 15-cr-00155, U.S. District Court, District of New Jersey (Newark).
Before it's here, it's on the Bloomberg Terminal.
LEARN MORE