Heroin Crisis Puts Vulnerable U.S. Senate Republicans in a Bind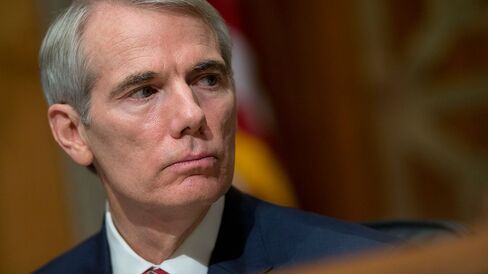 Democrats' push for $600 million to fight epidemic splits GOP

Plan seeks to curb addiction to heroin, prescription drugs
Efforts in Congress to combat heroin and prescription-drug addiction are creating an unexpected dilemma for vulnerable U.S. Senate Republicans as they seek to keep control of the chamber in the November election.
Republican senators including Rob Portman of Ohio and Pat Toomey of Pennsylvania face a choice: Back a Democratic push for $600 million to fight the opioid epidemic or risk accusations they aren't doing enough to combat an epidemic killing tens of thousands of Americans each year.
Joining the Democrats would put them at odds with Republicans who oppose additional spending, including Judiciary Committee Chairman Chuck Grassley of Iowa.
Democrats want to add the money to a smaller bipartisan measure negotiated by Portman, Democrat Sheldon Whitehouse of Rhode Island and others that would authorize grants for prevention and treatment programs. The bill is set for a Senate procedural vote Monday.
"There comes a time when something has taken enough American lives that you have to take it seriously," Whitehouse said in an interview at the Capitol. "It would be unfortunate if they insisted on passing a bill that addresses this issue without being willing to put a nickel behind it. I think that's really dishonorable and I hope they won't do that."
Divided Washington
Passing a bill could help Portman tout his ability to get things done in a divided Washington as one of five Republicans running for re-election in states won twice by President Barack Obama. Republicans control the Senate 54-46, meaning that a net loss of five seats would hand control to the Democrats.
But Republicans who support the extra funds would be going against fellow party members including Grassley, who helped write the bipartisan bill, S. 524, which would allow $78 million in grants from money in an earlier spending measure.
"There's already money in the appropriation bill passed before Christmas to fund this and it's not used," Grassley said in an interview at the Capitol. "So there isn't any need for more money."
Democrats say that's not enough given the massive scope of the problem. Democratic Senator Jeanne Shaheen of New Hampshire plans to offer a floor amendment to add $600 million in emergency funding to bolster treatment, prevention and other efforts to fight opioid abuse. Whitehouse said he worked with her to adjust her proposal to match language in the bill.
Overdose Deaths
Shaheen's fellow New Hampshire senator, Republican Kelly Ayotte, has signed on to the proposal and said last week in an interview that she plans to vote for it on the floor. Ayotte also faces a tough re-election fight, and New Hampshire has been at the epicenter of the political tumult around the issue because of a spike in overdose deaths in recent years.
Portman so far has resisted the amendment, telling reporters a few weeks ago he was concerned it could bring down the overall bill.
"I like the idea of spending more money on this, but I also really want to get this legislation passed," Portman said. "Let's not derail the legislation we've worked on for years."
Portman has touted more than 130 anti-drug groups urging lawmakers in both parties to quickly pass the bill.
Other vulnerable Republican senators will have to decide whether to support Shaheen's amendment if it gets a vote on the floor. Toomey said in a hallway interview he didn't have a position yet. Other Republicans to watch include Mark Kirk of Illinois and Ron Johnson of Wisconsin.
20,000 Americans
Close to 20,000 Americans died in 2014 from overdoses on opioid prescription painkillers, which include drugs like OxyContin, according to the National Institutes of Health. A dispute over how to address the problem delayed Senate confirmation of new Food and Drug Administration leader Robert Califf until Feb. 24.
Senator John Cornyn of Texas, the second-ranking Senate Republican, said Democrats' requests to spend money are piling up and he criticized Democrats' tactics of trying to attach the funds to otherwise bipartisan bills.
"I might even call it a shakedown, not just a toll," Cornyn said Feb. 11. "I'm going to say no."
Given that Shaheen's amendment will probably need 60 votes to pass, vulnerable Republicans could vote for the amendment and GOP leaders may still have enough votes to kill it. Democrats would then face the choice of blocking the bill with a filibuster or letting it pass without the extra money.
A bipartisan energy bill has been held up for weeks because Democrats have demanded unrelated funding for the water crisis in Flint, Michigan. Negotiators reached a deal on that issue but still must clear it with all 100 senators to fast-track it on the Senate floor.
Before it's here, it's on the Bloomberg Terminal.
LEARN MORE