Cruz Campaign Spent Weeks Courting Carson But Bad Blood Continues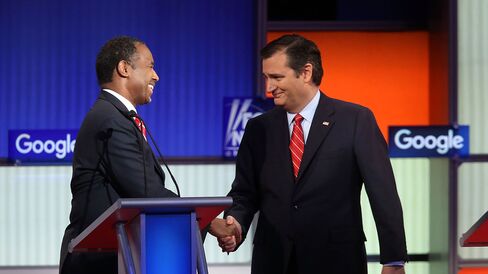 Texas Senator Ted Cruz has spent weeks trying to convince retired neurosurgeon Ben Carson to stop attacking him in the Republican presidential contest over "dirty tricks," but Carson remains resistant to his pleas and still angry over Cruz's campaign tactics, people familiar with the conversations say.
Cruz and Carson famously met in a storage closet on Feb. 18 in South Carolina, an attempt to patch up relations that instead left things worse. That meeting was the culmination of attempts by Cruz's high command to court Carson and his top staffers, the people say.
Some of the Cruz campaign's top surrogates, including Iowa Representative Steve King, initiated meetings with Carson's political team to smooth tense relations with Carson, whose loyal following of evangelical conservatives has become a chunk of voters Cruz is eager to absorb should Carson exit the race.
So far, it hasn't worked. Carson shows no sign of dropping out before Super Tuesday, or of throwing his support behind Cruz even if he did.
The Cruz-Carson stand-off is part of the larger story of why the Republican Party so far has been incapable of stopping billionaire Donald Trump, who has done surprisingly well among evangelical voters despite being a twice-divorced New Yorker who once supported abortion rights.
Carson has finished the last three contests in single digits, and there is little sign that he still has a legitimate path to the nomination. Cruz, too, is in serious danger if he can't do well on Super Tuesday March 1, particularly because he has been unable to consolidate support among evangelical voters who he hoped would propel him to the nomination -- the very people supporting Carson.
In a way, the feuding between Carson and Cruz over campaign tactics presaged a nasty turn in Republican rhetoric that has only grown more ugly with every passing day. Both Trump and Florida Senator Marco Rubio briefly came to Carson's defense against Cruz, but now those two candidates -- the front-runner and his top challenger -- have turned on each other, with a series of barbs that has degenerated into taunts about who wears more makeup and sweats more profusely.

The bad blood between Carson and Cruz stems from the Cruz campaign's falsely suggesting on the night of the Iowa caucuses on Feb. 1 that Carson was dropping out of the race the following day. Carson demanded a public apology and Cruz obliged, but Carson has gone on to question a Cruz campaign "culture" that would promote such "dirty tricks."
The Cruz and Carson campaigns did not respond to repeated requests for comment, but the Texas senator's top surrogate in the Hawkeye State -- King, the influential conservative lawmaker -- did describe how two days after Iowa caucus-goers crowned Cruz victorious, King traveled to Washington to smooth things over with Carson.
It was King who was one of the Cruz surrogates contributing to the false Carson-dropping-out rumor, with a tweet 20 minutes after Iowa caucuses opened that linked to a CNN report. "Looks like Carson is out," King wrote in a tweet that went viral.
Inside Carson's Residence Inn suite near Washington's Dupont Circle at 9:30 p.m., King said, he met with Carson for about 45 minutes. Carson had arrived in Washington for the National Prayer Breakfast the following morning, the same event that catapulted him onto the political stage in 2013.
In King's telling, he never said he was sorry to Carson, nor does he think Carson's anger is justified. Putting out a campaign schedule that says the candidate is traveling home to get fresh laundry -- as Carson did -- obviously would raise questions about the campaign's future, King said. He blamed news reports, not Cruz surrogates, for suggesting Carson was getting out.
During his conversation with Carson, King said, "we reached a place where Dr. Carson acknowledged that there was no ill will and malice in any of my actions."
"I regret this happened," King recalled telling Carson at the hotel. "If I had it to do over again, I wouldn't have sent any information out, but that's knowing what I know now. What I knew at the time and what was available at the time -- I would be compelled to do the same thing over again."
King said he ended the meeting telling Carson he would recommend to Cruz that the two candidates meet privately, a promise he said he followed up on immediately after the meeting. King said he felt it was "productive."
A senior Carson campaign source, however, said the candidate felt otherwise. This person, who spoke on the condition of anonymity to discuss private meetings, noted that Cruz had only sent King, and King never offered an apology for his tweet.
A short time later, there was second meeting between the campaigns, as a top Cruz campaign official initiated a private breakfast ahead of the New Hampshire primary with Carson campaign chairman Robert Dees.
Again, the meeting had the opposite effect of what Cruz's team intended. Instead of building bridges, it left Carson's campaign feeling that Cruz wasn't taking Carson seriously and was only trying to push him out of the way, the Carson source said.
The meeting between Cruz and Carson would not take place until 16 days later, an eternity in a campaign fueled by the around-the-clock news cycle. It happened two days before the South Carolina primary in a closet in Greenville, at the Conservative Convention by Conservative Review forum.
The meeting changed nothing, said the Carson source. Cruz would go on to finish a disappointing third place in South Carolina, behind Trump and Rubio.
Carson's suggestion that Cruz was perpetuating dirty tricks presented a political headache for a campaign had rolled out the slogan "TrustTED" around Cruz's trustworthiness. The risk for Cruz was never that Carson would eclipse Cruz in the polls -- it was that Trump and Rubio would reverberate Carson's attack. And that's exactly what happened. Thirteen hours before King met with Carson, Trump tweeted: "Ted Cruz didn't win Iowa, he stole it."
By the time of a Feb. 13 Republican debate in South Carolina, the Cruz-plays-dirty attack line was set -- as was the trajectory of a Republican campaign that featured name-calling and charges and counter-charges of lying and deceitful tactics.
"You are single biggest liar," Trump told Cruz on stage at the debate. "This guy's lied -- let me just tell you, this guy lied about Ben Carson when he took votes away from Ben Carson in Iowa and he just continues. ... This guy will say anything, nasty guy."
At the same debate, Rubio dubbed it "a disturbing pattern."
"For a number of weeks now, Ted Cruz has just been telling lies. He lied about Ben Carson in Iowa," Rubio said. "He's lying about all sorts of things. And now he makes things up."
Earlier this week, Cruz fired communications director Rick Tyler after he posted a falsely edited video of Rubio criticizing the Bible, for which Tyler had apologized.
As Trump storms into Super Tuesday as the unquestioned front-runner, the Cruz campaign is left wondering how despite winning Iowa it lost momentum heading into southern contests that were supposed to be Cruz's firewall.
"I think the Iowa night is the originator of the attack on Cruz, enabled by Carson and piled on by Trump and Rubio," King said. "There is some sentiment that says we should let it go and let it die. It's not going to die."
"I don't know the relationship with Carson and Trump, or Carson and Rubio, but once Trump picked it up, that's when the decibels increased," King said. "For Carson to receive a public apology from Cruz and then reject it with a Bible verse? That looks to me like he's on both sides of this thing. Where I come from if you ask for an apology, you accept it if you receive it."
Before it's here, it's on the Bloomberg Terminal.
LEARN MORE