Clinton Regains Air of Inevitability With South Carolina Win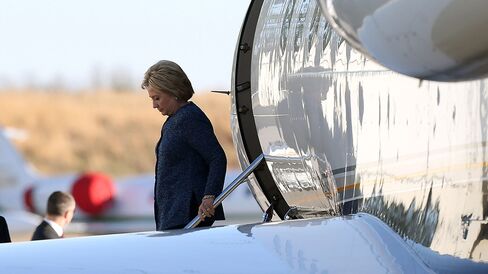 Hillary Clinton's crushing win over Bernie Sanders in South Carolina restores the air of inevitability that surrounded her candidacy at the start -- and leaves Sanders grasping for a way to recover from a repudiation by voters of nearly every age, ethnic group and income level in the state.
Clinton is now firmly on the path to the Democratic Party's nomination, not even three weeks after Sanders embarrassed her in New Hampshire. Her victory casts next week's Super Tuesday contests as something of a last stand for the Vermont senator to show he still has some hope of overtaking Clinton, though the map and the delegate math are tilted severely against him.
Clinton wasted no time looking beyond Sanders to a general election that could pit her against Donald Trump, road-testing her first attack on the billionaire reality-TV star in her victory speech.
"We don't need to 'make America great again,'" Clinton said, referring to Trump's slogan. "America has never stopped being great. But we do need to make America whole again. Instead of building walls we need to be tearing down barriers."
Trump told a rally in Millington, Tennessee, "We're going to be running against Hillary probably."
It wasn't just that Sanders lost -- Clinton led him by 48 percentage points with 99 percent of precincts reporting -- but how wide and deep that loss was. Sanders hung on to voters 24 and younger, but Clinton won 63 percent of Democrats under 45, and 81 percent of those 45 and up, according to exit polls reported by CNN.
She won 79 percent of women, 68 percent of men and 86 percent of African-Americans -- even more than the 78 percent that Barack Obama won in beating Clinton in the state in 2008.
In all, black voters comprised 61 percent of the primary vote. Clinton also won a majority of whites, and captured voters at every education level and income group.
There's a deeper message in South Carolina, and one for which Clinton might actually owe Sanders a debt of gratitude. Her New Hampshire loss and narrow Nevada victory forced her to tack her campaign leftward, by adopting many of Sanders' own more liberal, anti-inequality themes as her own.
As the Republican establishment continues to grapple with how to battle Trump's insurgent candidacy, on the Democratic side, voters seem prepared to reward a mainstream favorite in Clinton -- but also are making clear they want to see a little of Sanders' fire too.
Clinton responded in kind. Before the polls closed in South Carolina, she was running an ad about how Wall Street can no longer run over Main Street, and her campaign stump appearances also are peppered with more talk of standing up for average Americans, no matter how many speeches she gave at Goldman Sachs.
These approaches may be setting Clinton up better to energize the Democratic base over the long run, well past Super Tuesday and into the general-election campaign, where even independents seem to share some of the anger that is animating the bases in the Democratic and Republican parties.
"Tomorrow this campaign goes national," Clinton said. "We are going to compete for every vote in every state. We are not taking anything, and we're not taking anyone, for granted."
Clinton also quoted from the Bible in her victory speech, with a reference to 1 Corinthians 13: "Love never fails."
Sanders, who still draws huge crowds of young supporters and claims millions of small-dollar donors, has said repeatedly that he has the money, the message and the grassroots support to go all the way to the nominating convention in late July. And the continuing FBI investigation into Clinton's and her aides' e-mail practices at the State Department from 2009 to 2013 may give Sanders a premise to stay in the race even if Super Tuesday delivers more victories to Clinton than to him.
On Super Tuesday, "Democrats in 11 states will pick 10 times more pledged delegates on one day than were selected in the four early states so far in this campaign," Sanders said in a statement released by e-mail moments after Clinton was projected the winner.
By then, Sanders was on a flight from Texas to Minnesota, his campaign having scrambled to get the flight off the ground three minutes before the South Carolina polls closed.
Addressing supporters in Minnesota, Sanders did not talk about the South Carolina results, saying instead that the campaign is "not just about electing a president" but also about forcing politicians to consider different issues. "We're talking truth to the American people," he said. "Sometimes truth is not pleasant."
With the 11 states awarding Democratic delegates on March 1 -- Alabama, Arkansas, Colorado, Georgia, Massachusetts, Minnesota, Oklahoma, Tennessee, Texas, Vermont and Virginia -- Super Tuesday could be a final proving ground unless Sanders can deliver some outright wins and pick up enough delegates in losing states to remain credible.
"He can't get zeroed out," said Dick Harpootlian, a former chairman of the South Carolina Democratic Party who supported Sanders over Clinton and said he still believes Sanders has a path to the nomination. "He will take some of those states. He will take some of those delegates." Harpootlian said that means winning Sanders' home state of Vermont and probably Massachusetts and winning or coming close in Colorado, Minnesota and Oklahoma.
"It's all about delegates," Harpootlian said. "It's not about who claims victory. Now psychologically, does it send an optics message? Absolutely. But it's about mathematics."
The mathematics are working against Sanders, just as they worked against Clinton in 2008. While the two candidates were essentially tied in pledged delegates until the South Carolina contest, Clinton holds a significant lead in so-called "super delegates" and appears poised to pick up substantially more delegates than Sanders in the races beyond Super Tuesday as well.
Bruce Buchanan, a professor at the University of Texas at Austin specializing in presidential politics, said Clinton's decisive win in South Carolina means that now Sanders is unlikely to catch her -- and that a poor turnout for him next week could effectively end the contest even if he chooses to campaigns weeks or months longer. "The ultimate outcome of the nomination contest is pretty much clear, probably to him as well," Buchanan said. "Super Tuesday is going to be the opportunity Clinton would have to make continuation an implausible strategy for him."
The ongoing FBI investigation, a desire to share the party 's platform and a chance to cement his own legacy may keep Sanders in the race for duration anyway, Buchanan said.
Sanders senior adviser Tad Devine dismissed the idea that the results in South Carolina are pivotal. "My view on this whole analysis that 'Hillary Clinton has now captured the nomination,' I just don't think it holds up," Devine said.
"The old system is very different than the system Bernie is operating under, the old system that forced candidates out by early momentum. Campaigns stopped because they had no money. That was the fundamental truth. Since our campaign is not driven by that force, to say the election's going to end because she may have a victory in Nevada or South Carolina just doesn't recognize what's happening now."
Clinton's efforts to lock down the African-American vote in South Carolina also may serve her well as she heads into other states with large black voting populations.
"She's headed in the same direction as President Obama,'' said Isaac Durant, 77, before a Clinton rally at historically black Morris College in Sumter, South Carolina, a few days before the primary, explaining why he was backing Clinton over Sanders.
And on Saturday, Heels for Hillary, a new national outreach group for black women voters, held an introductory conference call to discuss plans in other states for a Twitter town hall, canvassing, rallies, house parties and how to use the Clinton campaign to also help black women running for office. National Coordinator Waikinya Clanton​ ​said while the group's primary focus is electing Clinton president, it also will be "using this opportunity to really get a number of black women elected to office during the same time."
-- With assistance from Kevin Cirilli, Jennifer Epstein, Arit John and Mark Niquette.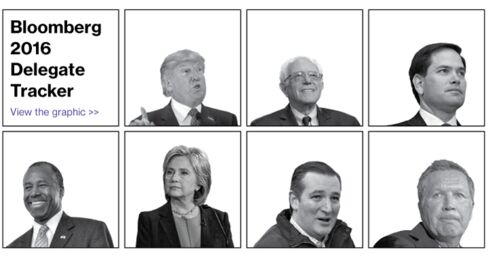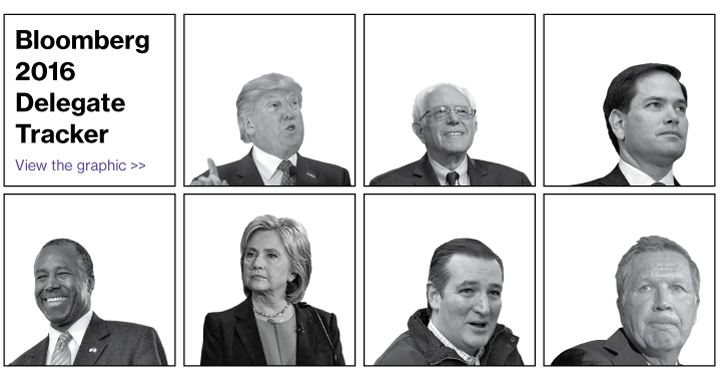 Before it's here, it's on the Bloomberg Terminal.
LEARN MORE