Obama Says Syria Cease-Fire Opens Way to Focus on Islamic State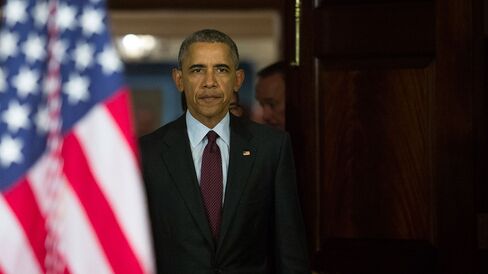 Obama met with National Security Council at State Department

Limited cease-fire due to take effect in Syria on Feb. 27
President Barack Obama said that while "plenty of reasons for skepticism" exist, the Syria cease-fire set to be implemented Saturday could save lives and lead regional powers to "reflect and assess" how to help end that country's bloody civil war.
"This agreement could reduce the violence and get more food and aid to Syrians who are suffering," Obama said after meeting with his national security advisers on Thursday.
The president said he hoped the partial cease-fire will free combatants in the region to focus on defeating Islamic State, which isn't covered by the agreement crafted by the U.S. and Russia. Obama said he directed his team to "continue intensifying efforts" against the terrorist organization, and that he sees retaking Anbar province and Mosul in Iraq as the next steps in the fight.
"I want to make it totally clear that there will be absolutely no cease-fire in our fight against ISIL," Obama said, using an abbreviation for the group. "We will remain relentless."
Halting Advance
The president said allied efforts against the Islamic State, which mainly include airstrikes and a limited deployment of U.S. special operations forces, are having an impact. He said the group hasn't had a single successful offensive operation since last summer, and that its finances are squeezed. Oil production and revenues have been significantly reduced, he said, and the group has been forced to diminish the salaries of fighters.
"Its money is literally going up in smoke," Obama said.
The international community has also diminished the flow of foreign fighters to Syria and Iraq, Obama said.
Obama and his advisers also discussed deteriorating security in Libya, where Islamic State is attempting to gain ground. A U.S. airstrike last week targeted an Islamic State training camp in the country and one of its top commanders.
"We will continue to use the full range of tools to eliminate ISIL threats wherever they are," Obama told reporters at the State Department after his meeting.
The president has tried to set low expectations for the cease-fire in Syria, which depends on Russia curbing a bombing campaign that has targeted all opponents of Bashar al Assad's regime, including forces backed by the U.S. as moderates. He repeated that concern Thursday, saying his administration was not "under any illusions" the agreement would have an be immediately successful implemention.
"This is tough situation with a lot of moving parts," he said.
Syrian troops backed by Russian airstrikes recaptured Khanaser, a key town in northern Aleppo province, from Islamic State, the government and a group that monitors the war said Thursday, as fighting heated up ahead of the partial truce.
Before it's here, it's on the Bloomberg Terminal.
LEARN MORE