Obama Boasts of 'Smart' Economic Policies at Florida Factory
Americans are unquestionably better off since 2009, he says

President says GOP is `not telling the truth' on economy
President Barack Obama boasted Friday that his economic policies had spared the U.S. from greater pain after the Great Recession, challenging Republican contenders for the presidency to explain how Americans are worse off since his election.
"Anybody who says we're not absolutely better off than we were just seven years ago, they're not leveling with you. They're not telling the truth," Obama said at a Jacksonville, Florida, battery factory that was built using money from his 2009 stimulus law. "By almost every economic measure we are better off."
The White House has recently sought to champion the economic success stories of Obama's administration amid complaints by both Republican and Democratic candidates vying to replace him. Florida, whose 29 electoral votes could prove pivotal in November, is also home to Senator Marco Rubio, the Republican presidential hopeful.
In a nod to the election-year dynamics, Obama argued the state's next senator and president should seek to continue his economic policies.
"Early on my administration put in place some pretty smart policies to rebuild our economy on a foundation of growth and prosperity," he said. "Those policies are paying off in big, tangible ways, and we're not talking about it enough. If we don't talk about why it is things got better, then we may end up pursuing policies that'll make things worse."
'Interesting Story'
White House press secretary Josh Earnest on Wednesday opened his daily news briefing with a lengthy discourse on growth of employment and family wealth under Obama, accompanied by a Power Point presentation. Earnest said presidential candidates should be asked whether they believed the country had improved during the Obama presidency. The trip to Jacksonville offered "an interesting story" in light of the campaign, he said.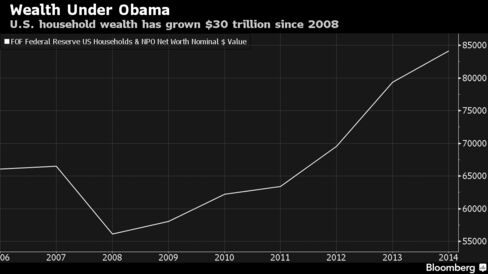 "The case we have to make that America is certainly better off than it was seven years ago is quite strong," Earnest said.
Household wealth has increased by $30 trillion since the recession that ended in 2009, he said, and the unemployment rate has been "cut in half" to 4.9 percent.
Republican frontrunner Donald Trump has repeatedly described the recovery under Obama as a "bubble" and dismissed gains as unimpressive.
"You know he's trying to justify the economy. It's the slowest recovery in our history, and it's not a recovery," Trump said at a rally in Florida last month.
Bernie Sanders, the Vermont senator running for the Democratic nomination, has said "real unemployment" is close to 10 percent. The stimulus should have been bigger, he argues, and he has pitched his candidacy as a "course correction" from the current administration.
Hillary Clinton, the front-runner for the Democratic nomination, has largely bound herself to Obama's policies and depicts Sanders as insufficiently supportive of the president. She has hammered that theme with greater regularity ahead of South Carolina's primary election on Saturday, where the majority of the Democratic electorate is black.
"The kind of criticism that we've heard from Senator Sanders about our president, I expect from Republicans; I do not expect from someone running for the Democratic nomination to succeed President Obama," Clinton said during a Democratic debate earlier this month in Milwaukee.
Potent Issue
The issue is particularly potent in Florida. According to a Quinnipiac poll released Thursday of likely Republican primary voters in the state, 31 percent said the economy was the most important issue to them when picking a candidate -- 13 percentage points more than the second ranking issue, terrorism.
White House officials defended the president's economic record during a conference call with reporters on Monday. Cecilia Munoz, the director of the Domestic Policy Council, said it was important to evaluate the president's record in light of the "incredibly harsh economic reality the country was facing."
"None of the progress was inevitable," she said.
The president spoke at the factory of Saft Groupe SA, a French battery manufacturer that opened the Jacksonville location in 2011 after a $95.5 million investment from the Department of Energy. The factory has added about 300 jobs to the area, according to the White House.
Saft shares slid last week after it reported that customers were slower to convert from lead batteries to lithium-ion batteries than expected. The firm reported it would reduce the accounting value of its Jacksonville and Nersac, France, plants by a combined $24 million.
Before it's here, it's on the Bloomberg Terminal.
LEARN MORE