Nevada Governor Bows Out as Potential Supreme Court Pick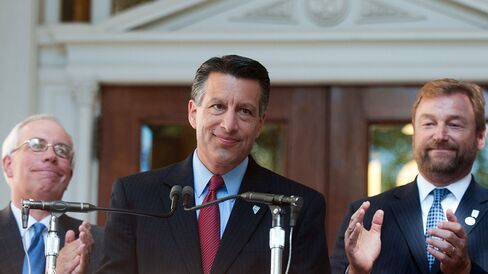 Brian Sandoval, a centrist Republican, was floated as nominee

`Beyond humbling' to be considered, governor says in statement
Nevada Governor Brian Sandoval, a Republican, bowed out of consideration for the U.S. Supreme Court as partisan divisions hardened over filling the vacancy left by the death of Justice Antonin Scalia.
White House consideration of Sandoval for the court became public a day ago as President Barack Obama confronted uniform obstruction by Senate Republicans to any nominee he would choose. Party leaders said they wouldn't make an exception for the Republican governor.
"Earlier today, I notified the White House that I do not wish to be considered at this time for possible nomination to the Supreme Court," Sandoval said in a statement Thursday. He said he had spoken with the Senate Republican leader, Mitch McConnell of Kentucky, and both Nevada senators, Democrat Harry Reid and Republican Dean Heller.
"The notion of being considered for a seat on the highest court in the land is beyond humbling and I am incredibly grateful to have been mentioned," he said.
Senator Orrin Hatch of Utah, a senior Republican on the Judiciary Committee, said Obama assured him he would nominate a "moderate" to the court opening in a meeting at the White House Wednesday. Asked if that would alter his refusal to consider a nominee, Hatch responded, "No."
'Rigorous Process'
White House Press Secretary Josh Earnest, who wouldn't confirm or deny reports Sandoval was under consideration, said the administration wasn't disappointed in the governor.
"I don't want to be on the Supreme Court either," Earnest told reporters on Thursday. He said he doesn't "expect" that Sandoval's announcement will affect other potential candidates' willingness to be considered.
People understand that this is a "rigorous process," Earnest said.
McConnell and the Republican chairman of the Senate Judiciary Committee, Charles Grassley of Iowa, accepted an invitation to come to the White House to consult with Obama on the court vacancy but said they would use the March 1 meeting to reiterate that a replacement for Scalia won't be confirmed during the current administration.
"We look forward to reiterating to him directly that the American people will be heard and the next Supreme Court justice will be determined once the elections are complete and the next president has been sworn into office," McConnell and Grassley said in a joint statement.
Obama is likely to announce a nominee before the Senate recesses on March 21. That would balance the need to demonstrate urgency and provide the longest possible window for confirmation against the need to demonstrate to the public that the selection process was thoughtful, according to two former administration officials.
Before it's here, it's on the Bloomberg Terminal.
LEARN MORE