Air Wars
Sanders Spends Big to Close the Big Gap in South Carolina
In South Carolina, Clinton enjoys a three-to-one advantage among African American voters, who are expected to make up half of the turnout.
Bernie Sanders has built a bigger operation in South Carolina than he has had in any other state thus far in the Democratic presidential primary as he tries to close in on front-runner Hillary Clinton in the last contest ahead of Super Tuesday.
Sanders has about 200 paid staffers working in South Carolina, the campaign said, and has spent about $1 million on ads there in the past 30 days, according to Kantar Media's CMAG, which tracks political ad spending. He's making progress. Sanders trailed Clinton by nearly 50 percentage points in December, according to a RealClear Politics polling average. He's slashed the gap in half, but still trails by a yawning 24 percentage points as of last week.
Sanders has gained momentum and raised millions of dollars in small contributions after the first two contests in Iowa and New Hampshire. South Carolina, where Clinton enjoys deeper roots and a slew of endorsements, is a test for Sanders' ability to appeal to African-American voters ahead of the seven southern nominating contests on March 1.
"If he's going to appeal to the broader Democratic party, he has to make inroads with African American voters," said J. Michael Bitzer, a professor of political science at Catawba College. "He needed to make a serious investment in South Carolina simply because Iowa and New Hampshire are outliers to the Democratic coalition," he said, referring to the largely white demographics in the first two voting contests.
In South Carolina, Clinton enjoys a three-to-one advantage among African American voters, who are expected to make up half of the turnout, according to a poll by Bloomberg Politics. Greg Cranford, a retired teacher who lives in Orangeburg, home to South Carolina State University, said volunteers in the predominantly African-American community started signing up with Sanders as early as last July. Cranford, who canvasses door-to-door for Sanders, said there were few supporters then but the numbers has grown.
"I don't know if he can beat Hillary, but he's made some inroads here. Some of the students at SCSU are excited," Cranford said, adding that Cornel West, a prominent African-American intellectual at Princeton University, endorsed the candidate and appeared on his behalf.
Sanders started advertising in the state in mid-January, according to data from Kantar Media's CMAG, which estimates that Sanders has spent more than $1 million on broadcast outlets to the state. It hired its first paid staffers last August, and has disclosed spending $489,000 on campaign workers in the state through the end of January, according to its disclosures filed with the Federal Election Commission. In Iowa, the nation's first nominating contest, the campaign had 133 paid staffers. According to Aneesa McMillan, a campaign spokeswoman, the effort is being aided by thousands of volunteers from South Carolina and other parts of the country.
"What I'm seeing on the ground here from the Sanders camp reminds me of what Obama did in '08," Dick Harpootlian, a former state Democratic Party chair who has endorsed Sanders, said on Bloomberg's With All Due Respect. That year, Clinton went from a 13-point lead in November polls to a 29-point loss on Election Day. Harpootlian predicted Sanders would cut Clinton's margin of victory to single digits.
Sanders, fueled by an army of online donors giving as little as $5, outraised Clinton's campaign for the first time in January, $21.3 million to $14.9 million. Yet Sanders has spent more than $80 million since his campaign began last year, $14.4 million of which has been on payroll. At the end of January, he had $14.7 million in the bank, less than half of Clinton's $32.9 million cash on hand.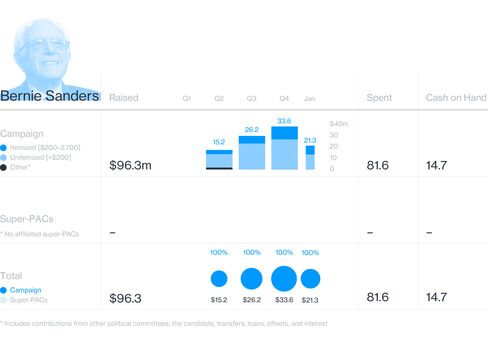 "There are stalwart true believers among donors of sums both big and small," Sheila Krumholz, executive director of the Center for Responsive Politics, a money-in-politics watchdog, said. "But it's far more common for donors to put on the brakes if they think the candidate's campaign is beginning to sputter. No matter the size, everyone wants their money to be meaningful, not wasted."
Despite her lead in the polls, Clinton's hasn't taken the state for granted. The campaign doesn't disclose its paid staff in states, and its filings with the FEC don't reveal her where the workers are located, instead listing her Brooklyn campaign headquarters as the address of all its employees.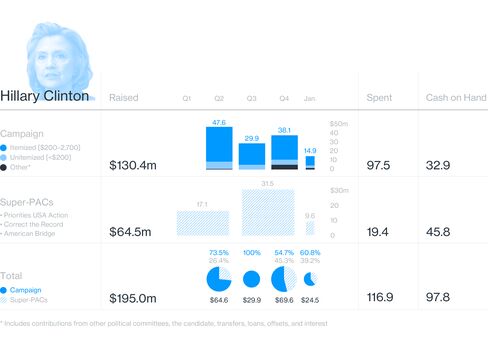 According to Stephanie Formas, a Clinton spokeswoman, the campaign has had paid staffers and volunteers in South Carolina since last April. As of last week, they had opened a dozen new get-out-the-vote offices in addition to their longstanding offices in Charleston and Columbia.
More than 80 elected officials have endorsed Clinton, and her campaign has had surrogates in the state ranging from her husband, former President Bill Clinton, to Star Jones, co-host of The View on ABC. And Clinton has spent $953,000 on advertisements in a bid to maintain their lead, with the first appearing on Feb 4.
"She's making the investment and probably learned the lesson from eight years ago," said Bitzer. "The wind certainly would be taken out of his sails with Super Tuesday coming and so many southern primaries."
(
Corrects spelling of Cornel West's name in sixth paragraph.
)
Before it's here, it's on the Bloomberg Terminal.
LEARN MORE