Ted Cruz Asks U.S. Judge to Reject Texas Eligibility Challenge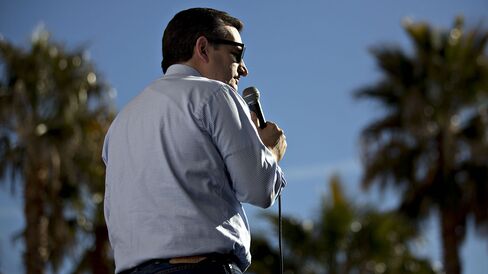 Senator says no legal basis to question his citizen status

Case filed by Houston lawyer who says he fears election chaos
Republican presidential candidate Ted Cruz asked a federal judge in Texas to throw out a challenge to his eligibility to serve if he wins, saying there's no legal basis to question his status as a "natural-born" U.S. citizen.
Cruz, who was born in Canada to an American mother and a Cuban father, rejects arguments that he's disqualified to serve as president because he wasn't born in the U.S. The senator claims it's settled constitutional law that American citizenship is conferred on children the moment they're born to U.S. citizens living abroad. Cruz's family returned to Texas when he was a child, and he has renounced the Canadian portion of his dual citizenship.
"Founding-era sources, congressional statements, historical precedent, case law and the overwhelming weight of scholarly authority all command the same conclusion: a 'natural born citizen' is a person who was a U.S. citizen at birth, without the need for later naturalization," Layne Kruse, Cruz's lawyer, said in a filing in Houston federal court Monday. "And there is no dispute over whether Senator Cruz meets that definition."
The case was brought by Newton Schwartz, 85, who says he has practiced law in Cruz's adopted hometown of Houston for more than 50 years. Schwartz has asked the court to expedite his birther challenge to the U.S. Supreme Court, which he claims is the only body that can decide if Cruz can or can't serve if elected.
Schwartz, who says he leans Democratic although he's voted for Republicans in the past, insists his petition is motivated less by politics than by the desire to avoid chaos in the election.
Court Cases
The Houston birther challenge is the highest profile of several court cases filed after Republican presidential frontrunner Donald Trump publicly questioned Cruz's eligibility when the Texas senator began to narrow the billionaire's lead in campaign polls. Judges haven't ruled in birther cases filed in Illinois and Florida. Cruz last week urged a state judge in Chicago to dismiss the case there, saying the complaint was improperly served by e-mail.
Cruz's lawyer said challenges to a candidate's eligibility are premature during the primary-voting season and must wait until he's actually elected president, when that question should be resolved by the electoral college and Congress, "not this court."
A court ruling on a candidate's eligibility to serve before a national election "would inappropriately interfere with the electoral college's constitutional authority to elect the president and to evaluate the qualifications of the candidates seeking that office," Kruse said. If the electoral college finds the elected candidate is disqualified, the Constitution says Congress -- specifically the House of Representatives -- will choose the president.
Kruse said the writers of the Constitution shied away from using the term "native-born" citizen, which would've applied to persons born on U.S. soil, and required candidates to reside in the U.S. for at least 14 years, underscoring their acceptance of children born to U.S. citizens abroad as "natural born" Americans.
The case is Schwartz v. Cruz, 4:16-cv-00106, U.S. District Court, Southern District of Texas (Houston).
Before it's here, it's on the Bloomberg Terminal.
LEARN MORE