Baccarat, Brothels, Ballots. What Could Go Wrong?: Read My Lips
Complimentary drinks at caucus sites might get out the vote in Nevada.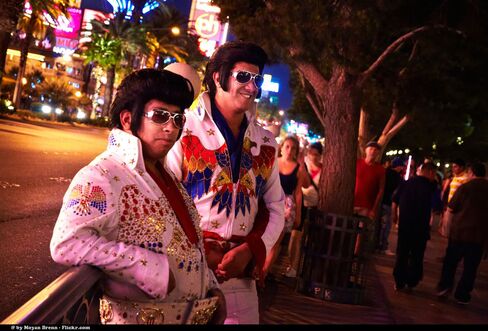 Caesars Palace had it 28-12. It was 25-11 at Harrah's, 15-9 at the Wynn and 23-11 at New York-New York.
Those aren't the latest odds -- only the latest odd chapter from America's never-ending campaign. They're Hillary Clinton's winning delegate margins on Saturday at some of the casino caucus sites that helped propel her to victory in Nevada:
Twitter: Jon Ralston on Twitter
"Casino caucus site" might not be an oxymoron, but it's at least an inadvisable pairing, like "workplace flirtation" or "Midwest sushi." Leave it to Las Vegas to see nothing wrong with putting civic virtue an elevator ride away from vice. (When Marco Rubio lived in Las Vegas, in 1980, his Pop Warner football team was the Caesars Palace Gladiators.)
It's frightening enough that Nevada, land of brothels and baccarat, Area 51 and drive-thru weddings, has the right to vote. But now it's inserted itself early in the presidential-selection calendar, where its dazed denizens, who rarely see rain and are stubbornly fixated on the pronunciation of their state's name, can play maximum havoc with the course of the nation.
The Democratic caucuses in 2008, the first year Nevada voted early to boost its influence, "yielded a federal lawsuit, a fight between labor unions, charges of voter intimidation and accusations of prejudice," the Los Angeles Times reminds us. Even Bill Clinton, no stranger to the dark arts of politics, was left muttering about union trickery that year in support of his wife's opponent, Barack Obama.
The shenanigans of 2008 were recalled on Bloomberg Television's "With All Due Respect" last week by host John Heilemann and David Plouffe, who was Obama's campaign manager that year:
Heilemann: "I remember covering this caucus in 2008 and thinking that of all the 50 states, that this was the weirdest, most skeevy, hinky election of any in the nominating contest. Do you agree with that, and why is Nevada so weird?"

Plouffe: "Well, you know, you've got caucus sites in casinos. It's a multi-hour affair, so in some respects it resembles a primary. And you know, politics here, like in New Jersey, like in Louisiana, it's crazy, OK …"

Heilemann: "By which you mean dirty."

Plouffe: "Well, you know, there's a lot of deals being struck, yeah."
This year, it was Hillary Clinton who benefited from the backroom maneuvering in Vegas, and it was her opponent, Bernie Sanders, who left Vegas wounded and muttering to himself. Yet even with the encouragement of Senate Minority Leader Harry Reid, only about 80,000 voters participated in the Democratic caucuses on Saturday. For comparison's sake, an estimated 171,000 voters participated in Iowa's Democratic caucuses at the start of the month.
Now it's the Republicans' turn. Because Nevada, in its wisdom, scheduled its caucuses on separate days, there's concern that some passionate suffragists who participated in Democratic caucuses on Saturday might vote again today, just like gluttons returning for seconds at the free buffet. But at least they'd be voting: Republican turnout was so weak in 2008 and 2012 that Mitt Romney had to do little other than enjoy his home-field advantage. The paltry 33,000 Republican ballots cast in 2012 were still enough to clog the party's vote-counting system for days.
Would we really expect anything else from Nevada? Its early U.S. senators included a white supremacist and a guy nicknamed "Slippery Jim." Public intoxication is protected by state law. Hookers make endorsements.
Strangely enough, one thing you can't legally do in Nevada is bet on the outcome of an election. A state senator, Tick Segerblom, has been trying to change that. He doesn't buy the idea that Vegas is above wagering on democracy.
"People say it's going to ruin our reputation," he told the Boston Globe last year. "This is Nevada. What kind of reputation are you talking about?"
*****
Concession speech of Ethan Mitchell, candidate for 5th-grade president, after finishing in fourth place:
Fellow students, teachers and friends,
They said this day would never come. They said we couldn't do it, that we couldn't defy the pundits, that we couldn't produce this extraordinary result. But we have made history here today.
Thank you so much. Thank you.
Two weeks ago we had no political organization, no money, no name recognition. Today you sent a very profound message, and for that I am eternally grateful.
Two decades ago, a newly married couple settled just up the street to start a family and pursue the American dream. All they wanted was a mortgage interest deduction and space to park a second car. Where else but in America could the child of two working parents have an opportunity to serve, and to lead?
This is no ordinary election. This is a time for a class president who understands the struggles of today and the promise of next week. This isn't the end. This is a just-the-beginning speech.
Now, onto recess!
(Read My Lips is a column dedicated to the proposition that men and women in a position of power, or the pursuit of it, will say or do things for which they might be sorry.)
Before it's here, it's on the Bloomberg Terminal.
LEARN MORE