Syria Truce Prospects Questioned as Military Suffers Setback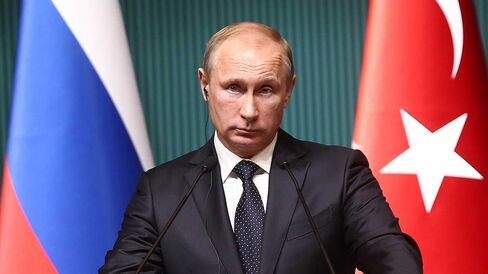 Islamic State cuts off military's only access route to Aleppo

Cease-fire welcomed as opening to humanitarian relief
The limited cease-fire due to start in Syria this week drew expressions of skepticism, predictions of intensified Islamist violence and hope that desperately needed humanitarian aid will make it to ravaged areas.
Just hours after the truce was announced, Islamic State dealt Russian-backed government troops a rare setback, overrunning the city of Khanaser, cutting off the military's only access route to Aleppo, Syria's largest city and a key prize in recent fighting, according to the the U.K.-based Syrian Observatory for Human Rights, a monitoring group.
The U.S. and Russia announced Monday that the partial truce will take effect on Feb. 27, relieving five years of hostilitiesthat have killed more than a quarter of a million people and created a refugee crisis straining Europe's borders. Syria's government agreed to the proposal, and armed opposition groups have until Feb. 26 to confirm their participation.
The exclusion of Islamic State, the al-Qaeda-linked Nusra Front and other United Nations-designated terrorist organizations from the pact clouded any expectations of major relief in the fighting. Syrian President Bashar al-Assad deepened the skepticism by decreeing parliamentary elections for April 13, signaling that he has no intention of loosening his grip on power, which has been strengthened by dramatic battlefield gains since Russia entered the war on his behalf in September.
http://www.bloomberg.com/graphics/2016-syria-puzzle?v2
The Russians and the Syrians feel "they are in a strong position to go to the negotiations" while the opposition is exhausted and needs to regroup and resupply, said Riad Kahwaji, head of the Institute for Near East and Gulf Military Analysis in Dubai.
"We're far from the end of this war," Kahwaji said. "All parties can use a period of truce."
'Moment of Promise'
Scaling back the violence has become even more urgent amid mounting concerns that Turkey and Saudi Arabia will be drawn more deeply into the conflict. Russia and Iran are backing Assad, while Turkey and Saudi Arabia are part of a U.S.-led coalition supporting rebels, including some radical Islamists. The stepped-up fighting has unleashed a surge of refugees fleeing to Europe that's prompted debate over the region's open borders.
"This is a moment of promise, but the fulfillment of that promise depends on actions," U.S. Secretary of State John Kerry said in a statement. "All parties must meet their commitments under this agreement" and "must remain committed over a period of time to make possible a political end to this conflict."
Russian President Vladimir Putin said the accord is capable of "radically" changing the Syrian crisis, and that Russia will work with Assad's government to ensure compliance, Interfax news agency reported.
There have been three major attempts to end the violence that began in March 2011 and has displaced more than half of the country's 23 million people. SOHR, the monitoring group, updated the death toll on Tuesday to more than 271,000. The fragility and complexity of the latest cease-fire efforts is underscored by the lack of details such as how to deal with breaches.
'Positive Step'
While the truce announcement has been met with "justified pessimism," it is a "meaningful positive step" that will allow the delivery of humanitarian relief, the Soufan Group, a security consulting firm, said in an e-mailed report.
Islamic State claimed responsibility for suicide bombings that killed more than 180 people on Sunday, and Soufan Group expects more casualty bombings will keep the fighting going. "No one needs the Syrian war to continue as much as the Islamic State," the report said. "The prospect of any real and lasting reduction in fighting between all sides has the potential to turn the war into a more concentrated battle against the Islamic State."
A report on Syria released Monday by a United Nations commission of inquiry found "war crimes are rampant." The 31-page report documents attacks on health-care institutions, playgrounds, markets and bakeries with no obvious military value. The countries haggling over a peace deal are among those responsible for the violence, it said.
'Not Serious'
The U.S. says Assad must step down eventually and is backing what it calls moderate opposition groups fighting Islamic State in Syria and Iraq. The Syrian National Coalition, the main political opposition, said in a statement after a meeting in Riyadh on Monday that the success of any truce depends on lifting government sieges of villages and towns, allowing the entry of humanitarian aid, and ending airstrikes and shelling of civilians.
"We are committed to ensuring the success of sincere international efforts to end the bloodshed and push all parties to dialog," the statement cited the coalition's chief negotiator, Riad Hijab, as saying. "At the same time, we are capable of speaking to the regime in the language it understands," it added, in an allusion to violence.
Assad has defied pressure from the U.S., Turkey and other countries to step down for having thrust his country into such a devastating war. The Syrian president's election decree "shows he's not serious about the truce," said Hisham Marwah, vice president of the Syrian National Coalition, from Istanbul. "It's an attempt by Assad to consolidate" his rule.
Before it's here, it's on the Bloomberg Terminal.
LEARN MORE