"Being in Vegas for #PieceOfMe is amazing for so many reasons... Especially when you get to meet @HillaryClinton!" Britney Spears tweeted on Thursday night, along with a pair of photos showing the two in what appears to be a hotel suite.
It would be too much to ascribe much influence for Clinton's Nevada victory two days later to the implicit Spears endorsement, but among Las Vegas icons, Clinton chose well for the caucus electorate. Nearly 40 percent of Spotify users who have played a Britney Spears track this year are Democrats, compared to just 22 percent who are Republicans. (The remainder are independents, or without evidence of strong partisan leanings.)
That mix, the latest finding from an election-year partnership between Bloomberg Politics and Spotify using voter data from TargetSmart Communications, gives Spears—whose greatest-hits show "Piece of Me" has been in residency on the Strip since late 2013—one of the more Democratic-leaning fan bases among our sample of artists whose careers have been associated with Nevada's largest city. Jennifer Lopez, who shares the Planet Hollywood Resort & Casino with Spears, is among the few artists with a fan base even more skewed towards Democrats.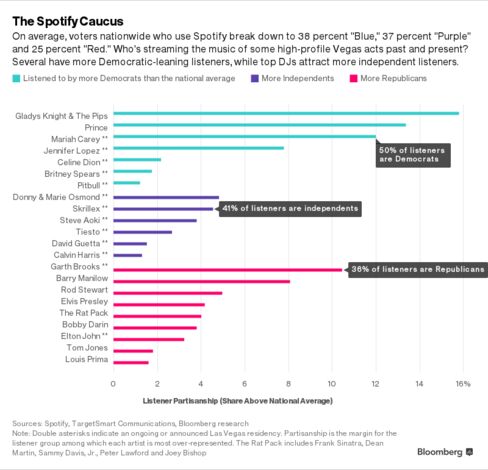 Somewhat surprisingly, Republican candidates who have arrived to campaign before tomorrow night's caucuses have fewer places to go for musical support. The only Strip fixture with a Republican-leaning listenership is Garth Brooks, who once had a residency at the Wynn and will be returning to the Las Vegas Arena this summer. (In a Jeb-Bush like result, Liberace, the Vegas artist with the most Republican fan base overall was dropped from the above chart because of low turnout—his songs simply haven't been played enough recently to make an impact.)
Garth Brooks's ascendancy could be good news for Ted Cruz, who has said that after September 11 he abandoned rock for country music, which he found more patriotic. But it is professed electronic-dance-music fan Marco Rubio who may find his tastes best aligned with a general-election audience. "No! I've never been to a rave," he told CNN's Anderson Cooper when asked at a town-hall meeting last week about his musical tastes. "It's a Republican primary, Anderson." The general may be a different story. If Rubio returns to Nevada this fall as his party's nominee, he is more likely to find swing voters at a DJ show than any of the casino theaters. All of the Vegas-based EDM artists we included in our analysis—Tiesto, Steve Aoki, David Guetta, and Calvin Harris—have more independents listening to them than either Democrats and Republicans.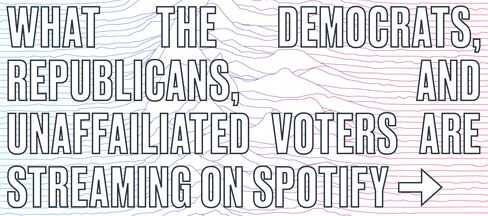 Before it's here, it's on the Bloomberg Terminal.
LEARN MORE