Clinton Pulls Out Nevada Victory After Late Sanders Surge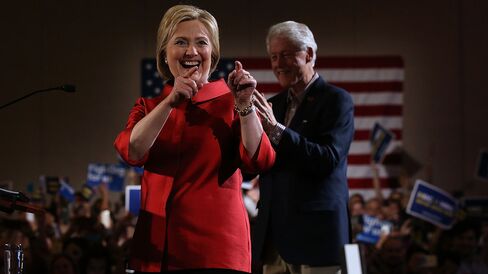 Big margins in Las Vegas help power Clinton's win in caucuses

Sanders unable to overcome Clinton's organizational power
Hillary Clinton pulled out a clear victory over Bernie Sanders in Nevada's Democratic caucuses that will help right her campaign as both candidates head into a 10-day blitz of crucial contests starting next Saturday in South Carolina.
Clinton held off a late surge from Sanders after seemingly having the state locked up as the presidential nomination race was getting underway. She had 53 percent of the caucus vote to 47 percent for Sanders with about 88 percent of precincts counted, according to results released by the Nevada Democratic Party.
"Some may have doubted us but we never doubted each other, and this one's for you," Clinton told supporters Saturday at Caesars Palace in Las Vegas.
Sanders called Clinton to congratulate her. In his concession speech, Sanders noted that he was far behind in Nevada at the start of the campaign but people are beginning to hear his message. That, he said, will carry into the states that hold the next round of contests.
"The American people are catching on that we have a rigged economy," he said to campaign workers and supporters. "It is clear to me that the wind is at our backs. We have the momentum."
Republican Primary
Republicans were voting in a primary in South Carolina, and billionaire Donald Trump scored a decisive win with Senators Marco Rubio and Ted Cruz battling for second place. Former Florida Governor Jeb Bush was a distant fourth and announced he's dropping out of the race.
Clinton matched her winning margin from the 2008 Nevada caucuses, when she beat then-Senator Barack Obama yet locked in fewer delegates. She focused her campaign on Clark County, home to Las Vegas and many of the state's biggest casinos. She drew 55 percent of votes in the county, which has almost 75 percent of the state's 2.8 million residents.
At the caucus site at Caesars Palace, a Las Vegas Strip casino that gave workers time off to participate in the caucus, Clinton got 190 votes and Sanders got 81. Clinton supporters chanted, "I'm with her" and, "Si se puede" as backers of both candidates split into separate preference groups.
Turnout at the casino sites was largely driven by unions representing kitchen and gaming-floor workers, said Sherry Bebitch Jeffe, who teaches political science at the University of Southern California and attended the caucus at Caesars Palace in Las Vegas in which Clinton received 190 votes to Sanders' 81.
"If you look at the back-of-the-house workers, who are mostly Latino, they're for Clinton, and the front-of-the-house workers are for Sanders," Jeffe said after the vote. "The Latino vote is, by and large, hanging with Hillary."
Black Voters
Clinton was counting on support from black voters, as well, and they came through for her. According to her campaign spokesman, Brian Fallon, Clinton won all the delegates in the five precincts with the highest percentages of African-American registrations.
In her victory speech, Clinton repeated one of her central arguments to counter Sanders. "Americans have a right to be angry but we're also hungry for real solutions."
Still, turnout declined from 2008. The state's Democratic Party said about 80,000 people participated in the caucuses. Eight years ago the number 118,000.
Entrance polls showed Clinton received two-thirds of caucus-goers aged 45 and older, according to figures published by NBC. As in the past two contests, Sanders drew his biggest support from younger voters. Among those ages 17 to 44, 76 percent said they were supporting Sanders.
Next Contests
After winning by less than a percentage point in Iowa and suffering a drubbing in New Hampshire, Clinton's campaign was counting on a strong showing in Nevada to assert her control over the party fight heading into next Saturday's South Carolina primary and on Super Tuesday, March 1, when 11 states hold primaries or caucuses.
Clinton holds an edge in South Carolina, where she led Sanders by 22 percentage points in a Bloomberg Politics poll released on Feb. 18.
Clinton started organizing in the state months before Sanders and secured endorsements from many local Democratic officials. Sanders made a late push, opening 12 offices across the state and investing millions in television and radio ads. Sanders sought to build on momentum coming out of New Hampshire by capitalizing on the collapse of the Nevada housing market during the Great Recession with his message of a rigged economy benefiting the wealthy at the expense of the middle class.
"Senator Sanders was a nice January-February blip on the radar screen, but her march to the nomination should be well on its way after she wins here, especially given the South Carolina numbers," Billy Vassiliadis, a Democratic consultant in Las Vegas who is backing Clinton, said before the vote.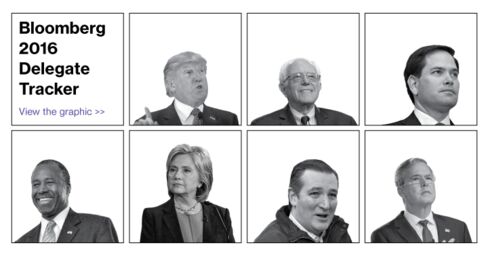 The Nevada caucuses award 23 delegates toward the Democratic nomination. There also are eight super delegates and 12 other at-large or party leader and elected official delegates from the state. A candidate needs 2,382 to secure the nomination. Going into Saturday's caucuses, Clinton had 483 delegates, including party leaders and elected officials, to Sanders' 55, according to an estimate compiled by the Associated Press.
Before it's here, it's on the Bloomberg Terminal.
LEARN MORE