Washington Endorsements Show Republican Race's Battle Lines
Cruz claims House conservatives, while Rubio and Bush vie for the establishment mantle. Trump remains the only true outsider.
South Carolina Governor Nikki Haley shook up the Republican presidential race this week by endorsing Florida Senator Marco Rubio. But much of the endorsement action is back in Washington, where a Bloomberg Politics analysis illustrates Ted Cruz's clear dominance with hard-core conservatives; the battle between Rubio and Jeb Bush for establishment support; and John Kasich's potential to lock down his party's left flank.
The analysis of public endorsements among the 300 Republican members of Congress—54 senators and 246 representatives—underscores the fragmentation of a field led by Donald Trump, who lacked a single congressional backer as of Friday morning, when the analysis was completed. If unchecked in South Carolina, he will likely head into Super Tuesday with a clear delegate lead.
Rubio took the lead in the endorsement race this month, riding a wave of support after his better-than-expected Iowa finish on Feb. 1. He now has 40 endorsements, including from Kansas Senator Pat Roberts on Thursday. Bush, Cruz, Kasich, and retired neurosurgeon Ben Carson have each notched at least one Capitol Hill nod.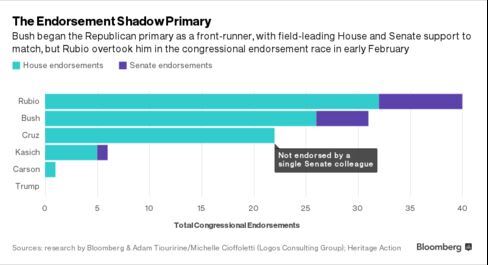 Cruz endorsers represent the far right of the Republican Party. They're mostly Tea Party House members such as Colorado Representative Ken Buck, who joins Utah Senator Mike Lee and Cruz himself as the only three members of Congress with 100 percent voting scores from the political arm of the conservative Heritage Foundation. That group, Heritage Action for America, scores nearly every congressional vote as either for or against the conservative cause.
Whereas Cruz's average endorser rates an 85 percent score from Heritage, Kasich's six endorsers fall toward the other end of the spectrum, averaging 42 percent. Bush's congressional supporters scored just less than 49 percent on average, in line with the more establishment tenor of his candidacy.
Meanwhile, Rubio comes across as a crossover candidate, appealing to supporters farther to the right than Bush's and Kasich's, but less so than Cruz's. His endorsers averaged 65 percent on the Heritage scorecard.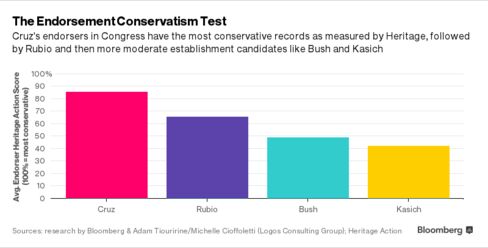 The race's two Floridians are particularly notable for the distinct congressional groups they attract. Rubio claims endorsements from recently elected conservatives like the Palmetto State's junior senator, Tim Scott (82 percent Heritage score, three years in the Senate), while Bush allies tend to be political veterans and more moderate, like South Carolina's senior senator, Lindsey Graham (36 percent, 13 years), himself a former 2016 presidential candidate.
On Rubio and Bush's shared home turf, Bush claims endorsements from 11 of Florida's 17 Republican representatives, most of which came early in the campaign when Bush seemed secure as a front-runner. Rubio counts only one congressional nod from his home state: Representative Tom Rooney. But Rubio's endorsers hail from 22 states, compared to Bush's 15.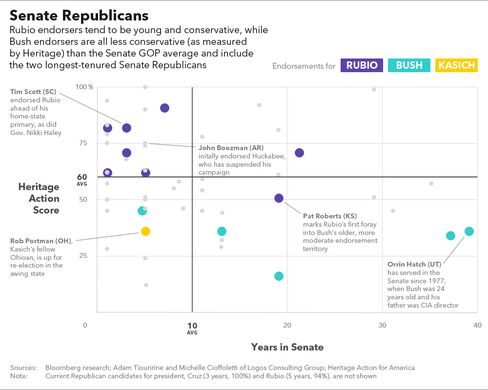 Of the 130 congressional Republicans whose endorsements were included in the analysis, 30 have seen their preferred candidates exit the race. One of them, former Mike Huckabee supporter Rick Crawford, an Arkansas representative, has already pledged his support to Rubio. He may not be alone: Three other Huckabee 2016 endorsers are more closely aligned with the average Rubio endorser's profile than that of any other candidate.
At least six of Kentucky Senator Rand Paul's congressional supporters could join their fellow young conservatives and swing toward Cruz, who's already won over one of Paul's ex-endorsers. As for New Jersey Governor Chris Christie's disappointed backers, they could split between Bush, Kasich and Rubio, if the typical endorser profile is any indication.
—Bloomberg contributor Adam Tiouririne of Logos Consulting Group advises senior business leaders on high-stakes communication and researches language, leadership, and the media.
Before it's here, it's on the Bloomberg Terminal.
LEARN MORE