Rubio Seems to Harden Position on Deportations After Cruz's Challenge
The Florida senator said he'd immediately "get rid of" a deportation relief program for young undocumented immigrants.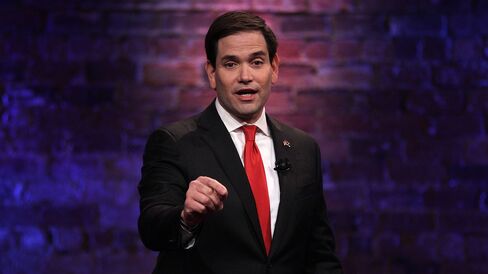 In a hardening of his position, Marco Rubio told CNN on Thursday that he'd immediately "get rid of" a 2012 executive program by President Barack Obama to temporarily let young undocumented people brought to the U.S. stay and work.
The program, known as Deferred Action for Childhood Arrivals, or DACA, has shielded some 650,000 young people from deportation.
"I said that DACA has to go away and that it will," Rubio told Jake Tapper in an interview. "I will, on my first day in office, get rid of it because it's unconstitutional. I was against it when the president did it. I remain against it now."
The remarks contrast with an April 15 Rubio interview on Univision, the largest U.S. Spanish-language broadcaster in the U.S., in which he said he wouldn't end the program right away.
"DACA is going to have to end at some point," Rubio told Jorge Ramos at the time, according to Univision's transcript. "I wouldn't undo it immediately. The reason is that there are already people who have that permission, are working, who are studying, and I don't think it would be fair to cancel it suddenly."
On Nov. 4, Rubio told reporters while campaigning in New Hampshire that DACA "will have to end at some point" whether or not Congress supersedes it with immigration reform. He has maintained that he believes the executive program is illegal and that immigration reform must be done through Congress.
Rubio's latest statement on DACA still leaves some room to maneuver, since he could conceivably end the program on his first day while continuing to honor existing grants.
Rubio spokesman Alex Conant did not respond to e-mails seeking clarity, though he was quoted in a CNN article on Thursday that as president, Rubio would "stop people signing up for the program immediately." That leaves open the option to let existing beneficiaries renew their two-year grants.
In a Wednesday town hall hosted by CNN, rival Republican presidential candidate Ted Cruz pointed to the Univision interview to distinguish himself from Rubio. The Texan said he would end the program, along with Obama's other "unconstitutional" executive actions, on day one in office.
Rubio said Friday it was "another example" of Cruz "misleading people."
Rubio's position is sure to haunt him in a general election if he's the GOP nominee, given that DACA is very popular among Hispanic Americans, who vote in large numbers in key swing states like Florida, Colorado and Nevada. Democratic candidates Hillary Clinton and Bernie Sanders have vowed to protect and expand Obama's deportation relief.
Before it's here, it's on the Bloomberg Terminal.
LEARN MORE