Preachers Stumping for Trump Needn't Fear the IRS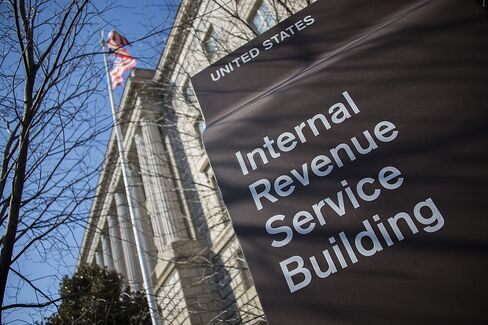 Ban on churches' political endorsements is widely ignored

Thousands of pastors dare the tax man to make something of it
If Donald Trump rolls to victory in South Carolina on Saturday, he may have one of his least favorite government agencies to thank.
The billionaire front-runner's commanding lead in early polling of likely Republican voters in the Palmetto State is being fueled by evangelical Christians, who have surprisingly sided with him over Ted Cruz. So have many pastors and preachers, as the Internal Revenue Service has all but abandoned a rule against political endorsements from the pulpit.
A week before the primary, Mark Burns, an evangelical pastor whose sermons air on local television, spent much of his 60-minute service in the town of Easley explaining why he has endorsed Trump despite claims that the candidate is a racist.
"It is called listening to the voice of the Holy Spirit," Burns preached. "Even those who declared, 'Hosanna, Jesus has come, the Messiah has come,' were the same people who said, 'Crucify him.'"
Section 501(c)(3) of the U.S. tax code bars religious organizations seeking to avoid taxes from partisan political speech. The preachers often take pains to say they speak for themselves and not for their churches, but the IRS's guide on the subject says religious leaders "can't make partisan comments in official publications or at official church functions" if they want to avoid taxes.
Yet the IRS rarely enforces the rule. In South Carolina this week, pastors have openly endorsed their favorite candidates, with scores of reporters looking on. Thousands of preachers annually send the agency transcripts of their political stumping to provoke it into a legal battle in hopes of killing the rule outright.
Reached by phone, IRS spokesman Anthony Burke declined to comment on the agency's enforcement of the rule, which has been in place since 1954.
Hell to Pay
The IRS used to review the tax-exempt status of about 20 religious organizations a year, said Marcus Owens, an official in the agency's tax-exempt division from 1975 to 2000 and now a tax attorney at Loeb & Loeb in Washington. Those relatively few cases had to be high-profile and involve large sums of money, said Owens, who directed the tax-exempt division from 1990 to 2000. He cited a 1990s-era review of a church that ran a full-page ad in USA Today urging readers to vote against Bill Clinton because of his support for abortion rights.
Since 2008, the agency has performed only two or three church reviews, and those were civil fraud or criminal cases, said Owens, who tracks the data for his current work.
"I think they know if they enforce this right now there will be hell to pay," said Ann Murphy, a former IRS attorney who teaches at Gonzaga University School of Law in Spokane, Washington. The IRS, never the most popular arm of the government, is still recovering from claims by Republican lawmakers that it improperly targeted tax-exempt conservative groups for review. In an already rancorous race dividing Americans along lines of class and faith, "the IRS is afraid of the public reaction, and it's afraid of Congress," Murphy said.
"In light of the current environment, it's very unlikely the IRS will bring any kind of action," said Donald Tobin, a professor at the University of Maryland Francis King Carey School of Law and a former Department of Justice tax lawyer. "The IRS is likely making a decision that this is not where they want their resources to be expended right now."
The agency may simply be afraid of losing in court, either on constitutional grounds or under the federal Religious Freedom Restoration Act passed by Congress in 1993 to protect churches from government overreach, said Lloyd Mayer, a professor at Notre Dame's law school in Indiana.
Pulpit Freedom Sunday
That's what the Alliance Defending Freedom, which seeks to use the legal system to promote Christian values, is counting on. The IRS is avoiding investigations precisely to keep the ban out of court, said Erik Stanley, a senior lawyer with the organization in Scottsdale, Arizona.
"We have this uneasy detente between churches and the IRS where the IRS has seemingly not been as active in enforcement, but the law remains, and the law still says what it says," Stanley said. "The law definitely needs to be changed."
The group has sought to force a court action by arranging the annual Pulpit Freedom Sunday, when religious leaders across the country openly preach politics from the pulpit and send transcripts to the IRS, baiting the agency to respond. The event, which started in 2008 with a few dozen participants, now involves more than 4,000 pastors, Stanley said. (Unless the IRS challenges the political statements of one of the Alliance's member churches, the group doesn't have standing to sue in federal court, Stanley said.)
Another group, the Freedom From Religion Foundation, sued the IRS in 2012 over claims it wasn't enforcing the rule against churches endorsing politicians. The case was voluntarily dismissed two years later after the IRS provided the court with some evidence of church examinations, depriving the organization of its legal standing to continue the case.
At the time, the foundation said on its website that because the IRS "demonstrated it does not have a blanket policy or practice of non-enforcement of political activity restrictions, the parties moved for a joint dismissal of the case."
Annie Laurie Gaylor, co-president of FFRF, said the group is ready to re-start the lawsuit if more evidence emerges that the IRS isn't enforcing the rule for tax-exempt churches.
"They were doing nothing, and one of their IRS agents said as much," said Gaylor. "We believe our lawsuit got them back to authorizing investigations. You can't just let this go."
Hornet's Nest
The IRS is also hindered by a loophole in the tax code that has complicated church reviews since 2008, said Owens of Loeb & Loeb. The loophole was exposed by the agency's 2008 defeat in a lawsuit over the endorsement of U.S. Representative Michele Bachmann by Living Word Christian Center in Brooklyn Park, Minnesota, Owens said. A federal judge ruled that the agency's review was invalid because it hadn't been endorsed by a regional IRS commissioner, even though that position had been eliminated by the agency in a 2000 reorganization.
As for a congressional closing of the loophole, "there's no real interest in opening up that hornet's nest," Owens said. "Certainly not by Republicans, but Democrats, too."
When it comes to the general election, does preaching from the pulpit benefit Republicans more than Democrats? Perhaps, but nobody has proved it, said Notre Dame's Mayer, and "even if true, that benefit is offset in states with a lot of predominantly African-American churches, because many of those churches are politically active as well."
Churches have always been involved in politics, even back when preachers urged their flocks to vote for Thomas Jefferson, said Stanley.
"He had a hand in drafting the Constitution, and he wasn't complaining," he said.
Before it's here, it's on the Bloomberg Terminal.
LEARN MORE