Nevada Housing Crisis a Test for Sanders's Wall Street Message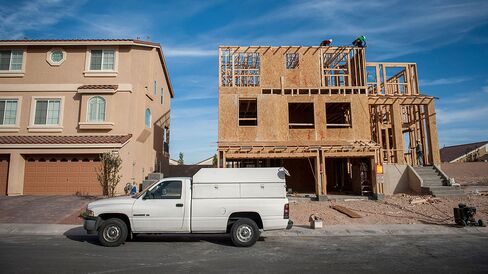 Sanders's campaign says his message resonates in state

Clinton allies say voters will trust her ability to get change
The scars of the housing collapse in Nevada are deep and still fresh, making the state a proving ground for the power of Bernie Sanders's anti-Wall Street message to drive voters to the polls.
Sanders has surged in what had been considered a stronghold state for Hillary Clinton heading into Saturday's Democratic presidential caucus, adding staff and airing a television ad that speaks directly to the pain that the demise of the housing market inflicted.
Nevada had the highest monthly foreclosure rate in the U.S. from January 2007 to February 2012, according to data provider RealtyTrac, and it's still the fourth-highest in the nation. Almost one in four homes in Las Vegas is worth less than the mortgage against it, the highest share in the U.S., according to Zillow Inc.
Wall Street has been at both ends of the housing crash. Many here blame big banks for causing the crisis, and since 2012, Wall Street firms have been buying up foreclosed properties, driving up prices for home buyers.
Now banks are giving financing to investors buying homes to rent, triggering concern that Wall Street is reinventing the same tactics that crippled the financial system eight years ago.
Pragmatism and Passion
While Clinton makes the case that only she can deliver real results for voters concerned about Wall Street and the economy, her pragmatic approach stands in contrast to the passionate appeal being made by Sanders -- that he'll upend a "rigged" economy -- as he tries to show that his narrow defeat in Iowa and overwhelming victory in New Hampshire weren't just bumps on Clinton's path to the party nomination.
"Whose message do they buy?" asked Eric Herzik, chairman of the political science department at the University of Nevada, Reno. "Sanders saying, 'It's the big banks' and casting a lot of blame, or Hillary Clinton's saying, 'OK, let's get real and fix this?"'
In a Thursday town hall event broadcast by MSNBC and Spanish-language channel Telemundo, Sanders didn't speak to the housing crisis directly. But he did address criticism from Clinton that his focus on Wall Street makes him a one-issue candidate.
"Do I believe that there has to be a major focus on the economy when the middle class is disappearing, when people in Nevada and all over this country are working longer hours for lower wages and almost all new income is going to the top 1 percent?" he asked. "Yes, I am going to focus on that."
Clinton, appearing separately, was asked how she would help ease the fears of home ownership among Hispanics affected by the housing crisis. She said she wants the federal government to do more to relieve the burden on existing homeowners and help Hispanics and blacks get better access to credit.
"I know how hard hit Nevada was," Clinton said. "I take that very seriously."
Little Polling
The test of how the competing messages are playing with Nevada Democrats comes on Saturday. There's been very little polling in the state, though a recent survey by CNN/ORC shows the Sanders and Clinton tied, with 42 percent of respondents saying the economy is the top issue. However, the poll of 282 likely Nevada Democratic caucus-goers had a margin of error of plus or minus 6 percentage points.
Sanders is airing an ad in Nevada featuring Erin Bilbray, a state Democratic committeewoman and superdelegate who has backed Sanders, describing how a home across the street from hers has sat vacant for six years and how good friends have had their homes foreclosed.
"People are still really suffering, and they're looking for somebody that is going to create bold change," Bilbray says in the ad. "Wall Street gave bad advice and bad loans over and over again, and nothing happened. People are so excited about Bernie Sanders because they know that he's not beholden to Wall Street."
The foreclosure crisis also was a focal point of Sanders's rally on Sunday at Bonanza High School in Las Vegas, where Bilbray introduced the Vermont senator with a similar message.
"You have lived through the greed and illegal behavior of Wall Street," Sanders said in his speech, drawing loud cheers. "No state in the country has suffered more from the greed and illegal behavior of Wall Street."
Voters' Choices
Chaut'ez Ducharm Jackson, 30, an assistant manager at a Las Vegas residential tower, said her experience makes her more inclined to support Sanders. She got a knock on the door of the condominium she was renting in 2008, telling her she had to move out in two weeks because the building had gone into foreclosure.
"I was stressed and confused and upset, and I just felt really desperate," said Jackson, who stopped at a Sanders campaign office in Las Vegas on Sunday with her husband to pick up yard signs and bumper stickers. "Bernie Sanders is really for people like myself."
Clinton's experience and record means she can be trusted to get results more than Sanders, said Maria Arreola, 52, of Las Vegas. She lost her job as a cashier in 2008 when the owner of the community store had to close and she was forced to sell tamales, babysit and clean homes for income, she said.
"He has too much fantasy," Arreola said of Sanders before a get-out-the-vote and caucus training event for Latinos on Tuesday in Las Vegas. "He thinks it's easy, and it's not."
The real-estate bust that began in mid-2006 cut 63 percent in the value of Las Vegas homes, with the median house price hitting a low of $105,686 in 2011, according to RealtyTrac.
Buying Foreclosures
The steep discounts attracted Wall Street firms, which flooded Las Vegas and other markets hardest hit by the crash. In 2012, they started snapping up foreclosures to build rental-home businesses, seeking to profit from rebounding prices and rising demand for rentals among millions of Americans who lost their properties.
That year, private-equity firms, hedge funds and other institutional investors purchased 19 percent of foreclosed homes in Las Vegas, according to CoreLogic, putting a floor under prices and sparking a feverish race to buy properties.
American families who repaired their credit in the years since the crash may be competing with cash-wielding Wall Street firms fighting for the same properties, with fewer opportunities to buy at the same sharply discounted prices. Las Vegas-area values have gained almost 80 percent since 2011, with the median home price reaching $190,000 in 2015.
Many of banks restricting credit to families across the U.S. have been financing investors buying rental properties -- even helping to create and sell rental-home bonds that are reminiscent to some of the easy-cash days that contributed to the financial crisis of 2007 and 2008.
With so many Nevada voters affected, they can't help but respond to Sanders's complaints about big banks, said state Senator Tick Segerblom, a Sanders supporter and former state Democratic Party chairman.
"Most everybody's had the bank after them, so they hate the banks," Segerblom said. "There's a lot of reasons why Bernie would be attractive."
Billy Vassiliadis, a Democratic consultant in Las Vegas who is backing Clinton, said the transient nature of Nevada's population was exacerbated by the upheaval in the housing market, which could make it more difficult to identify and motivate voters to caucus.
"If the Sanders campaign is counting on a bunch of folks that maybe lost their homes or were angry during the recession, there's a chance they're not here anymore -- or they've moved or are harder to find," he said.
Before it's here, it's on the Bloomberg Terminal.
LEARN MORE