Talking Points
Rubio Repeats Himself in South Carolina, Saying He's the One to Stop Trump
The Florida senator is looking to rebound from a disappointing finish in New Hampshire.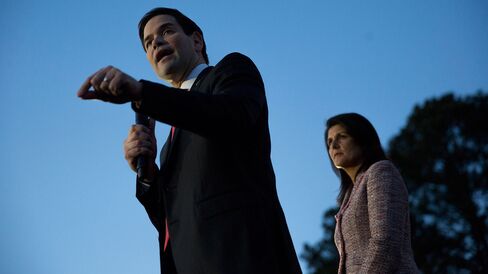 In a riverside pavilion in Summerville, South Carolina, on Tuesday, Marco Rubio returned to the central selling point of his case to win the Republican presidential nomination: electability.
Standing in a crisp white shirt and tie before about 400 supporters, he tossed out the same, dog-eared line he has used for weeks—and that he now hopes is gaining traction—as Republicans wage a battle for the South Carolina primary.
"I am as conservative as anyone in this race, but I can win," he said at the Dorchester Boat Club along the Ashley River. "I am the last one left in this race who can unify the party. This is a divided party right now. We'll eventually come together, but if it's in October it's too late. We need to nominate someone who can bring us together quickly."
"I will never ask you to be angry at another group of Americans so that I can win an election," Rubio added Thursday morning at a crossfit gym in Greenville. "I will never pit 51 percent of us againt the other 49 percent."
The reason for his urgency was clear to all—to try and derail the party's runaway locomotive, Donald Trump. And it was a message that the freshman Florida senator saw fit to repeat later in the day at events from North Myrtle Beach to Mt. Pleasant.
What was new Wednesday, however, was an appearance by South Carolina's popular Republican governor, Nikki Haley, who joined Rubio at a rally in Chapin. Without naming the other candidates, she praised Rubio's fight and said the party needs to return to its roots of fiscal discipline and restraint.
"I want a president who understands they'll have to go to Washington, D.C. and bring a conscience back to our Republicans," Haley said. "We've had good people in this race. We have good people running for president and I thank them today for their sacrifice and their willingness to serve, to honor this great country and to make her better. But my job was to find the person I thought would do it best."
No fan of Trump herself, Haley took not-so-veiled shots at the billionaire in her response to the State of the Union.
"During anxious times, it can be tempting to follow the siren call of the angriest voices," Haley said in January. "We must resist that temptation. No one who is willing to work hard, abide by our laws, and love our traditions should ever feel unwelcome in this country."
These are anxious times for Rubio, as well. Though he registered a solid third-place showing in the Iowa caucuses, he finished a disappointing fifth a week later in New Hampshire, after suffering near mortal wounds to his candidacy from New Jersey Governor Chris Christie, who tore the senator apart on the debate stage for his scripted talking points and reliance on repeated, stock lines.
Ever since his Feb. 6 debate shaming at the hands of Christie, who has since dropped out of the race, Rubio has been looking to re-capture momentum in South Carolina. Without a good showing here, however, he knows his days of campaigning could be numbered.
"We have to do well here, there's no question," said Todd Harris, a senior adviser to Rubio who said the campaign was "written off for dead just eight or nine days ago."
The Haley endorsement, Harris argued, was proof that Rubio could still turn things around. "Certainly, we see it as a significant—if not the most significant—representation of the kind of momentum our campaign is experiencing," he said.
So far, Palmetto State voters have proven welcoming. His rallies have drawn crowds that top 500 people and his jokes have mostly drawn laughter. A Feb. 15 USA Today poll showed him running strongest among the pack against Democrat Hillary Clinton.
Ironically, even Rubio himself admits he repeats his tested laugh lines. During a section of his stump speech on college affordability he regularly touts his book and tells the crowd it's "now available in paperback" to polite laughter. In one new joke—and a swipe at Trump—he said Wednesday that he's been living on coffee and Red Bull, which famously uses the slogan "gives you wings," adding that, if elected, he would see that every American a received a new set of wings, which he would make the Mexican government pay for.
The political brawling that South Carolina seems to incite among Republicans may simply be a matter of where its primary falls on the calendar. In recent days on South Carolina's airwaves, Rubio and Cruz have sparred over immigration, while the Florida senator and Bush have argued over who has less foreign policy experience. One thing is clear, a poor showing in the state's primary has often spelled the end for a presidential campaign.
"Certainly, given how he finished up in New Hampshire, he's going to need this to revive and to reboot," said Hollis "Chip" Felkel, a South Carolina Republican operative. "He needs third to stay alive; second is a game changer," Felkel said on Wednesday. "If you get into fourth or fifth, you've got two losses you have to start explaining."
That standing makes Haley's endorsement all the more promising for Rubio, and equally crushing for Jeb Bush, who, like his former acolyte, needs to be able to assure donors that an upward swing is in process.
A Bloomberg Politics South Carolina poll released Wednesday gave Rubio mixed news. The survey found him at third place in the Republican field, beating establishment-lane foes Bush and Ohio Governor John Kasich. Yet he still trails Texas Senator Ted Cruz, who was the top choice of 17 percent, and Trump, who led the pack with 36 percent, according to the survey.
Another stat may be more encouraging for Rubio: 24 percent of respondents to the poll listed him as their second-choice candidate, more than anyone else in the field.
As a native of New Hampshire, Heather Gramajo said Rubio has acquitted himself well since his debate stumble in the Granite State. She said she likes Ben Carson as well as Rubio, but feels that the retired neurosurgeon doesn't have the wherewithal to win the nomination or a general election. Trump and Cruz were out, she said.
"It's smart because he has the best chance against Democrats," Gramajo, 36, a stay-at-home mother from Summerville, said of Rubio. "For me, I want Trump out, so I'm just trying to figure out who might have the better chance against Trump. I wish I could just go with who I really want."
During a rally in Mt. Pleasant on Wednesday, Andrew Weston, 56, said he especially likes Rubio's pledge to rebuild the military. Trump and Cruz are simply too much for him. Bush? Too stodgy and dated, he said.
"It's one of the reasons I support Marco Rubio: he'a a conservative and he can unify us," Weston said in an interview at a Shriners temple. "Folks from other backgrounds should be attracted to what he has to say, unlike the more ebullient candidates in this race."
Before it's here, it's on the Bloomberg Terminal.
LEARN MORE