Air Wars
Sanders Spent Nearly Twice as Much as Clinton on TV Ads as Nevada Vote Approaches
The Democratic candidates have spent a combined $50 million on TV ads since the beginning of the campaign.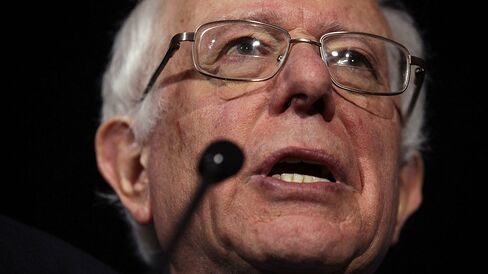 Bernie Sanders poured about $2.9 million into broadcast ads last week, nearly twice as much as Hillary Clinton, his rival for the Democratic presidential nomination, spreading his message to crucial Super Tuesday states.
Since winning the New Hampshire Democratic primary on Feb. 9, Sanders has boosted his spending on television by about 70 percent, according to an estimate through Feb. 15 by Kantar Media's CMAG, which tracks political ads on broadcast television and national cable. Clinton spent $1.6 million during the same period, a 45 percent increase from the week before.
In Nevada and South Carolina, the next two tests in the nomination fight, Sanders and Clinton have spent roughly the same amount. Sanders' move to deploy resources beyond those votes illustrates the momentum his campaign has gained and the fundraising he has commanded along with it. The Sanders campaign announced he raised $5.2 million in the 18 hours after the New Hampshire polls closed.
QuickTake U.S. Campaign Finance
Sanders outspent Clinton by more than two to one in Denver, Minneapolis, Tulsa and Oklahoma City, according to an analysis by Ken Goldstein, a University of San Francisco professor and Bloomberg Politics analyst. While CMAG's estimate is limited to broadcast and national cable, Goldstein's analysis also includes local cable and satellite spending. Colorado and Minnesota hold caucuses on March 1 while Oklahoma holds a primary.
The air war is expected to ratchet up in coming days with the Clinton campaign set to focus immense advertising firepower on Nevada. According to Goldstein, the Clinton advertising buy in Nevada could deliver eight times as many spots as her campaign's effort in South Carolina.
Still, Sanders is also advertising heavily in Nevada. According to Goldstein, the Clinton campaign will outspend Sanders by a small amount in Las Vegas and Reno in the days preceding the Saturday caucuses. Meanwhile, Sanders is slated to outspend Clinton with twice as many spots scheduled to run in Charleston and Greenville.
The campaigns do not have a lot ordered after this week with only modest buys in place for the final week of February. And in the other Super Tuesday states, there's still little planned in delegate-rich and expensive-to-advertise states such as Texas or Virginia, which includes Washington D.C.'s media market.
Since the start of the campaign, Clinton and Sanders have spent almost the same amount on television ads, according to media buyers. Combined, they've spent about $50 million.
Before it's here, it's on the Bloomberg Terminal.
LEARN MORE