Firepower
Rubio Nabs Haley Endorsement Ahead of South Carolina Primary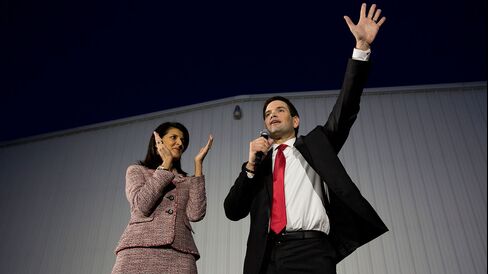 In the closing days before the South Carolina primary, there are few ways a candidate can dramatically improve his fate. But Marco Rubio has just found one in a last-minute endorsement by Governor Nikki Haley.
"We say that every day is a great day in South Carolina," she said. "If we elect Marco Rubio, every day will be a great day in America."
Haley, who was viewed positively by 68 percent of those surveyed in the latest Bloomberg Politics poll, has been a vocal opponent of Donald Trump since she accused him of "irresponsible talk" related to undocumented immigrants.
For Jeb Bush, the former Florida governor who was locked in a dead heat with Rubio in the poll and needs a strong showing in the state to energize his campaign, Haley's decision was a tough setback.
"I'm disappointed, she's a very good governor and should I win the nomination there will be a role for her in the campaign, trust me, she's a great person," Bush told reporters in Summerville. "She's a great person, I'm disappointed she didn't endorse me."
Rubio, a first-term senator from Florida, is in the midst of a push to come in second behind Trump in Saturday's South Carolina primary. In his bid to become the establishment alternative to the billionaire front-runner, Rubio notched a strong third place in Iowa earlier this month and last week finished fifth in New Hampshire following blistering attacks by New Jersey Governor Chris Christie, who dropped out after he finished sixth in the Granite State.
Bush finished sixth in Iowa, and fourth in New Hampshire.
Wednesday's Bloomberg poll found that Rubio is the first choice of 15 percent of likely Republican voters in South Carolina. Bush garnered 13 percent, while Ohio Governor John Kasich was at 7 percent. Trump leads handily with 36 percent and Senator Ted Cruz of Texas is in second with 17 percent.
Before it's here, it's on the Bloomberg Terminal.
LEARN MORE