Rubio and Allies Made Big Investment in South Carolina Insiders, Filings Show
South Carolina's seven media markets and hard-to-reach rural areas make insiders critical.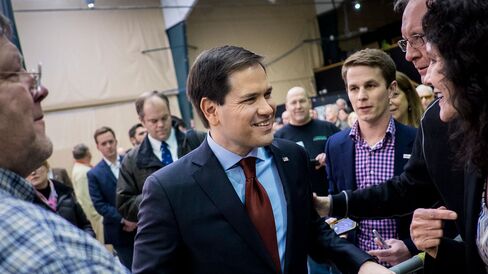 As Marco Rubio fights to regain his footing in the Feb. 20 South Carolina Republican primary, he's leading his opponents in at least one category: spending on local insiders.
Rubio's presidential campaign has paid more than $1.1 million to South Carolina operatives and political consultants, more than triple the amount of all his opponents combined, according to a Bloomberg analysis of Federal Election Commission filings for 2015. The next biggest spender was South Carolina front-runner Donald Trump, who paid $256,000 to a political consulting firm owned by his state director, a current member of the state legislature.
It's a time-honored practice in presidential primaries for campaigns to spread money around early-voting states, and among them, South Carolina stands out. With seven different media markets and tough-to-reach rural areas, insider knowledge is critical, according to J. Michael Bitzer, a professor of political science at Catawba College in Salisbury, North Carolina.
"Because the state is relatively small, it's a very close-knit political environment," Bitzer said. "Campaigns need to have someone with connections to work on the inside."
Not all South Carolina spending is captured in the FEC reports. For instance, some campaigns account for staff expenses at the location of their headquarters instead of the state where the person is working. New data for January spending by campaigns and super-PACs will be disclosed Feb. 20.
Rubio's biggest expense by far was the more than $700,000 it paid to Push Digital, a consulting firm with both political and corporate clients that designs websites and runs online fundraising, advertising, and social media for campaigns. The firm was founded by Wesley Donehue, who worked for former U.S. Senator Jim DeMint of South Carolina, the state Republican Party, and local campaigns. Rubio's campaign said it is paying the firm for Web services.
Rubio's super-PAC is well-positioned to help in that regard. Conservative Solutions PAC reported it had almost $14 million at the end of 2015. But an even bigger asset may be its leadership, which has deep roots in South Carolina politics. J. Warren Tompkins, a longtime Republican political operative dubbed "the most powerful non-elected man" in South Carolina politics by Time magazine in 2012, served as senior adviser to George W. Bush's campaign for the 2000 South Carolina primary, where he defeated McCain.
Conservative Solutions PAC's media consultant and pollster, Jon Lerner, also has deep roots in the state. He served in the same capacity for Senator Tim Scott, a South Carolina Republican, and in four successful gubernatorial campaigns, including those of the sitting governor, Nikki Haley. The governor plans to endorse Rubio, South Carolina's State newspaper reported Wednesday, citing a person familiar with the decision.
"Conservative Solutions PAC was one of the first groups up on the air in South Carolina," Jeff Sadosky, a spokesman for the group, said. "We'll continue to fight back against the millions in attacks targeted at Marco."
Because of his role with the super-PAC, Tompkins faces limits on how much he can coordinate with the Rubio campaign. He is currently on leave from First Tuesday Strategies, a political consulting firm with offices across the street from the capitol building in Columbia. Katie Baham Gainey, Rubio's state director, comes from the same firm. The campaign paid her $63,000 over the last eight months of 2015. Gainey was previously political director for the South Carolina House Republican Caucus and the state Republican Party.
Rubio, Jeb Bush, and John Kasich lag well behind in most polls and are competing with each other to become the lead candidate among so-called establishment Republicans. Kasich, who earlier this month finished a strong second in the New Hampshire primary, reported spending about $31,000 on South Carolina insiders through Dec. 31. That includes $19,700 to Heather Crawford, a representative in the state legislature, who is the Kasich campaign's director for the state.
Bush's campaign reported no such spending last year, although Right to Rise USA, the super-PAC backing him, recently hired GOP consultant Richard Quinn, who ran John McCain's 2008 campaign in South Carolina. Right to Rise spokesman Paul Lindsay said Quinn will help with strategy and polling.
Trump has directed almost all of his spending to member of the state legislature: Representative Jim Merrill, a former GOP majority leader who's held a seat in the state capital since 2001. One of two South Carolina legislators to endorse Trump, he also serves as Trump's state director. Merrill, whose salary as a lawmaker is just $10,400 a year, also runs a public relations firm, Geechie Communications, which received $255,000 from the Trump campaign in 2015 for "strategy consulting," according to FEC disclosures.
Cruz, who is in second place in the RealClearPolitics South Carolina poll average, reported spending $33,500 on insiders through the end of the year. Most of that—$31,400—has gone to Ladonna Ryggs, Cruz's state director, who served as the chair of the Spartanburg County GOP before joining the campaign.
Cruz's campaign, which won in Iowa on the strength of his appeal to evangelicals, is trying to repeat that strategy in South Carolina. "Our model is different and can't be measured or compared by paid staff," spokesman Rick Tyler said. "However, we do have more than 9,800 volunteers knocking on thousands of doors and making thousands of phone calls."
Before it's here, it's on the Bloomberg Terminal.
LEARN MORE