Christie Says His Presidential Run Made Him Better Governor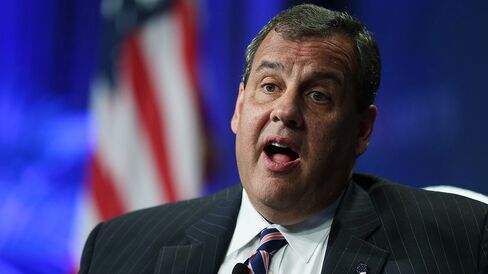 New Jersey governor comments on failed bid in budget address

Christie urges Democrats to work with him during rest of term
Back in New Jersey after a failed bid for president, Governor Chris Christie said the experience made him a "better governor, a better American and a better person."
"I owe that growth to the people of New Jersey and I intend to use it to make the next two years great ones for our state," Christie, 53, said in remarks prepared for his budget address in Trenton, during which he proposed a record $1.86 billion pension contribution and implored Democrats to work with him on spending cuts in his remaining 23 months.
The two-term Republican said his experience as governor prepared him for higher office. While the result "was not what I had hoped for," it was still positive, he said.
"I want to begin by saying thank you to the people of New Jersey for allowing me the great privilege of running for president of the United States," he said.
Christie ended his battle for the Republican nomination last week after a disappointing sixth-place performance in New Hampshire. The governor, who spent more than half of his days out of state last year, returned to New Jersey, where his approval rating is at record lows and he faces severe fiscal constraints.
QuickTake How the U.S. Elects Its Presidents
His $34.8 billion spending plan is 2.2 percent higher than the one for this fiscal year, which ends June 30, as costs for employee pensions and health benefits continue to rise. It calls for $250 million of state savings in employee and retiree benefit costs, through changes including requiring the use of generic drugs when available and "modest" increases in co-pays, Christie said.
The governor said that while he continues to restrain core spending, he needs to attack costs beyond his control. Ninety-five percent of the growth in this budget is for pensions, benefits and debt service, he said.
Enshrining Benefits
Christie faces a Democratic-led legislature angry that he reneged on a promise to ramp up pension payments after they approved benefit cuts during his first term. The lawmakers, emboldened by Christie's failed White House bid and low approval, are advancing a constitutional amendment that would require the annual pension payment.
"I am ready to work with you if you are willing to stop the partisanship and the reckless amending of our constitution just to score political points," Christie said. "We can sit and reason together for the next 630 days, or we can fight for the next 630 days and leave our citizens without hope."
Senate President Stephen Sweeney, a Democrat from West Deptford and potential 2017 candidate for governor, had criticized Christie for the length of time he spent campaigning outside the state. The end of that distraction doesn't guarantee that the governor's national ambitions are over, particularly because of his relative youth, Sweeney said.
"I don't think he's done running for office," Sweeney said.
Assembly Budget Chairman Gary Schaer, a Democrat from Passaic, criticized the governor for counting on the $250 million in savings, saying he has "no idea where it's coming from except in generalities."
Since his first run for governor in 2009, Christie has cited lapses in pension contributions by predecessors as gimmicks that ruined the state's fiscal health. Still, his payments through 2017 will total $6.3 billion, almost double those made in the previous six fiscal years, according to the budget presentation.
The governor, who became a national Republican figure by tackling the pension crisis and taming unions, has called for more givebacks to reduce the state's obligations to a retirement system with an $83 billion unfunded liability. Under Christie, New Jersey's credit rating has been downgraded by three ratings companies because of rising employee costs and missed revenue targets. The total of nine downgrades are a record for one governor.
Sweeney is proposing a ballot question that he said would let the state make full payments by 2022. A constitutional amendment wouldn't need Christie's approval if both legislative houses place it on the ballot.
Christie has said Sweeney's proposal would require $3 billion in new taxes to cover it. The governor stuck to his no-tax-increases pledge in this budget.
A commission created by Christie has proposed pension and benefits reforms that it said would result in more than $2 billion of annual savings and keep those costs below 15 percent of the budget. Without changes, they will consume 27 percent of spending by 2022, according to the commission's report.
Christie presented his budget hours after the release of a Rutgers-Eagleton poll that showed his favorability among registered New Jersey voters at a low of 29 percent.
"Going into a budget address with such low ratings does not bode well," said David Redlawsk, director ofthe Eagleton Center for Public Interest Polling and professor of political science at Rutgers. "There seems little reason for the Democrats who control the Legislature to warmly embrace a governor voters feel so cool about."
Before it's here, it's on the Bloomberg Terminal.
LEARN MORE