Trump and Cruz Trade Punches as South Carolina Turns Fierce
After splitting the first two Republican nominating contests, U.S. Senator Ted Cruz and Donald Trump are escalating their attacks on one another in an attempt to win the next.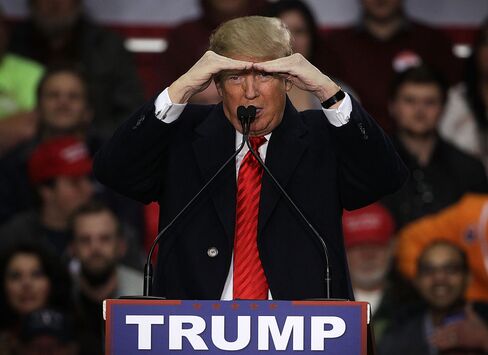 After splitting the first two Republican nominating contests, U.S. Senator Ted Cruz and Donald Trump are escalating their attacks on one another in an attempt to win the next: the Feb. 20 primary in South Carolina, a state notorious for its political mudslinging.
The Cruz campaign, trailing by double digits in early polling in the state, has filled South Carolina's airwaves and mailboxes with attacks on Trump, raising questions about his religious beliefs and portraying him as a ruthless billionaire who exploits property laws for his own gain.
Trump fired back on Friday with a tweet threatening to file a lawsuit against Cruz. "If @TedCruz doesn't clean up his act, stop cheating, & doing negative ads, I have standing to sue him for not being a natural born citizen," Trump tweeted.

Trump previously said he would not file suit against Cruz, who had dual-citizenship in U.S. and Canada, where he was born. Most Constitutional scholars argue that because Cruz's mother was a U.S. citizen, Cruz is clear to serve as president.
Just two days ago, Trump pulled an attack ad against Cruz, swapping it for one that summed up the real estate billionaire's biography, according to a person familiar with the decision.
By Friday, fliers paid for by "Cruz for President" appeared in mailboxes attacking Trump's support of eminent domain. "Donald Trump will stomp on your property rights," it declared against an illustration of the billionaire real estate mogul stomping on a suburban house. The flier echoed a 60-second Cruz campaign television ad that began earlier this week slamming Trump on the same issue.
An Augusta Chronicle poll released earlier Friday shows Trump maintaining a dominant lead against his rivals, leading the field with 36.3 percent of support amongst likely Republican primary voters. The poll was conducted between Feb. 10 and Feb. 11.
Cruz garnered the next largest share of voters, with 19.6 percent. He was followed by U.S. Senator Marco Rubio of Florida (14.6 percent), former Florida Governor Jeb Bush (10.9 percent) and Ohio Governor John Kasich (8.7 percent), according to the poll, which has a margin of error of plus-or-minus 3.5 percentage points.
The political feud appears to be an escalation of their clashes in Iowa, where Trump led the polls ahead of the Feb. 1 Iowa caucuses but finished second behind Cruz. Trump has attacked Cruz for his tactics in Iowa, including Cruz campaign fliers sent to supporters that appeared as voter violation forms from the state government. Trump has also attacked the Cruz campaign for insinuating that rival neurosurgeon Ben Carson would drop out of the race in an effort to pick up Carson voters at the last minute.
Mark Burns, a pastor in Easley, S.C., referenced the escalating attacks while speaking as a surrogate for the Trump campaign at Bob Evans University during the conservative Faith Family Forum. "You maybe have seen some rhetoric or tones by other candidates to try to make you believe that Mr. Trump is a pro-life person just to win your vote -- that is not true," said Burns.
One person in the crowd shouted that Trump was too "profane" to be president. "He's not profane -- he's pro-faith," Burns said.
Cruz was slated to speak at the forum, which has featured Trump and Kasich, later Friday evening.
At the Carolina Values Summit, a gathering held on Thursday night, and speaking to reporters at Bob Jones University the next afternoon, Cruz signaled a line of attack against Trump that would tie him closer to the left.
"Donald Trump and Marco Rubio both have the same position on gay marriage that Barack Obama does. Both of them say that the Supreme Court decision is the settled law of the land and they tell the people we got to accept that," Cruz told reporters, adding the Florida senator to the mix as well. "I don't agree with that. That's not a conservative position."
He continued: "Look, Donald Trump supported Barack Obama's TARP, big-bank bailout of Wall Street. Donald Trump supported Barack Obama's stimulus plan. And Donald Trump, right now today, is advocating for Bernie Sanders-style socialized medicine."
With assistance from James Nash.
Before it's here, it's on the Bloomberg Terminal.
LEARN MORE