Leftovers
How to Give Back $157 Million
Super-PACs have a problem once their favored presidential candidates drop out.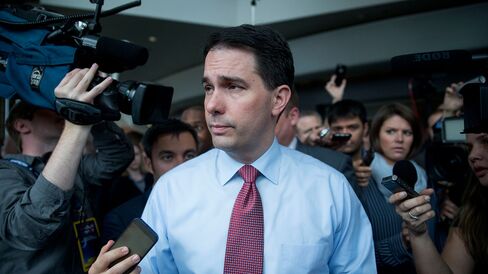 All last year super-PACs had one goal: raise as much money as possible for the candidates they backed. They succeeded. In 2015 the groups, which can collect unlimited funds to support political causes, amassed about $343 million on behalf of presidential candidates—an unprecedented amount. About $157 million remained in super-PAC accounts on Dec. 31, the last time they were required to file financial statements with the Federal Election Commission (FEC); of that, more than half was held by super-PACs supporting Republicans John Kasich, Chris Christie, Carly Fiorina, Marco Rubio, and Jeb Bush. Those groups spent heavily in New Hampshire, fueling more than $40 million in ad buys in the weeks before the state's Feb. 9 primary, and an additional $12 million in South Carolina, where Republicans will hold their primary on Feb. 20. (Christie and Fiorina announced on Feb. 10 they were suspending their campaigns.) As other Republicans come under increasing pressure from the party to win or get out of the way, the super-PACs face a quandary: what to do if they've raised more money than they end up spending.
In September, Wisconsin Governor Scott Walker, a favorite of Tea Party activists, became the first major Republican to drop out of the race. His campaign was going broke after spending lavishly on staff salaries and travel, and Walker decided to back out rather than incur additional debt. In November he sent out an e-mail soliciting donations to pay off more than $1 million in outstanding bills. "We feel personally obligated to make sure that every small business that extended us their good faith and credit is repaid," Walker wrote.
Unintimidated PAC, the group supporting Walker, still had about $20 million of the $23 million it had raised to support Walker's bid. By law, Unintimidated was prohibited from bailing out the campaign but faced very few other restrictions. Candidates are strictly regulated on fundraising and spending, but super-PACs aren't bound by the same safeguards. "A lot of donors probably assume that the money they give to political committees has to be used on politics," says Paul Ryan, deputy executive director of the Campaign Legal Center, a nonprofit watchdog that's filed complaints against several super-PACs. "If they do assume that, they'd be wrong."
According to FEC filings, Unintimidated refunded its surplus, about $18 million. "We never had any thought or plan other than that we would return the funds to the donors," says Chris Ashby, the group's lawyer. "We felt like that was the right thing to do." The biggest check went to Diane Hendricks, a billionaire who heads the largest wholesale roofing supply company in the U.S. Hendricks, a longtime Walker backer, gave $5 million to Unintimidated; she got $4 million back. The super-PAC also returned money on a prorated basis to Richard and Elizabeth Uihlein, who own a shipping supplies business, and to Marlene and Joe Ricketts, the founder of TD Ameritrade, whose family owns the Chicago Cubs.
After the Supreme Court cleared the way in its 2010 Citizens United decision for individuals and corporations to donate unlimited amounts to super-PACs, many thought the beneficiaries would be interest groups that support multiple candidates. Instead, super-PACs quickly became a vehicle for wealthy donors to privately finance specific candidates. In 2012, Winning Our Future, a super-PAC created to support Newt Gingrich's presidential bid, raised $23.9 million, most of it from casino mogul Sheldon Adelson, his wife, Miriam, and their children. When Gingrich dropped out of the Republican primary race in May 2012, the super-PAC had $5.6 million left in the bank; it refunded $5 million to Adelson the day Gingrich quit.
Not all super-PACs have followed that model. Restore Our Future, a super-PAC created to support Mitt Romney, raised a total of $153 million and spent almost all of it on the Republican's failed campaign against President Obama. It finished 2012 with less than $500,000 in the bank, though in 2013 it received about $700,000 in reimbursements for ads that never ran. Rather than return the remainder to donors, Restore Our Future ultimately passed most of its money on to other political groups to back Republican candidates. These included the Republican Governors Association and another super-PAC started by Romney called America Rising. (Romney, who briefly flirted with making another run, hasn't yet endorsed anyone.) The group had about $153,000 on hand as of Dec. 31.
In many cases, the people running super-PACs keep burning through their cash even as the candidates they're supposed to be supporting flounder. "The more calls you can make, the more doors you can knock on, the more ads you can run—at the end of the day, more is better than less, and all of the above is better than one or the other," says Lara Brown, director of George Washington University's political management program, which offers a course on PACs and super-PACs. Donors often want super-PACs to do everything possible to keep even long-shot candidates afloat. "I expect some big-ticket donors, if they know the super-PAC hadn't spent all of their money or were saving their firepower for later, may be asking for refunds," says Sheila Krumholz, executive director of the nonprofit Center for Responsive Politics, another campaign-finance watchdog.
Sometimes the pressure pays off. Right to Rise USA, which raised more than $100 million in 2015 to support Jeb Bush, spent more than $25 million on ads in New Hampshire, including many targeting Bush's nemesis, Florida Senator Marco Rubio. Bush earned a fourth-place finish in New Hampshire, ahead of Rubio. It's enough to keep Bush in the race through South Carolina, where the group has spent $3.8 million on TV ads since the beginning of the year. It held $59 million at the end of 2015.
While there's no law preventing staffers who run super-PACs from buying yachts and sailing off into the sunset, donors may be able to count on political operatives' instinct for self-preservation. Only about 85 donors cut checks of $1 million or more last year. "The folks who are involved in financing and operating super-PACs are all folks who are professionals at what they do," says Unintimidated's Ashby. "They want to work again in politics."
Before it's here, it's on the Bloomberg Terminal.
LEARN MORE