Cuba and U.S. to Allow Scheduled Flights Under Agreement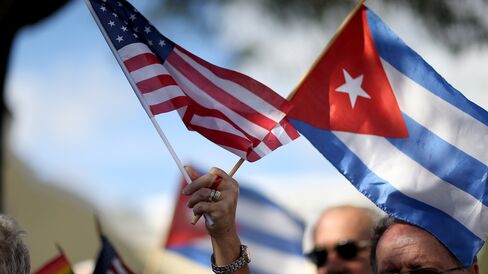 Memo to be signed Tuesday is first in more than 50 years

Agreement would allow up to 20 flights a day to Havana
Airline service between the U.S. and Cuba could be expanded to dozens of scheduled flights a day later this year under an agreement both nations will sign on Tuesday.
Airlines will be allowed to fly scheduled service between Cuba and any city in the U.S. for the first time in more than 50 years, according to a press release from the Department of Transportation and the State Department. Currently, only charter flights are allowed between the two countries.
Transportation Secretary Anthony Foxx and Assistant Secretary of State for Economic and Business Affairs Charles Rivkin will sign an agreement with Cuba allowing the flight expansion in Havana. It formalizes an agreement reached between the two countries on Dec. 16.
"It's a very positive development," Deputy Assistant Secretary of State for Transportation Affairs Thomas Engle said in a briefing. The agreement "will promote authorized travel between the two countries."
The agreement allows as many as 20 flights a day to Havana and as many as 10 per day at each of nine other international airports in the country, according to Engle.
While U.S. law continues to prohibit travel to Cuba for tourism, U.S. citizens can travel to the Caribbean nation for family visits, as well as for education, journalism or government work.
American, Southwest

"Unleashing the power of American travelers and their frequent flier miles gets us one step closer to eliminating the archaic restrictions on U.S. travel to Cuba," Senator Jeff Flake of Arizona, said in an emailed statement.
Flake is a Republican on the Senate Foreign Relations Committee who has been an outspoken proponent of easing trade and travel restrictions with Cuba.
"This is welcoming news," said Representative Charles Rangel, a New York Democrat who has since 1993 been a sponsor of a bill, H.R. 634, that would lift the travel restrictions between the two countries.
U.S. airlines are already gearing up for the flights.
American Airlines Group Inc. will apply to fly to Cuba from Miami and its other hubs starting this year, said Martha Pantin, a spokeswoman.
"With some 25 years of experience and operations already established in Miami, that hub makes sense," she said. "We are exploring other options based on demand in each market."
JetBlue
JetBlue Airways Corp. is "eagerly" awaiting the opportunity to expand its flights to Cuba from its bases in New York and Florida, according to a statement by spokesman Doug McGraw.
"We hope the next dots on our Caribbean route map will be regularly scheduled service to and from Cuba," McGraw said.
Southwest Airlines Co., the biggest discounter, is "actively involved in the process" of trying to secure Cuba flights, said Brad Hawkins, a spokesman. The carrier isn't disclosing yet what routes it would propose between the two countries.
"We intend to fly to Havana from some of our global gateways," United Continental Holdings Inc. spokesman Luke Punzenberger said in an interview, declining to elaborate on which hubs it will fly from.
Major global hubs for the carrier include Chicago, Houston, Newark, New Jersey, and San Francisco.
Delta Air Lines Inc.'s Latin American spokeswoman, Sarah Lora, said the company was not immediately issuing a statement on its plans for Cuba. On Dec. 17, the company said it looked forward to resuming service to Cuba as soon as it received government approvals.
Before it's here, it's on the Bloomberg Terminal.
LEARN MORE