Data Dive
By the Numbers: Democrats Debate After Sanders' New Hampshire Rout
In Milwaukee, Hillary Clinton focuses more on "we," less on "me."
Thursday night's Democratic debate in Wisconsin was really all about Nevada and South Carolina, where the next two nominating contests will be held later this month. Vermont Senator Bernie Sanders and former Secretary of State Hillary Clinton made direct appeals to overcome their challenges with key Democratic constituencies, such as women and minorities.
The debate follows Sanders' 22-point victory over Clinton in New Hampshire, where he won 82 percent of young voters and 55 percent of female voters. On Thursday, Clinton sought to make up ground with each of those groups. "I have spent my entire adult life working toward making sure that women are empowered to make their own choices," she said, "even if that choice is not to vote for me."
Meanwhile, Sanders confronted his own demographic hurdle: After Iowa and New Hampshire, each of which is more than 90 percent white, polls show headwinds for him among Hispanics in Nevada (who made up 15 percent of Democratic caucus turnout in 2008) and African-Americans in South Carolina (55 percent of Democratic voters in the 2008 primary).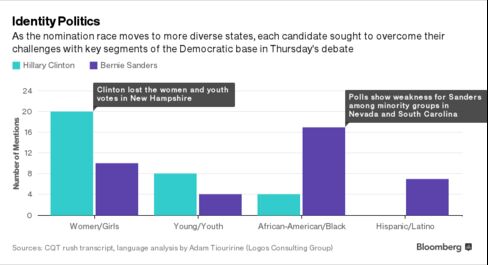 Obama Argument
"I want to follow up on something having to do with leadership," Clinton said near the end of the debate. "The kind of criticism that we've heard from Senator Sanders about our president, I expect from Republicans. I do not expect from someone running for the Democratic nomination to succeed President Obama." The back-and-forth over which candidate is best suited to carry on Obama's legacy continued to Sanders' closing statement, which he began by saying, "Well, one of us ran against Barack Obama. I was not that candidate."
That dispute—and its implications in South Carolina, where Obama enjoys a 97 percent approval rating among black voters, and beyond—made Thursday the debate with the most mentions of Obama so far this cycle, 31 between the two candidates.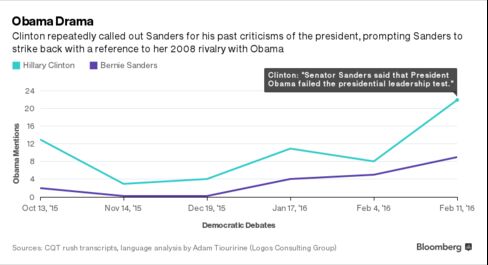 Changing Focus
Clinton promised six times to "tear down," "break down," "root out," or "tackle" barriers holding Americans back. It was a significant shift from the last debate, where she focused less on the challenges facing Americans and more on her own experience in confronting them. Clinton referred to herself 249 times on Thursday, compared to 367 times in the last debate.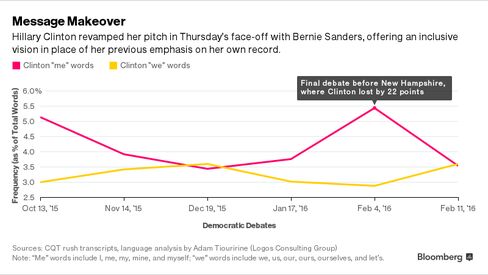 Another sign of Clinton's toned-down debate rhetoric is how she ultimately lobbed fewer attack lines than she received.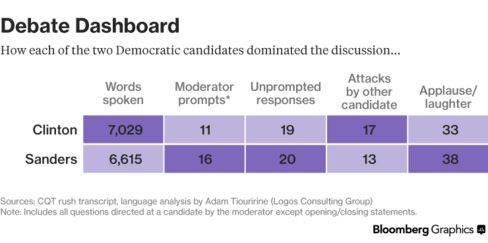 —Bloomberg contributor Adam Tiouririne of Logos Consulting Group advises senior business leaders on high-stakes communication and researches language, leadership, and the media.
Before it's here, it's on the Bloomberg Terminal.
LEARN MORE