Populism
Even the Senate Banking Chair Is Slamming Banks in Campaign Ads
Donald Trump is hardly the only Republican politician using Wall Street as a cudgel.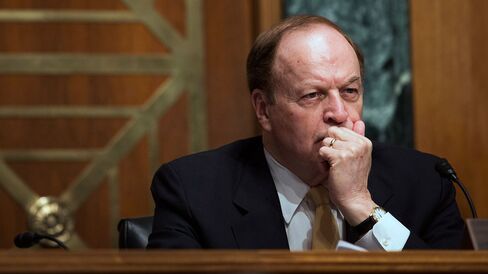 When it comes to attacking Wall Street, no one can match Bernie Sanders's conviction. But the Vermont senator's eagerness to jail, fine, and tax bankers has overshadowed another group of politicians who have unexpectedly turned into vocal critics of the biggest banks: Republicans.
At events leading up to the Feb. 9 New Hampshire primary, Donald Trump railed against what he characterized as corporate "bloodsuckers" who control the government through their campaign contributions—echoing Rolling Stone writer Matt Taibbi's description of Goldman Sachs as "a great vampire squid wrapped around the face of humanity." Trump has gone after Goldman, too, accusing the bank of buying influence over Republican rival Ted Cruz. In January the Texas senator admitted that he'd failed to report to the Federal Election Commission loans from Goldman Sachs and Citibank of up to $1 million. "Goldman owns him," Trump tweeted on Jan. 16. "He will do anything they demand." A Jan. 13 Bloomberg Politics/Des Moines Register Iowa Poll found that this was Trump's single most effective attack against Cruz.
Trump is hardly the only Republican presidential candidate using Wall Street as a cudgel. In television ads, New Jersey Governor Chris Christie's super PAC lambasted Ohio Governor John Kasich, who detoured into finance after leaving Congress in 2001. "As a banker at Lehman Brothers, a Wall Street bank that failed," a narrator darkly intones, "Kasich made millions while taxpayers were forced to bail out Wall Street." Marco Rubio's super PAC has run ads going after Jeb Bush, another Lehman veteran, for supporting "Wall Street bailouts."
Why are Republicans turning on the financial giants that have been their biggest benefactors? "Trump's surge has been a big wake-up call, and so has Bernie Sanders's," says Kristen Soltis Anderson, co-founder of Echelon Insights, a Republican polling firm. "But Mitt Romney's loss is still reverberating with Republicans, too. So many of them think, 'That's an election we should have won—and we lost because we were never able to distance ourselves from being painted as the guys who drove the economy into the ground.' "
This concern extends well beyond the presidential race. In Illinois, Senator Mark Kirk, a Republican, has criticized his likely Democratic opponent, Representative Tammy Duckworth, for owning Goldman Sachs stock. The most striking example of a Republican targeting Wall Street is the chairman of the Senate Banking Committee, Richard Shelby of Alabama. Shelby, who's being challenged by a Tea Party candidate, Jonathan McConnell, in the state's March 1 primary, has already spent almost $3 million on TV ads—more than anyone else in Congress—many of them attacking Wall Street banks. "You would think that Shelby is running against Bernie Sanders," says Jennifer Duffy, who tracks Senate elections for the nonpartisan Cook Political Report. Shelby won't be giving potential critics any new material. He said on Jan. 29 that he'd halt his committee's work until later in March: "I have a primary, you know."
Political professionals have been struck by Shelby's attack on banks not only because he chairs the Banking Committee and has received enormous largesse from financial companies—$2.7 million this Senate cycle, the nonprofit Center for Responsive Politics says—but also because his TV ads have been extraordinarily aggressive, naming individual banks such as Bank of America, Morgan Stanley, and Wells Fargo. "Calling out banks by name and logo is extremely rare for Republicans," says Elizabeth Wilner, senior vice president for political advertising at Kantar Media, which tracks political ads. "It's rare, period—even back in 2012, when we were just emerging from the recession, we saw a lot of ads slamming 'Wall Street banks' or 'big banks.' But few ads specified banks by name, and those tended to be Democratic ads. We've seen more Republican ads slamming individual banks by name in the past few weeks than we probably saw in all of 2012."
Despite the bipartisan chorus of condemnation, Democrats and Republicans have different reasons for the attack. Inspired by Sanders, Democrats want to go on the offense and crack down on Wall Street. For Republicans such as Shelby, the purpose is primarily defensive: to stave off a populist insurgency from the Right. "Republicans never successfully litigated their own guilt or innocence in the financial crisis," Anderson says. "They're worried that voters will do it on their own."
—With assistance from Chloe Johnson.
Before it's here, it's on the Bloomberg Terminal.
LEARN MORE